Have you ever seen a photo of a checkerboard cakes and thought "Gee, I'd like to make one, but I don't have the pan."?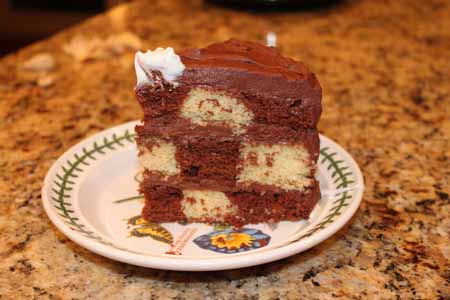 Well, this weekend I learned you don't really need the pan. You can make a checkerboard cake with a couple of decorating bags and a little patience.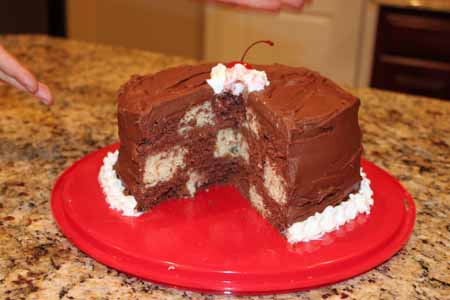 The trick is the way you put the batter in the pan. You make rings.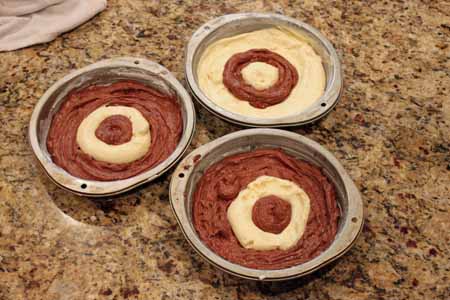 This was my first shot at Checkerboard Cake and I was frustrated because even though I tried to be neat, my rings still came out sloppy. The surprise was when I baked the cakes, the end result was a perfectly adequate checkerboard cake! The family was impressed and I was proud to have saved money on the fancy pan. Perhaps my ring piping skills need work, but this was progress.
As for the taste and texture, this cake was similar to a basic 1-2-3-4 cake. It's crumblier than cakes made with the reverse creaming method, but still delicious.
Checkerboard Cake
2 ¼ cups cake flour (9 oz)
2 teaspoons baking powder
½ teaspoon salt
1 ½ sticks (6 oz) butter, softened
1 ½ cups granulated sugar
3 large eggs, room temperature
2 teaspoons vanilla
¾ cup plus 1 tablespoon milk
2 oz melted semi-sweet chocolate
1 oz unsweetened chocolate, melted
Frosting:
2 sticks (8 oz) butter, softened
4 cups sifted confectioners' sugar
2 oz melted semi-sweet chocolate
2 oz melted unsweetened chocolate
1 teaspoon vanilla extract
¼ cup cocoa powder
¼ cup milk
Directions
Preheat oven to 350 degrees F. Spray 3 8 inch cake pans with cooking spray and line with rounds of wax paper or parchment.
Mix together flour, baking powder and salt; set aside.
Cream the butter and sugar in bowl of a stand mixer using paddle attachment. Beat in the vanilla.
Add eggs one at a time, beating well after each addition.
By hand or using lowest speed of mixer, beat in the flour and milk alternately, beginning and ending with the flour mixture.
Divide batter in half. If you have a scale, set a second bowl on it, set tare to zero and weigh out about 17 oz which is about half the batter.
Stir the melted chocolate into half the batter.
Divide batter evenly between 2 decorating bags (or two freezer bags) filling about halfway full (you can add more batter to the bags later). Snip the ends off to make an opening of about half an inch.
Starting with the vanilla batter, make a circle around edge of one cake pan. Pipe a circle of chocolate inside the vanilla circle. Make the middle circle with chocolate. Repeat in a second pan starting with a ring of chocolate around the edge. Repeat in third pan starting (again) with the vanilla.
Bake pans on center and lower racks, staggered, for 20 to 25 minutes or until a toothpick inserted in cakes comes out clean. Let cool in pan set on a rack for 10 minutes. Remove from pans and peel off parchment. Cool completely.
Make frosting and stack cakes to form a checkerboard.
Frosting: Beat together butter and some of the powdered sugar. Add chocolate(s) and continue mixing. Add vanilla and cocoa powder. With mixer on low, continue adding remaining sugar. Add milk. Increase speed to high and beat until frosting is smooth and creamy.
Cake is adapted from The Southern Living Baking Book