Because she had a day off from school yesterday, Fuzz and I decided to make another cooking video. Unfortunately, things didn't go as planned. The doorbell rang twice, Lizzie kept chasing the cat across the kitchen, and then the camera battery ran out halfway through. So we didn't finish our video, but luckily we did finish the recipe!
This recipe is from a Junior League book, but after I made it I found out that (like the Rocky Mountain Bars from yestesrday) Mardi Gras Lemon Squares is an old Bake-Off recipe from 1952. The original version has pecans in the batter, but we left out the pecans and topped the bars colored sprinkles.
These bars remind me of lemon flavored blondies, and like blondies, they're better after they've set for a few hours. The frosting recipe only yields a thin coat, but that seemed to be just fine. Also, I resisted the temptation to add a little lemon juice to the frosting and am glad I did. The bars themselves are so lemony that the vanilla frosting was a nice contrast. Overall, I thought these were great and since they were better on Day 2, they'd make a good pot-luck dish or party contribution.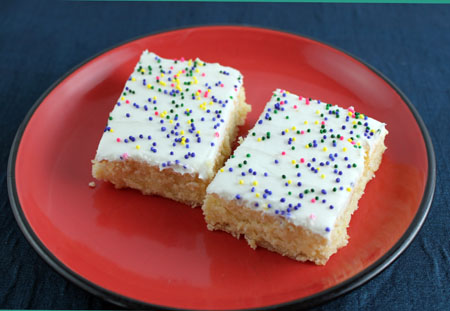 Mardi Gras Lemon Squares
Bars
11/2 cups all-purpose flour (6.7 oz)
½ teaspoon salt
¼ teaspoon baking powder
1cup powdered sugar
1cup granulated sugar
½ cup salted butter, softened
3 large eggs
⅓ cup lemon juice
2 tablespoons grated lemon zest
½ cup chopped pecans (optional)
Frosting
1 cup powdered sugar
2 tablespoons butter or margarine, softened
1 tablespoons heavy cream
Colored Sprinkles or more toasted pecans
Preheat oven to 350 degrees F. Line a 13x9 inch pan with foil and spray foil with baking spray.
In small bowl, stir together flour, salt and baking powder; set aside.
In large bowl, beat powdered sugar, granulated sugar and butter with electric mixer on medium speed, scraping bowl occasionally, until blended. Beat in the eggs, one by one, beating for 30 seconds after each egg. On low speed (we did this by hand), beat in flour mixture alternately with lemon juice, beginning and ending with flour mixture, until well blended. Stir in lemon peel. Pour into pan and bake 30 minutes or until golden brown (Note: The original is baked at 400 for 20-27 minutes)
Meanwhile, in small bowl, beat frosting ingredients on low speed until smooth and spreadable.
Spread frosting over cooled bars (in the original, they spread the frosting over warm bars). Sprinkle with colored sprinkles. Lift from pan using foil to grasp, set on a cookie shut, cut into 6 rows by 4 rows. Makes 24.