Yesterday's Irish Cream Cake was fun, but I wanted to create a scratch version and this was the result. Todd and I agreed it was better than the cake mix version, and even thought it's scratch, it's just as easy. The ingredient list seems long, but it's mostly basic pantry items and the cake itself is a "stir-and-bake" variation on Black Magic Cake.
I hope you like it. Since it was experimental, I decided to make a smaller cake. My plan was to double it if it worked, but the smaller cake was actually the perfect size and could easily serve 6 to 8, so I'm sticking with the 8 inch cake.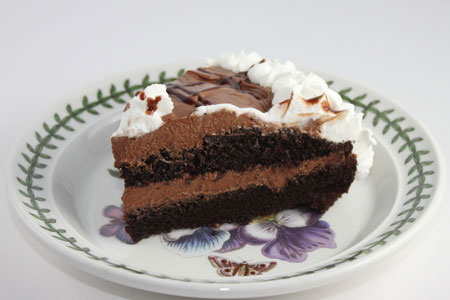 Scratch Chocolate Cake with Irish Cream Filling
3/4 cup plus 2 tablespoons all-purpose flour (4 oz/114 grams)
1/4 cup plus 2 tablespoons unsweetened cocoa powder (I used Dutch)
3/4 cups granulated sugar
1/4 cup packed brown sugar
3/4 teaspoon baking soda
1⁄4 teaspoon baking powder
1⁄4 teaspoon salt
1/4 cup plus 2 tablespoons 2% milk
2 tablespoons Irish Cream
1⁄4 cup vegetable oil
1 large egg
1 teaspoon pure vanilla extract
3 oz boiling water
Irish Cream Filling:
3 scant tablespoons Irish Cream
5 large marshmallows
3 oz semi-sweet chocolate (no more than 60%) – I used Lindt mild dark 50%
1/2 cup heavy whipping cream
Frosting:
1 cup heavy cream
2 tablespoons confectioners' sugar
1/2 teaspoons vanilla
Preheat oven to 350 degrees F. Spray an 8 inch round cake pan with flour-added cooking spray; Line bottom with a round of parchment paper or wax paper.
Mix the flour, cocoa, granulated and brown sugar, baking soda, baking powder and salt together in a mixing cup, breaking up any lumps of sugar or cocoa.
In a smaller bowl, whisk together milk, Irish Cream, oil, eggs and vanilla. Add the milk mixture to the flour mixture and stir until fully incorporated. Add the boiling water to the batter and mix well to combine (the batter will be thin).
Pour batter in the pan and bake on center rack for about 40 minutes or until a toothpick inserted comes out clean. This is a moist cake, so it takes a while. Let cool for 10 minutes in the pan and then invert. Invert again so that cake is right side up and let cool on a wire rack. This cake might dome a little, but that's okay.
Prepare filling. Combine the marshmallows and Irish Cream in a microwave-safe bowl and heat on high for 30 seconds. Stir well. Add chocolate and repeat. Stir until chocolate and marshmallows are completely melted. Set aside to cool completely. When cool, whip the 1/2 cup of cream in a second bowl and fold it into the chocolate mixture.
Split cake in half horizontally. If cake has domed, trim the top to make it "plateau" a bit. Spread filling (below) in between layers and over top, then chill in refrigerator for about 30 minutes to set the filling.
Make topping: Beat the remaining 1 cup heavy cream in a large bowl until peaks form. Beat in powdered sugar and vanilla. Pipe this mixture around edges and sides of cake or just spread it all over the cake.
Garnish with chocolate syrup before serving.
Notes: The filling is super easy and very chocolaty. The gelatin in the 5 large marshmallows helps add just the right amount of stiffness to the filling, but it doesn't go into effect until after you've chilled the cake for a few minutes, so the filling might seem a little runnier than you expected, but it will firm up a bit — not too much, but enough not to run all over the place.