Double Chocolate Peanut Butter Chunk cookies are a variation on the Peanut Butter Chunk Cookies from yesterday, where instead of using peanut butter dough, I used chocolate. Here's a picture of the what the cookies like with chocolate dough.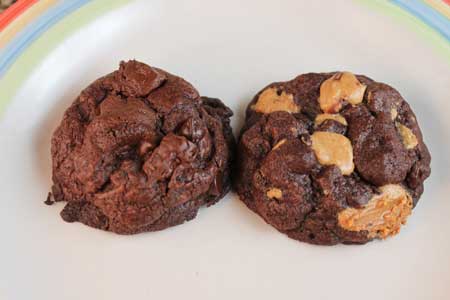 The one on the left is experimental (I'm trying to make Nutella chunks), so ignore that one for now. Also, if you use Hershey's Dark (which is awesome in this particular dough), the cookies will be a lot darker and look more like the old Levain Double Chocolate Peanut Butter Chip cookies clone from a few years ago. The ones in the photo were made with Valrhona Dutch. Normally I use Hershey's Dark, but I wanted to try the Valrhona. I've never tested this dough with natural style cocoa -- just Dutch.
In doing all these experiments with peanut butter chunks, I'm finding the cookies look the best when you put some of the chunks in before baking, then stick a few on right when the cookies come out of the oven.
For fatter cookies, definitely chill the pre-scooped balls of dough. Also, I recommend baking one or two cookies just to nail down the bake time in your personal oven. All ovens are different. Mine were done in about 13 minutes total. For taller cookies, I start these at a higher heat (375) then lower the heat to 325 during the last few minutes for slower, more even, baking. It's a trick I learned for making higher crowns on muffins and I was trying to apply it to cookies.
This is a good dough for double chocolate cookies, but it might be different than the ones you're used to; and if over-baked, not in a good way. If chilled, it should make a nice fat cookie, but the cookies need the chocolate chips (and preferably the peanut butter chunks or just peanut butter chips) to balance the texture of this dough.

Double Chocolate Peanut Butter Chunk Cookies
8 ounces (2 sticks) cold, unsalted butter — cut up
1 cup plus 6 scant tablespoons granulated sugar (10 oz)
2 large eggs
1 teaspoon vanilla extract
⅔ cup (2 oz) dark cocoa powder (e.g. Dutch process or Hershey's Dark)**
2 ¼ cups (10 oz) all-purpose flour
¼ teaspoon salt
¼ teaspoon baking powder
1 cup bittersweet or semi-sweet chocolate chips
Double order of peanut butter chunks (See Below)
In bowl of electric mixer fitted with paddle, beat the cold butter until it's creamy. Beat in the sugar until well-blended. Add eggs and vanilla and beat just until incorporated, then scrape sides of bowl and beat in cocoa powder. Scrape sides of bowl again.
In a separate bowl, thoroughly stir together flour, salt and baking powder. Stir the flour mixture into the chocolate mixture. When flour is mixed in, fold in the chocolate chips Divide into 12 equal portions. By hand, press peanut butter chunks into sides of cookies. You can press as many as you want – I did as few as two and as many as 5. You can also press a few more on as soon as the cookies come out of the oven if you want.
Chill dough for at least an hour for taller cookies. You can skip the chill time, but it definitely makes the cookies fatter.
Preheat oven to 375 degrees.
On a parchment paper or Silpat lined or non-stick cookie sheet (don't use grease or spray), place the cookie dough mounds.
Bake at 375 degrees for 8 minutes, then without opening oven or tampering with cookie sheet, reduce heat to 325 degrees and bake for another 4-6 minutes or until cookies appear set but still slightly moist in the center. You don't want to over-bake these.
Let cookies cool on rack for about 5 minutes, then transfer to a rack to cool and set.
Peanut Butter Chunks:
¼ cup plus 2 tablespoons peanut butter chips (Reese's)
¼ cup plus 2 tablespoons peanut butter (I used Skippy Natural)
1 ½ tablespoon butter
Mix the peanut butter chips, peanut butter and butter in a small bowl and microwave on high for 30 seconds. Stir until smooth. If chips aren't melted, heat for another 30 seconds.
Make a small 2×5(ish) mold with foil (see photo). Pour the peanut butter mixture into the little mold and chill it for about a half hour or until firm. Unmold the peanut butter log and cut into chunks.