Harry's Roadhouse Coconut Cream Pie was recommended by my friend KAnn who adapted it from The Harry's Roadhouse Cookbook. It's very similar to Richard Sax's Claremont Diner coconut cream pie, a lighter textured cream pie with a filling stiff enough to pile above the shell.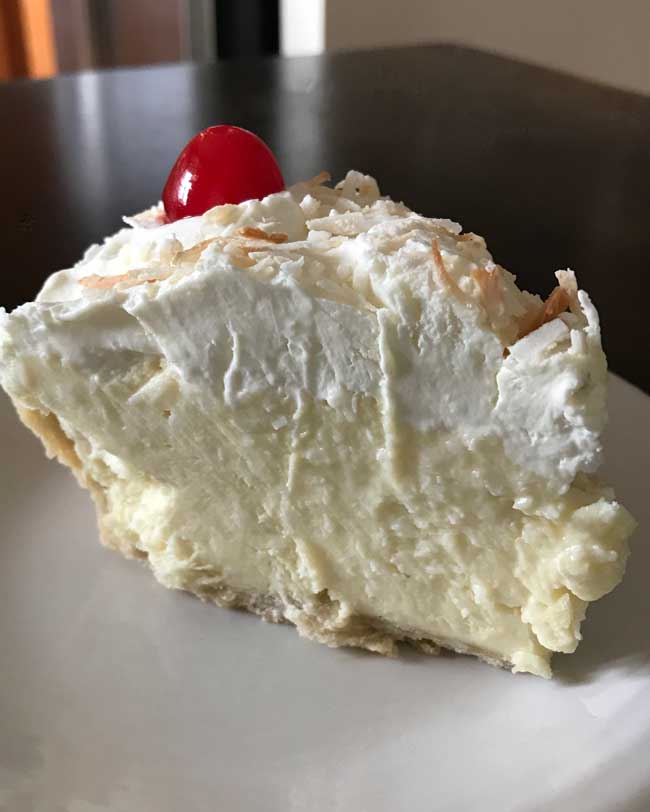 You can make Harry's Roadhouse Coconut Cream Pie in a 9 inch pie dish with a homemade crust or halve it and put the filling in a smaller dish. The first time I made it I halved the filling and blind baked it in a Marinex 7-Inch Fluted Small Round Pie Pan lined with a baked crust from Cook's Illustrated.  Here's a picture of my 7 inch pie.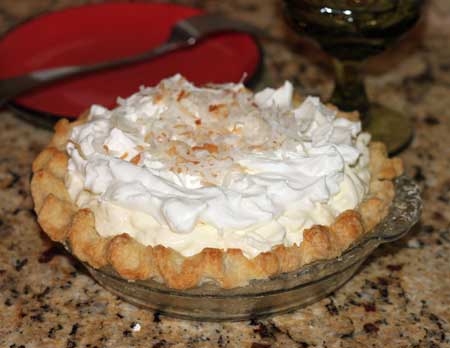 But now I usually make it as a 9 inch deep dish pie.  The filling has gelatin, cornstarch and egg yolks in it so it's thick enough that you can pile it in the shell.  It's also not overly stiff, which is good considering all the thickeners!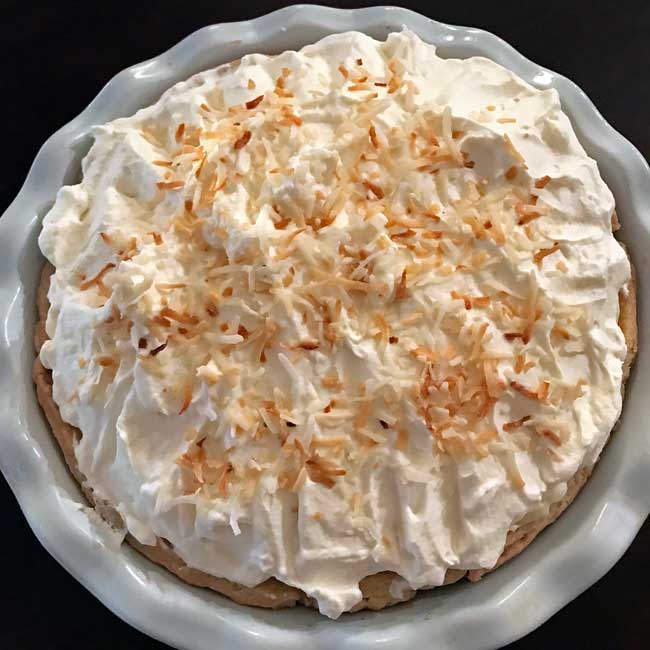 Best Type of Coconut
Over the years I've tested Harry's Roadhouse Cream Pie with different kinds of coconut and think that sweetened flaked coconut works the best.  If for whatever reason you have to use unsweetened, make sure to add more sugar to taste and leave out the salt or add only a pinch.  I always use more whipping cream than the original recipe.  In the original recipe 1 cup of whipped cream is folded into the pie.  I add 1 cup to the pie, but then I whip more cream and spread it over the top.
Update: Harry's Roadhouse Coconut Cream Pie freezes very well!
Recipe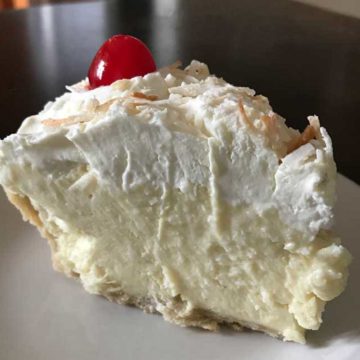 Harry's Roadhouse Coconut Cream Pie
A coconut pie recipe that is supposed to be similar to the one served at Harry's Roadhouse
Ingredients 
1

pre-baked pie shell

blind-baked or a graham crust -- 9 inch

3

cups

whole milk

divided use

2

teaspoons

gelatin

1

large egg

3

egg yolks

1/4

cup

cornstarch

1/2

cup

sugar

2

tablespoons

butter

I used unsalted

1

teaspoon

vanilla or vanilla paste

Pinch

of salt (can use more if necessary **

2

cups

shredded sweetened coconut plus an extra ¼ cup for toasting

1

cup

heavy cream or if you prefer

1 1/2 to 2 cups (extra whipped cream is for the top)
Instructions 
Put 1/2 cup of milk in a mixing bowl and sprinkle in the gelatin. Allow it to soften.

Stir egg, egg yolks, cornstarch, and sugar into the milk mixture.

Put remaining 2 1/2 cups of milk in a non-reactive saucepan over high heat to scald the milk. When milk is scalded, gradually whisk it into the gelatin mixture.

Pour the mixture back into the saucepan and return to the stove, whisking all the time. When the mixture begins to boil and thicken, remove from heat and add butter, vanilla, salt, and coconut.

Whisk until all the butter is melted and incorporated. Place custard in a container to cool. Cover with plastic wrap against the custard to keep a skin from forming. Alternatively, place custard in an 8 inch square pan and put it in a larger pan with ice water coming up the sides. This will help it cool quicker.

When the custard is cool, whip 1 cup of cream until peaks start to form, then fold into the chilled custard until smooth. Try not to overmix. Pour mixture into prebaked crust and chill for several hours or until very cold. Sprinkle top with coconut.

If desired (and I always do this), whip another 1/2 to 1 cup of cream, sweetened to taste with powdered sugar, add a little vanilla and spread over the top of the pie. If you like frozen whipped topping you can thaw out some Cool Whip and use that instead. Sprinkle more toasted coconut over the pie.
Notes
** The original version calls for 1/2 teaspoon of salt, so feel free to add more if you think you need it. I think it's fine with just a pinch. Also, sweetened coconut works best, but if for some reason all you have is unsweetened you can use unsweetened and add an extra tablespoon of sugar to taste. I think sweetened works best, though.
The original recipe uses 1 cup heavy cream. After I whipped up the first 1 cup of cream, I whipped up a second ½ cup of cream, added a little powdered sugar and spread it over the top.