Roadhouse coconut cream pie recipe was recommended by my friend KAnn who adapted it from The Harry's Roadhouse Cookbook. It's very similar to Richard Sax's Claremont Diner coconut cream pie, which is a lighter textured cream pie with a filling stiff enough to pile above the shell.  You can make it in a 9 inch pie dish with a homemade crust or halve it and put the filling in a smaller dish..  I halved the filling and blind baked a Cook's Illustrated pastry crust in my Marinex 7-Inch Fluted Small Round Pie Pan
.
Update: Another option is making the full batch and freezing it, which is what I usually do these days. Coconut pie freezes very, very, well.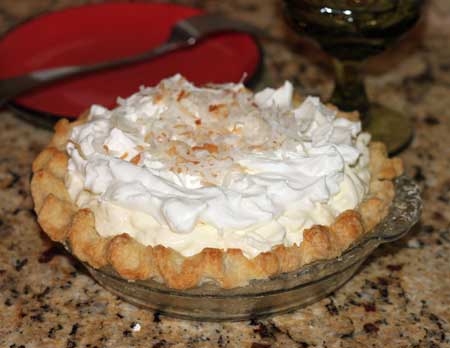 Harry's Roadhouse Style Coconut Cream Pie
A coconut pie recipe that is supposed to be similar to the one served at Harry's Roadhouse
Ingredients
1 pre-baked pie shell (blind-baked or a graham crust) -- 9 inch
3 cups whole milk, divided use
2 teaspoons gelatin
1 large egg
3 egg yolks
1/4 cup cornstarch
1/2 cup sugar
2 tablespoons butter (I used unsalted)
1 teaspoon vanilla or vanilla paste
½ teaspoon salt
2 cups shredded sweetened coconut plus an extra ¼ cup for toasting
1 cup heavy cream**
Instructions
Put 1/2 cup of milk in a mixing bowl and add gelatin. Let it dissolve for a minute.
Stir egg, egg yolks, cornstarch, and sugar into the milk mixture.
Put remaining 2 1/2 cups of milk in a non-reactive saucepan over high heat to scald the milk. When milk is scalded, slowly add it to the gelatin mixture and whisk until incorporated.
Pour the mixture back into the pan and return to the stove, whisking all the time. When the mixture begins to boil, remove from heat and add butter, vanilla, salt, and coconut.
Whisk until all the butter is melted and incorporated. Place custard in a container to cool. Cover with plastic wrap against the custard to keep a skin from forming. Chill in the refrigerator for a few hours or overnight. Whip cream until stiff peaks form. Fold into the chilled custard until smooth. Try not to overmix. Pour mixture into prebaked crust and top with toasted coconut.
Notes
**The original recipe uses 1 cup heavy cream. After I whipped up the first 1 cup of cream, I whipped up a second ½ cup of cream, added a little powdered sugar and spread it over the top.