I recently re-named this recipe Grape Nuts Zucchini Bread from Zucchini, Apple and Carrot Bread to distinguish it from a different recipe that does not call for Grape Nuts. This one does, and they really enhance the loaf! So if you happen to have Grape Nuts you are in luck, but even if you don't have the cereal you can still make it, as it's a very good quick bread with or without them.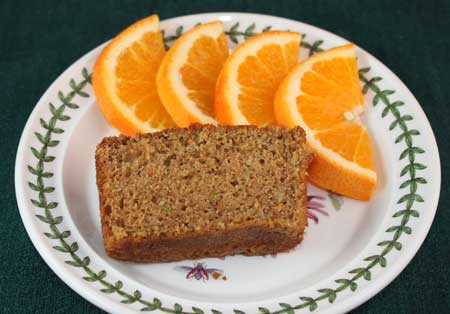 Grape Nuts Zucchini Bread Texture and Flavor
This recipe has less fat than most, but you'd never know it. The texture is tight-crumbed and moist. You could make it even more nutritious by eliminating some of the sugar and replacing it with a wholesome sweetener or sugar substitute. I've made this as written below, but I've also made it with 2/3 cup of turbinado sugar standing in for the granulated and brown. As for the Grape Nuts, I threw those in at the last minute because I was out of actual nuts. I wasn't sure I'd like the texture, but the Grape Nuts were terrific baked into the bread. They're hardly noticeable at first, but you'll get a bit here and there with a little chew in it.
Makes an 8×4 Inch Loaf
One final thought, this really is best for an 8×4 inch pan. Most of my pans are 9×5, but I bought some cheapo 8×4 aluminum tins at Christmas time and that particular size worked perfectly. So if you don't have a 9×5 inch pan, check the grocery store because they may have some 8×4 disposable aluminum ones.
Update: This is a great recipe, but if you want a more basic loaf, check out this new recipe for White Whole Wheat Carrot Bread!
Zucchini, Apple and Carrot Bread with Grape Nuts
1 cup (4.5) white whole wheat flour (such as King Arthur) or all-purpose
1 teaspoon baking soda
1/4 teaspoon baking powder
3/8 teaspoon salt
1/2 teaspoon cinnamon
1/3 cup granulated sugar
1/3 cup brown sugar
1 large egg
3 tablespoons vegetable oil
1/2 teaspoon vanilla extract
1/3 cup buttermilk or plain yogurt
1/2 cup grated zucchini (slightly packed) – 2 oz — i liked to peel the zucchini
1/4 cup grated apple — peeled
1/4 cup grated carrot
1/2 teaspoon orange zest
1/3 cup Grape Nuts cereal or just use 1/3 cup toasted nuts
Preheat oven to 350 degrees F. Spray an 8×4 inch loaf pan with flour-added cooking spray.
Thoroughly mix together the flour, baking soda, baking powder, salt and cinnamon.
In a mixing bowl, using a wooden spoon, stir together the sugars, eggs, oil and vanilla. Stir in the buttermilk. Add the flour mixture to the dry ingredients and stir until mixed, then add the zucchini, apples, carrots and orange zest followed by the Grape nuts (or nuts).
Pour the batter into the prepared pan (s) and bake for 45-50 minutes