I suppose absent mindedness pays off sometimes, because if I hadn't accidentally put a jumbo size bag of baby carrots in the freezer, I might not have had this White Whole Wheat Carrot Bread. It is very good, and made use of my weird textured thawed frozen baby carrots.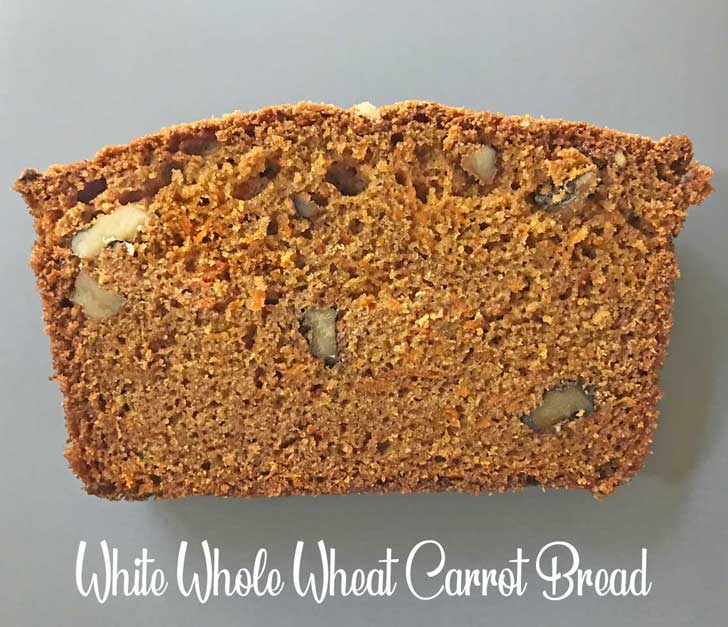 The recipe is actually adapted from one of my older recipes, Carrot Blueberry Bread. The Carrot Blueberry Bread is made with whole wheat pastry flour and calls for blueberries. White Whole Wheat Flour Carrot Bread is made with 100% white whole wheat flour. I usually use King Arthur's. As for the blueberries, you can certainly throw some in, but the recipe works beautifully without them. I do recommend keeping the nuts, though. They just go so well with the white whole wheat flour, which really enhances the overall flavor.
The Poor Baby Carrots
Next time I make this I'll use healthy carrots, but the baby carrots, even thawed from frozen, worked well. I prepared them by shredding in the food processor with the shredding attachment, then chopping with the chopping attachment. I also drained them pretty well on a paper towel. I'm mentioning this because I used about 210-220 grams. If your carrot are freshly grated and undrained, they may weigh more due to water. So my carrots were very dry.
Cast Iron Loaf Pan
You can make this bread in an 8 1/2 by 4 1/2 or 9×5 inch loaf pan. I used my Lodge cast iron loaf pan, which gives loaves a good crusty edge. A Pyrex loaf pan will probably do the same thing So if you're thinking about a cast iron loaf pan I recommend one. But for this recipe you can use any loaf pan.
Related Recipes
Recipe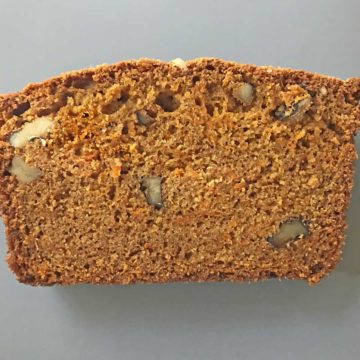 White Whole Wheat Flour Carrot Bread
A carrot quick bread made with white whole wheat flour and walnuts.
Ingredients 
2

cups

white whole wheat flour, weight for best results

(280 grams)

1 1/2

teaspoons

baking soda

1/2

teaspoon

baking powder

3/4

teaspoon

salt

1

teaspoon

cinnamon

1/4

teaspoon

freshly ground nutmeg

3

large

eggs

3/4

cup

granulated sugar

(150 grams)

1/2

cup

dark brown sugar

(100 grams)

1/2

cup

canola oil

2

cups

shredded, chopped carrots, drained on a paper towel.

(210)

1 1/2

teaspoons

vanilla extract

3/4

cup

walnut pieces
Instructions 
Preheat oven to 350 degrees F. Grease a 9×5 inch loaf pan. Lay a strip of parchment down the length of the pan for easy removal. Spray or grease the parchment.

Whisk the flour, baking powder, baking soda, salt, cinnamon and nutmeg together in a large bowl for about 15 seconds.

In a mixing bowl, beat eggs with an electric mixer for 1 minute. Gradually beat in the sugar and beat for another minute. With mixer on low, gradually add the oil and the vanilla. With a heavy duty scraper or rubber spatula, stir in the flour mixture until well-blended. Stir in the carrots, then stir in the nuts.

Transfer batter to the greased pan.

Bake on center rack for about 1 1/2 hours.

Let cool in pan set on a rack for 30 minutes, loosening sides gently after the first 10 minutes. Remove from pan and let cool completely before slicing.