Thanks for all the comments about HAL. I am enjoying reading them and keep checking for new ones, but I couldn't let this day go by without posting a cookie.  This one is a Skillet Cookie.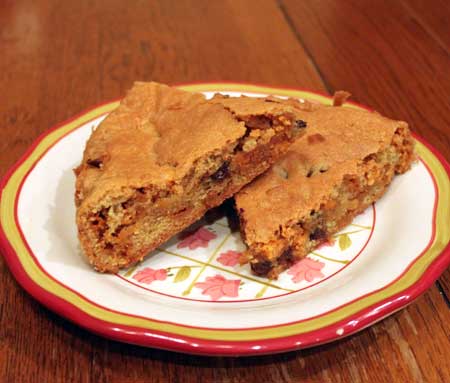 We made this over the weekend, and by "we" I mean Fuzz and her friend Josephine. I came downstairs to find the girls going through my cookbooks in search of something to make. Never mind I'd just made brownies, they wanted to do it themselves.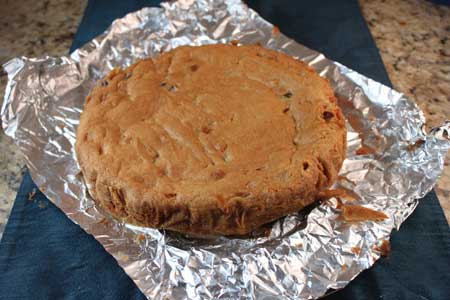 One of Fuzz's favorite books is "Delicious Desserts" by Barbara Beery. Barbara not only writes kids' cookbooks, she's the founder of "Batter-Up Kids" Cooking School and knows just what types of recipes kids like. This recipe was perfect for two self-reliant 9 year old girls (though I did swoop in and insist they weigh everything) and makes a very tasty, easy-to-cut and serve cookie. They did make some major changes, though, so I put them in the notes at the bottom of the recipe.
Skillet Cookie 
½ cup granulated sugar
1 cup brown sugar, packed
1 cup (8 oz) butter (salted or unsalted would work)
1 teaspoon vanilla
2 large eggs
1 teaspoon baking soda
1 teaspoon salt
2 ½ cups (11.25 oz) all purpose flour
2 cups chocolate chips (the girls used butterscotch chips)
Preheat the oven to 375 degrees F. Grease a 10 inch oven-proof skillet. If you don't have a 10 inch skillet.
In a large mixing bowl, beat the sugars and butter until blended. Beat in the vanilla and the eggs. Reduce speed to low and beat in the baking soda and salt, then add the flour and mix using lowest speed of the mixer. Stir in the chips.
Pour the batter in the skillet and bake on center rack for about 30 minutes. Let cool for 15 minutes, then slice.
Makes 16 slices
Notes: We were out of butter so the girls weighed out 8 oz of I Can't Believe It's Not Butter spread (the kind in the tub) and it worked perfectly. The cookies had a firm exterior and a dense and soft interior. We also had very few chocolate chips, so the girls used butterscotch chips and about a handful of chocolate chips.
And finally, I don't own a 10 inch skillet. We made the full batch, set aside about a cup of batter, then baked the cookie dough in a 9 inch springform pan.