Last week I posted a recipe for a gluten-free chocolate chip cookie cake using Pamela's baking mix. It was a big hit at our cookie decorating party and I'd definitely make it again.  However, I now have a gluten-free vegan chocolate chip cookie cake that I like even better!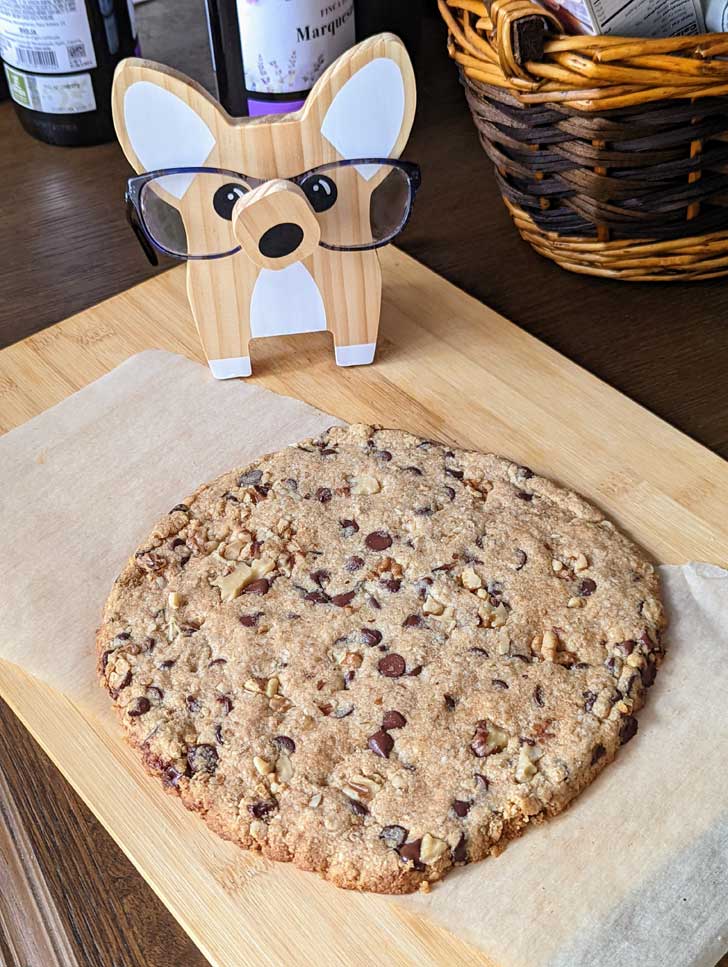 Gluten-Free Thanks to Almond Meal
This one is adapted from the Perfect 10 Cookies recipe by Christina Tosi and Karlie Kloss, and it's different from your usual cookie cake. The cookie is made with very lightly baked almond meal, almonds, oats and chocolate chips. This makes is kind of chewy and almost cookie dough-ish. It has loads of flavors and textures coming from the ingredients mentioned plus agave and vanilla. It's also one of the easiest cookie cakes you'll ever bake because all you do is dump everything in the bowl and mix. Using a scale makes it even easier because you can set the empty bowl on a scale, set the tare to zero, and just weigh everything directly into the bowl.
So far I've only made this cookie cake for myself and Fuzz, so I'm interested in hearing your opinion. As for the icing, since I'm not vegan I've been using the same icing I used on the other cookies cakes, but if you are vegan there are a ton of other options. I think a vegan cream cheese icing would be really good on this.
More Gluten-Free Vegan Chocolate Chip Notes
Update: I've had this recipe forever and don't make it often enough. First, I am neither gluten-free nor vegan. Second, I just forget about it. This is actually a delicious (and easy) gluten-free vegan chocolate chip cookie cake. If you like slightly less sweet desserts, you'll love it. I think the extra fat from the almond meal makes the cookie cake so pleasing. Here are a few tips from my last round of baking.
Use weights rather than volume if possible.
Stir the dry ingredients very, very, well.
Change up the sliced almonds for any nuts.
You can play with the oil. For cookie in the top photo I went against my own advice and used extra virgin. However, I combined it with coconut oil so it was 2 tablespoons of EVO and 2 tablespoons of melted coconut oil.
You may need to tack on another minute or two. This was my first time baking it in my North Carolina oven and it took about 15 ½ minutes.
Recipe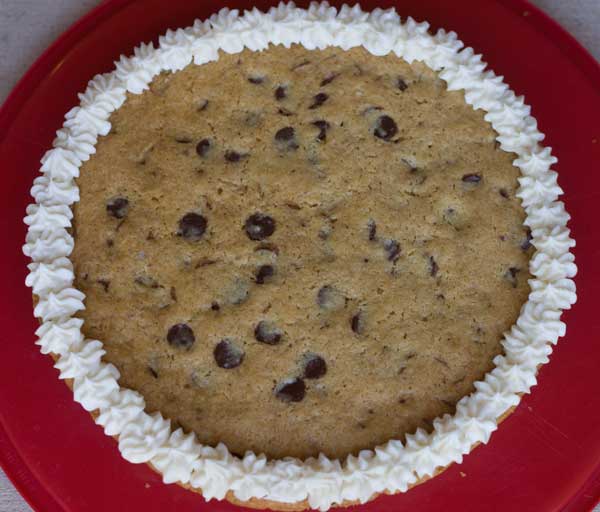 Gluten-Free Vegan Chocolate Chip Cookie Cake
Vegan Gluten Free Cookie Cake made with almond flour
Ingredients 
100

grams

almond flour

50

grams

gluten-free whole oats

Pinch

of baking soda

3/16

of a teaspoon baking powder

Pinch

of salt

⅛

teaspoon

xanthan gum

15

grams

sliced almonds

lightly toasted

60

g

mini dark chocolate chips

40

g

canola oil or very light tasting olive oil

not extra virgin

45

grams

agave syrup

½

teaspoon

vanilla extract
Instructions 
Heat the oven to 300 degrees F. Line a large baking sheet with parchment paper or a silicone mat.

In a mixing bowl, combine all dry ingredients and make a well in the center.

Add the oil, syrup and vanilla to the well, then mix everything together to form a soft dough.

Empty the mixture onto the baking sheet and shape it into an 8 inch circle.

Bake on center rack for about 12-14 minutes or just until cookies looks less shiny and appears set.

Let cool directly on the baking sheet. When ready to decorate, use a cake lifter to put it on your decorating surface. This cookie cake freezes well.