A while back I went on a quest to find my favorite Rocky Road Recipe. I tried a recipe with raw eggs, another with condensed milk, and a recipe where the marshmallows and nuts were bound together by nothing more than melted Dove chocolate, the latter being my favorite.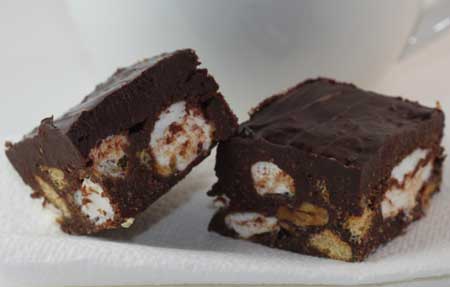 At some point I got tired of Rocky Road and moved on, but then along came this recipe and I just had to try it. The marshmallows and nuts are held together not just by a chocolate/milk/butter mixture, but by a matrix of graham cracker crumbs. All in all, it was pretty interesting. I liked the addition of the graham crackers, but I think next time I might just break them into small pieces instead of grinding them into crumbs like the recipe suggested. Other than that, these are delicious and I can't stop eating them.
Rocky Road Graham Squares
¼ cup toasted chopped pecans or walnuts
11/2 cups graham cracker crumbs
16 large marshmallows, cut in halves and quarters*
⅔ cup powdered sugar (divided use)
2 tablespoons plus ½ cup milk, room temperature
2 cups semi-sweet chocolate chips
3 tablespoons butter, room temperature
Line an 8 inch square pan with non-stick foil.
In a mixing bowl, toss together the pecans, crumbs, marshmallows, ½ cup of the powdered sugar, 2 and 2 tablespoons of the milk. Set aside.
In a small saucepan, combine the remaining ½ cup milk, chocolate chips, and butter. Heat over low, stirring constantly, until the chocolate and butter melt and the mixture is smooth. Pour HALF of the mixture over the graham cracker mixture and stir until blended. Spoon into pan and press down evenly.
Add the remaining powdered sugar to the chocolate mixture in the saucepan and stir in until mixed.
Using a rubber spatula, scrape the chocolate mixture over the mixture in the pan. Cover (I didn't cover), and chill until chocolate is set (about 30 minutes, but I left mine in there for a few hours).
Grasp foil, lift from pan and set on a cutting board. Trim edges and cut into 16 squares.
Adapted from Williams Sonoma Kids Cookies
* Or use 1 ½ cups of mini marshmallows