If you love eating the edges off cookies and think a muffin's top is the best part, here's a recipe you have to try. It's for blueberry corn muffins, and what's so special about them is that as they bake they develop these lovely, crispy, rings around the edge. I suppose it's due to the oil in the recipe, or maybe it just has something to do with the fact I used a lot of butter on the muffin cups, but I don't think I've ever made a muffin like this.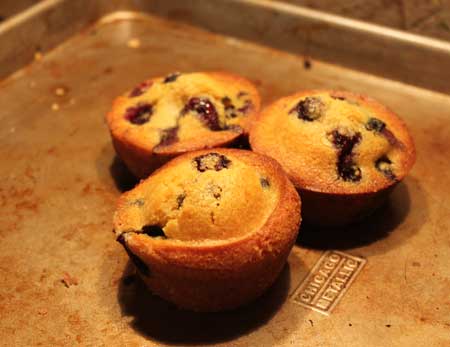 I might try making these again with pineapple.
Blueberry Corn Muffins
1 ¼ cups cornmeal
1 cup all-purpose flour (4.5 oz)
¼ cup granulated sugar
¼ cup firmly packed light brown sugar
1 teaspoon baking soda
½ teaspoon salt
1 large egg, lightly beaten
1 cup buttermilk or sour milk
¾ cup vegetable oil
½ teaspoon vanilla
1 ¼ cups fresh blueberries
Preheat oven to 425 degrees F. Rub 12 muffin cups with butter or shortening.
Mix the dry ingredients (cornmeal through salt) in a mixing bowl. In a second bowl or in a large glass measure, whisk together the egg, milk, oil, and vanilla. Pour the egg mixture into the dry mixture and stir just until blended. Stir in the blueberries. Divide the batter equally among the muffins cups (it will come almost to the top) and bake on center rack for 16-18 minutes or until the muffins appear golden brown around the edges.
Makes 12