Cornmeal Buttermilk Biscuits are an interesting twist on regular buttermilk biscuits. Originally from Cook's Country, these are perfect with a meal of barbecued chicken. Or something like that. I can think of a lot of things they'd be perfect with.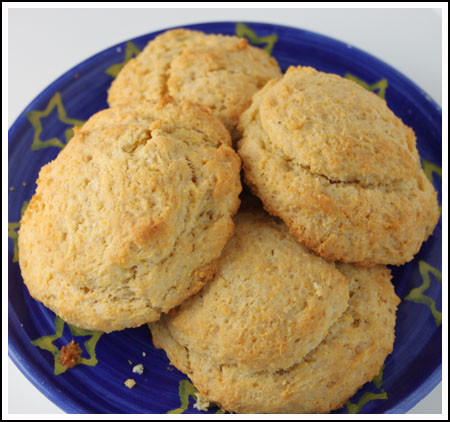 What's special about this recipe is that the cornmeal is soaked for 10 minutes in buttermilk. What you get is a biscuit that's packed with corn flavor but isn't too grainy. Also, Cornmeal Buttermilk Biscuits are not sweet, which is probably a good thing if you're serving them with dinner. If you still want sweet you can serve a little honey on the side.
This recipe says to knead the dough, which is interesting since kneading dough forms the glutens which can make biscuits tough. But the original recipe noted (and I appreciated that note!) that this dough can be kneaded because a good deal of it is cornmeal (which is gluten-free) and the acid in the buttermilk inhibits gluten formation. I still felt weird kneading biscuit dough, but the biscuits were very tender in the end.  Mine spread a little more than I'd anticipated, but it wasn't a big issue. I used about 4.5 oz of flour per cup and might use up to 5 the next time for more squared off looking biscuits. Then again, we loved them this way so I can't complain.
Below is the recipe for hte cornmeal biscuits I made. Since we loved them so much, I've bookmarked a few others including Julie's (adapted from Cooking Light) and a highly rated one from Food TV. It will be fun to compare them all.
Cornmeal Buttermilk Biscuits

½ cup cornmeal
5 ounces buttermilk
2 teaspoons honey
1 cup all purpose flour
1 ½ teaspoons baking powder
¼ teaspoon baking soda
½ teaspoon salt
6 tablespoons cold unsalted butter

Preheat oven to 450 degrees F. Line a baking sheet with two layers of parchment paper.

In a large mixing bowl, combine the cornmeal, buttermilk and honey. Stir well and let sit for 10 minutes to soak the cornmeal.

Add flour, baking powder, baking soda and salt to a food processor and pulse to mix. Add cold butter and pulse until mixture is coarse.

Pour the flour mixture into the buttermilk mixture and stir to make a soft dough. Turn out onto a lightly floured surface and knead about 8 times until smooth.

Using a biscuit cutter or the top of a glass about 2 inches wide dipped in flour (I dip mine in a little water), cut out 6 rounds. Arrange rounds on cookie sheet.

Bake at 450 for 5 minutes or until biscuits really start to rise in the oven, then turn heat down to 400 and bake for another 12-15 minutes or until golden brown.

Makes 6