Cream of Tartar Chocolate Chip Cookies is a recipe I usually forget about, then remember when I'm making Snickerdoodles. It's a chocolate chip cookie recipe with cream of tartar, baking powder and baking soda in the dough. All of the leavening agents (plus the ratios) give you a crinkly, wrinkly dough with crispy edges.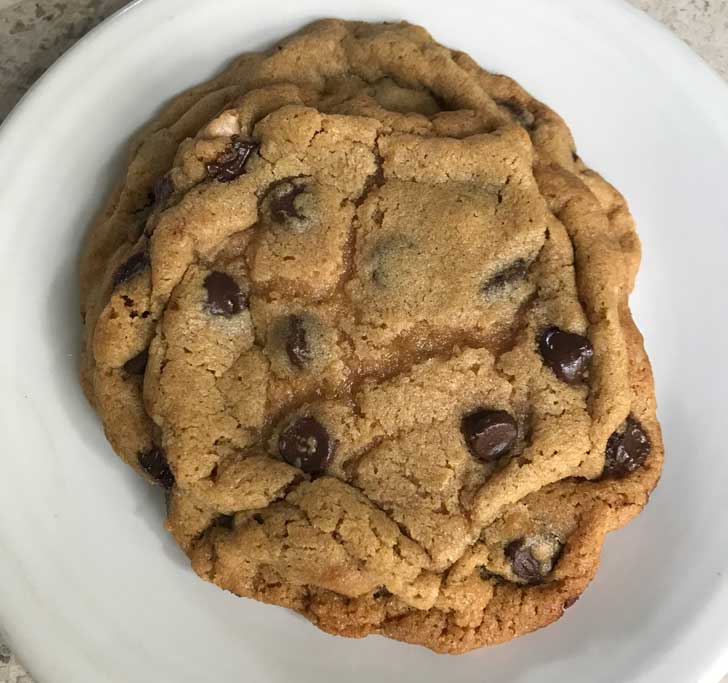 Cream of Tartar
Cream of tartar is derived from argol, which is a crusty substance that appears inside wine casks during fermentation. I read that McCormick gets its argol from Italy, where they send very small people into the wine casks to do the scraping. The crusty crystal residue is refined into cream of tartar, which is an acidic salt. It is a good acid for baking, because it doesn't add extra moisture to the batter like vinegar, buttermilk or other acids. It can be used alone or combined with baking soda to make baking powder.
Cream of Tartar Chocolate Chip Cookies
12 tablespoons unsalted butter, softened (170 grams)
1/2 cup plus 2 tablespoons granulated sugar (125 grams)
1/2 cup plus 2 tablespoons dark brown sugar (125 grams)
1 1/2 teaspoons vanilla
1 egg (50 grams)
2 cups unbleached all purpose flour (260 grams) 
1 teaspoon baking soda
3/4 teaspoon salt
1/2 teaspoon baking powder
1/2 teaspoon cream of tartar
1 1/2 cups chocolate chips
Preheat oven to 350 degrees F. Beat butter and sugars until smooth. Add vanilla and egg and mix until combined.
In a separate bowl, stir together flour, soda, salt, baking powder and cream of tartar. Add flour mixture to butter mixture and stir until incorporated. 
Divide the dough into about 12 equal sections (you can make them smaller if you want) and shape into balls. Place dough balls 3 inches apart (6 per cookie sheet) on parchment lined or non-stick cookie sheet and flatten tops slightly. You don't want to flatten it too much, you just don't want it to look like a ball. Bake for about 15 minutes or until brown around the edges. Cool slightly on cookie sheet for about 5 minutes, then transfer to a rack to set: remove from baking sheet. Cool on wire rack. Makes about 12 big cookies