I was really happy to get a press release saying Ted's Montana Grill was giving away free cookies. I thought we had one here in Austin, but it turns out I got it mixed up with Willie Nelson's Texas Roadhouse. Oh well.
But if you live near a Ted's you're in luck because they've decided that August is Cookie Month at Ted's Montana Grill and to celebrate, they are giving cookies away on August 23. You do have to make a small purchase, though, so you can't just run in and ask the hostess to load you up. I think they want you to sit down and order some coffee or a big juicy steak  to go with your cookie. So go hungry. They have Chocolate Chip, Snickerdoodle, Oatmeal Raisin, and a new Double Chocolate Cookie for which they have generously shared the recipe. Woo Hoo! Now if I ever find myself at a Ted's Montana Grill and fall in love with their cookies, I won't have to spend all day trying to clone them.  Recipe is after the jump.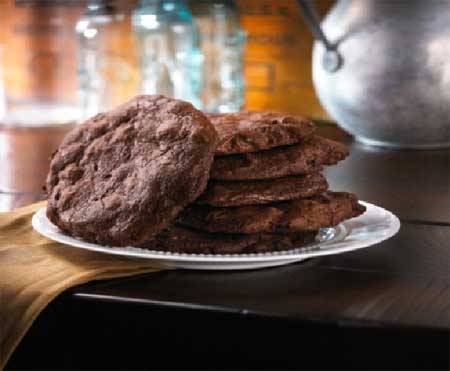 Okay, here's the recipe.  It must be directly from chefs because it appears to be in weights.  If you don't have a scale, I've put what I think is the closest volume amount.  There doesn't appear to be any leavening either, which is interesting. I'll have to try these...
Ted's Montana Grill Double Chocolate Cookies
Yield: 12 cookies
4.5 oz. softened butter, unsalted (9 tablespoons)
20 oz. semi-sweet chocolate chips (3 ⅓ cups)
9 oz. granulated sugar (if you don't have a scale, this is about 1 ⅓ scant cups)
3 whole eggs
1 tbsp. vanilla extract
5 oz. pastry flour (About 1 cup plus 2 tablespoons)
¾ tsp. iodized salt
Directions
1. In a double boiler, add butter and 11 oz. of chocolate chips. Gently heat the mixture together. Stir with rubber spatula. Set aside when the mixture is smooth and fully melted.
2. Add the sugar, eggs and vanilla. With rubber spatula, mix until fully blended.
3. Add the flour, salt and 9 oz. of chocolate chips to the melted chocolate/egg mixture and mix until fully incorporated using spatula.
4. Place mixture in the refrigerator for 30 minutes. After 30 minutes, portion the mixture into 3 oz. sizes. Place the 3 oz. portions on a sheet pan with parchment paper, cover and refrigerate.
5. To bake: Line a sheet tray with parchment paper. Pre-heat oven to 325°F. Using the portioned 3 oz. cookies, gently press the cookies to about 3½" round by ½" tall. Arrange 4-6 cookies per pan. Bake for 6 minutes, rotate pans and bake additional 6 minutes. Cool completely on sheet pans.