For her birthday, Fuzz requested a marbled layer cake with chocolate icing and an assortment of decorating items so that she could decorate it herself. I think she did the job quickly because she'd spent a whole day at Six Flags and was ready to cut the cake and eat it.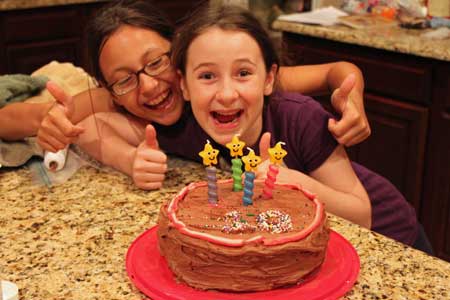 Happy Birthday Fuzz!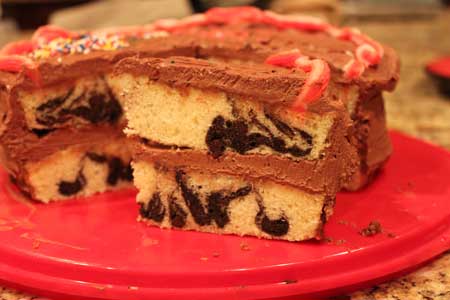 The recipe I used was my second favorite yellow cake, a recipe from Cook's Illustrated with a little cocoa powder and mini chocolate chips added to part of the batter to make the marbling. But something went wrong. People ate the cake, but it was dense, tight crumbed and not very high.  I'm not sure what happened.  Needless to say, the next day I threw out the remaining cake and made a new one using a completely different recipe -- Grace Parisi's Marbled Layer Cake from Food & Wine Magazine.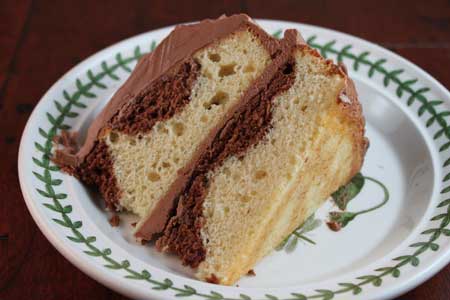 This cake was better, especially the icing which was fantastic and will be made again soon! As for the crumb, it was what you'd expect from a yellow cake made with all-purpose flour. I think from now on I need to stick to yellow cakes made with cake flour.  It makes a big difference.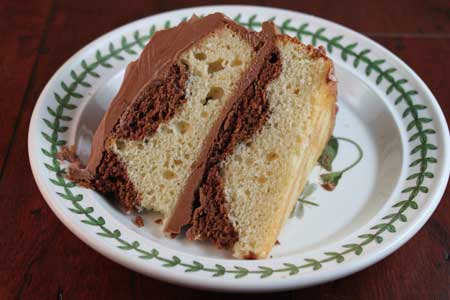 So I'm still on the hunt for the perfect marbled layer cake.
I think I'll make a third recipe using Shirley Corriher's yellow cake as a base.