Years ago I went on a quest for the perfect marbled pound cake. I settled on a marbled version of Elvis's Favorite pound cake which lives up to its name thanks to the eggs, butter and cream. It's a dense and rich cake very different than my new favorite — Marcy Goldman's Shabbat Mandarin Marble Loaf.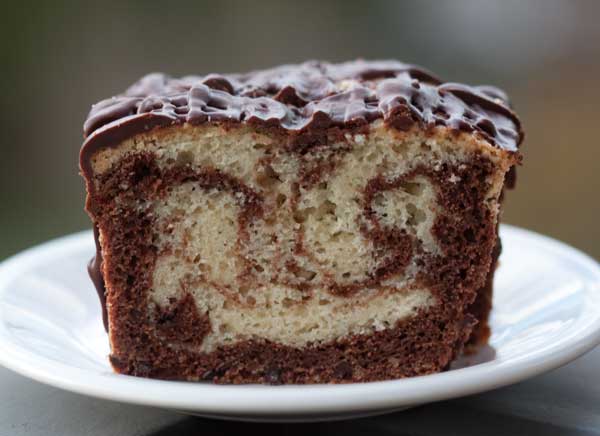 It's not exactly a pound cake nor is it a chiffon, so calling it a loaf sums it up pretty accurately.
Using oil instead of butter gives it a softer texture, and I loved Marcy's way of making the chocolate mixture with just cocoa and oil. That plus the chocolate chips was just the right amount of chocolate. I didn't want any orange flavor in my cake so I used the water substitute and left out the zest, but I'm going to try it again with the orange because I think there needs to be a flavor to compensate for the missing butter. The loaf was really pretty, though the chocolate batter tends to sink, so keep that in mind as you are doing your layering. Also, the recipe halves well if you're okay with halving an egg. To halve an egg, just crack it in a cup and measure out 2 tablespoons.
I'm linking you directly to the recipe (near the top of the post if you missed it) so you can get it verbatim from the source and since I didn't really make any changes to the technique. That, plus you can read the reviews. As usual, they are all over the place and fun to read.
Update:  I forgot to add that I used a chocolate glaze and wouldn't recommend the one I used.  Marcy's glaze or maybe a lighter glaze would be better.