Years ago I went on a quest for the perfect marbled pound cake. I settled on a marbled version of Elvis's Favorite pound cake which lives up to its name thanks to the eggs, butter and cream. It's a dense and rich cake very different from my new favorite -- Marcy Goldman's Shabbat Mandarin Marble Loaf.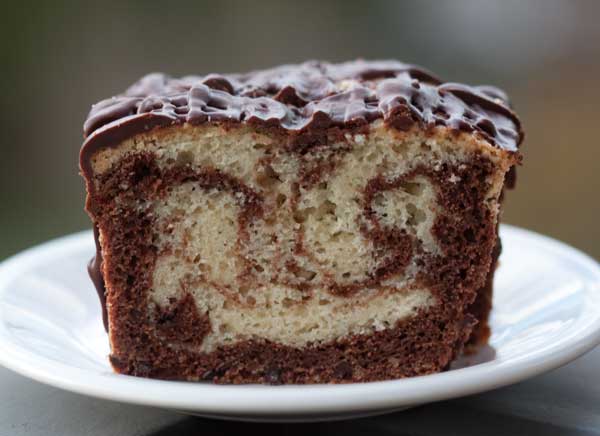 Texture and Flavor
It's not exactly a pound cake nor is it a chiffon, so calling it a loaf sums it up pretty accurately.
Using oil instead of butter gives it a softer texture, and I loved Marcy's way of making the chocolate mixture with just cocoa and oil. The cocoa mixture plus the chocolate chips were just the right amount of chocolate. I didn't want any orange flavor in my cake so I used the water substitute and left out the zest, but I'm going to try it again with the orange because I think there needs to be a flavor to compensate for the missing butter.
Glaze
As you can see in the photo, I topped the cake with a chocolate glaze. Not recommended. The cake was good, but it would be better with just a dusting of powdered sugar or Marcy's mix of orange juice and powdered sugar, should you choose the orange flavor version.
Loaf Pan Version
The loaf was really pretty, though the chocolate batter tends to sink, so keep that in mind as you are doing your layering. Also, the recipe halves well if you're okay with halving an egg. To halve an egg, just crack it in a cup and measure out 2 tablespoons. For this recipe, I recommend cracking both eggs into a bowl large enough to hold the vanilla batter when it's time to separate batters. Just the three eggs into the bowl, whisk well, and take out 2 tablespoons. You can save them for another recipe or a half batch of cookies. I seem to always have a little custard cup full of beaten egg in the refrigerator, and I always use it.
Treasury of Jewish Baking
I made a half batch, which was one loaf pan. The best way to get the full version of the recipe (a tube cake or two loaves) is to buy Marcy's book! It's The Treasury of Jewish Baking and it is a classic. I originally found the recipe on Epicurious, but it's now behind a paywall, so if you can't access it you can use my half batch version or do a Google search. The full version is also on a site called Cook's Recipes.
Recipe
Marbled Pound Cake
An easy marbled pound cake recipe that can be baked in a loaf pan. If you don't want orange flavor, omit the orange zest and use water in place of the orange juice.
Ingredients 
1 ½

tablespoons

vegetable oil

2

tablespoons

unsweetened cocoa powder

1 ½

cups

plus 2 tablespoons all-purpose flour

(220 grams)

¼

teaspoon

salt

¼

teaspoon

baking soda

1 ¾

teaspoons

baking powder

½

cup

oil

1 ⅛

cups

granulated sugar

(225 grams)

2 ½

large

eggs, at room temperature

(125 grams)

2

tablespoons

water

2

teaspoons

vanilla

½

cup

undiluted frozen orange juice, brought to room temperature (or use water)

1-2

teaspoons

orange zest (or omit if using water)

¼

cup

finely grated chocolate, optional
Instructions 
Preheat oven to 350 degrees F. Grease a 9x5 inch loaf pan and line with a strip of parchment paper.

Make the chocolate paste first. In a small bowl, mix together the cocoa powder and oil until smooth. If the mixture appears too stiff, you can add a tiny bit more oil.

Whisk the flour, baking powder, baking soda and salt together in a bowl and set aside.

In the bowl of a stand mixer (or in a mixing bowl using a handheld), beat the oil and sugar until flight and fluffy. Beat in the eggs, vanilla, orange juice and water.

Add the flour mixture and stir until blended.

When fully blended, spoon out about ⅔ cup of the batter and put it in another bowl. This will be your white batter.

To the batter left in the mixing bowl, add the cocoa mixture and beat until smooth. If using grated chocolate or chips, add them too.

Spoon batter into pan, starting with vanilla and alternating the two batters in any pattern.

Bake the loaf for about 35 to 40 minutes.

Let cake cool in pan on a rack 20 minutes. Run a thin knife around edges of cake, then turn from pan and let cool completely. When cool, dust with powdered sugar or make an orange glaze by mixing ½ cup sifted confectioners' sugar with about 3-4 tablespoons orange juice.