If you love peanut butter sandwich cookies, you have to try these.  Made with Jenkins Hell Fire Pepper Jelly, a spicy pepper jelly I brought home from Santa Monica, this recipe gives you cookies with a crisp and light shell, a creamy peanut butter filling and a lingering kick of sweet hot peppers.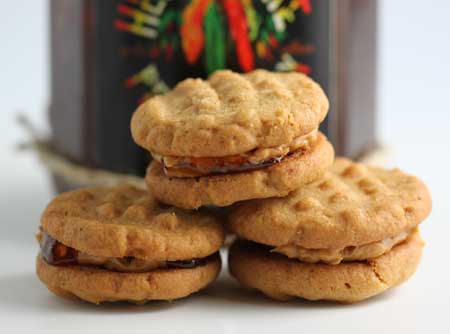 But since I got this recipe from Jenkins, it's only fair that I tell you a little bit more about it, right? And it has an interesting story. Founded by Hillary Danner (Gwyneth's cousin) and her friend Maria Newman, the pepper jelly was inspired by the abundance of fruit trees growing on Hillary's historic California property and the vegetables in her new garden. Made with a blend of seven fresh peppers, organic sugar, vinegar and pectin, it's great paired with cheese, used as a marinade or glaze for meat, and addition to sandwiches, and most likely a very nice add-in for one of our family's favorites, Texas Jalapeno Cranberry Bread.  And since it's hand crafted and comes with a cute little spoon, it would make a great gift.
UPDATE: Congratulations to Amie who won the free sample!
Can you think of another use?  For a chance at a free jar of Jenkins Hell Fire Pepper Jelly?   Leave a comment here anytime between today and Sunday at midnight and I'll send one random commenter a jar. If you're interested in buying some now, here's the order page.
Now onto this excellent cookie recipe. The dough was easy to work with and loved how it baked up into crispy, light, sandwich cookies.  The pepper jelly makes a truly unique addition, but you could fill these with anything, including Nutella and peanut butter, marshmallow cream, or chocolate ganache.
As mentioned,  this recipe is adapted from Hell Fire's Facebook page, but I did change it up a bit by adding vanilla, adding regular peanut butter to the inside of the sandwich cookie and skipping the part where you put a dab of Hell Fire on the outside of the cookie, and I cut the bake time to about 12-15 minutes (because that's when the cookies were done).
Recipe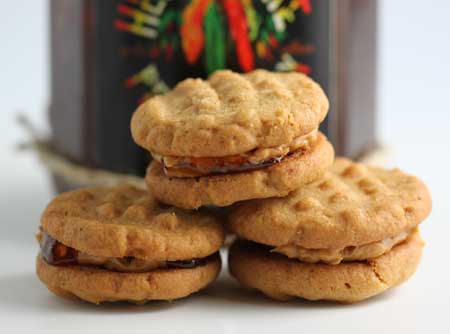 Hell Fire Pepper Jelly Peanut Butter Sandwiches and Giveaway
A peanut butter sandwich cookie with a hot and spicy kick.
Ingredients 
½

cup

regular or butter flavored shortening

I used butter flavored

¼

teaspoon

salt

½

teaspoon

baking soda

½

cup

peanut butter

crunchy or creamy okay

½

cup

granulated sugar

½

cup

firmly packed brown sugar

½

teaspoon

vanilla extract

1

large egg

beaten

1

cup

4.5 oz all-purpose flour

Some Hell Fire Pepper Jelly

Extra peanut butter for filling sandwiches
Instructions 
Preheat the oven to 325F and have ready a large, ungreased baking sheet.

With an electric mixer, beat the shortening, salt, baking soda and peanut butter together. Beat in both of the sugars and the vanilla. Beat in the egg.

By hand or using the lowest speed of the mixer, stir in the flour. Using a rounded ½ teaspoon measure, scoop up dough and shape into small balls. Arrange the small balls on the baking sheet spacing about 1 1 ½ cinches apart. Using a damp fork, press the balls down and make criss-crosses. Bake the cookies for 12-15 minutes or until edges are brown and cookies appear done. Remove to a wire rack to cool.

When cookies are completely cool, sandwich a little peanut butter and some Hell Fire Pepper Jelly between two cookies. Repeat until you've made about 45 or 50 little sandwiches.