If you've followed this blog for a while then you know I'm a big fan of Milk Bar, a bakery in New York famous for cookies, pies and flavored milk. Due to the fact it's thousands of miles away and I can't make it there very often, I was happy to hear about this new book — Momofuku Milk Bar
 by Christina Tosi.  Finally!  I can stop trying to recreate the recipes myself!  And judging by the success of the first recipe, the Cornflake Chocolate Chip Marshmallow Cookies, there are a lot of good Mill Bar (ish) cookies in my future.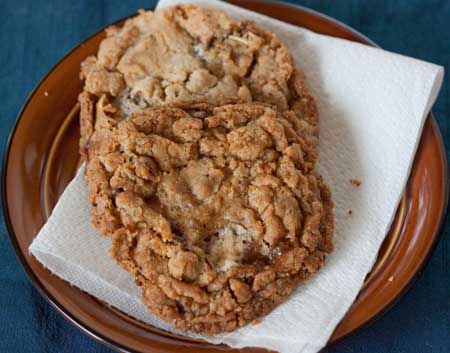 But it's fun to look at the past, right?  The fact is I started trying to clone Milk Bar's cookies before I'd even tasted them.  The first attempt was this  Butterscotch Cornflake Marshmallow Cookie which ended up being nothing like Milk Bar's but still pretty good. Not as good, but tasty.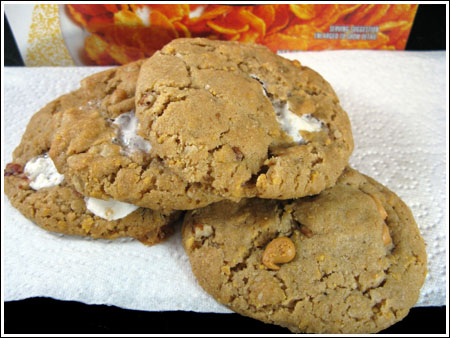 I tried the Compost Cookie recipe posted on the Regis & Kelly site and ended up with pretty good replica.  Of all the cookies, it's still probably my favorite.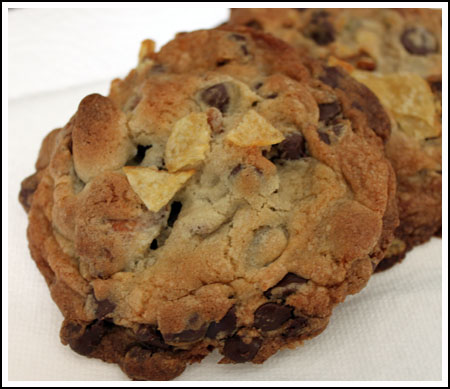 And then there were the Blueberry and Cream Cookies which were an experiment in using some liquid glucose I found in the cake decorating section of Michael's.  I was told that the bakery uses glucose rather than corn syrup and I kind of wonder if the book is going to send people to cake decorating aisles or on-line stores to buy glucose or if it will just suggest corn syrup.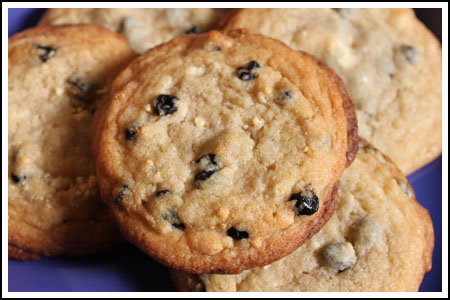 At any rate,  I can stop gathering information from miscellaneous sources and get the facts straight from C. Tosi.  This book is a real gift.  Speaking of which, I'm debating whether to buy it right now or to put it on my Christmas list. If I do the latter, I have one recipe from the book to hold me over. Thanks to Daily Candy for sharing the recipe for Momofuko Milk Bar's Cornflake Chocolate Chip Marshmallow Cookies.
They were fun to make and as buttery, rich and flavorful as the ones I bought in New York. The trick is to make a crunchy mixture of corn flakes, dried milk powder, butter and sugar, which you stir into the final batter.  I also noticed that the cookies stayed fresher longer than regular chocolate chips cookies.  On Day 1 they were great, but Day 2 they were pretty darn good rather than dried out and hopeless, which is the case with a lot of Day 2 chocolate chip cookies.  Plus the dough freezes exceptionally well.  In fact, the best cookies came from dough that I'd frozen and thawed.
I'm sure the book is full of tips, but since I don't have it yet I'll just share some tips I gathered from making the cookies.  Click here to get the recipe or look for the book!
Tips:
— For the flour, I used 4.5 oz/126 grams for every cup, though I think I could have easily gotten away with a slightly heavier cup.
— The dough must be chilled. No joke. Don't try to skip that step. The cookies that I made with dough that had been chilled for a few hours were fine, but slightly flatter than the ones made with dough that had been chilled for a few days. The best cookies were made with the dough that I'd frozen for a week then thawed.
— The bake-time in the recipe is 18 minutes at 375F. In my oven, this produced slightly burnt edges – maybe a little too burnt.   I got the best results when I put the cookies in a 375F oven and immediately reduced the heat to 350F. But ovens vary, so you might want to bake your first ball of dough using the book's directions just to be safe.