Nicole posted this recipe for Salted Oatmeal Cookies with Rice Flour on Baking Bites. I remember seeing it and getting really excited about trying a salty, crunchy, crispy cookie made with rice flour. But it took me 2 ½ years to get the rice flour, which is why I didn't bake them until today.
Well, you know what comes to people who wait? Good things. These cookies are pretty interesting. The rice flour gives them crispy edges and the salt adds a kick. Just make sure you tell people they're supposed to be salty or they might think you mis-measured the salt.
Mine came out slightly thicker than the ones on Baking Bites, and they're not crisp and crunchy through and through, but rather crunchy on the edges and chewy on the inside. I'm not sure why that is, but the cookies are still very good.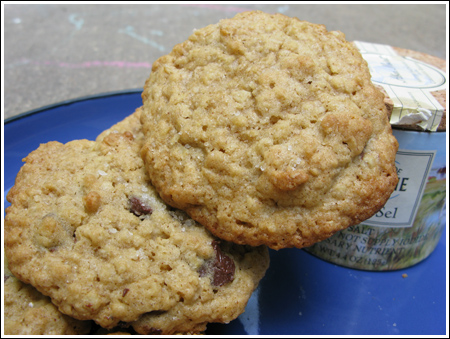 Salted Oatmeal Cookies with Rice Flour
1/2 cup plus 2 tablespoons all-purpose flour
1/4 cup rice flour
1 cup rolled oats
1/2 teaspoon baking powder
1/4 teaspoon baking soda
1/4 teaspoon ground cinnamon
6 tablespoons cold, unsalted butter
1/2 cup brown sugar
1/4 cup granulated sugar
1 egg
1/3 to 1/2 cup semi-sweet chocolate chips (or raisin)
salt — for sprinkling (I found that ¼ teaspoon covered 6 cookies)
Preheat oven to 375°F Line a large baking sheet with parchment paper.
Whisk both flours, oats, baking powder, baking soda and cinnamon together in a bowl. Set aside.
Beat butter with an electric mixer until soft. Add both sugars and beat until creamy. Add egg and vanilla and beat just until mixed. Stir in dry ingredients, followed by chocolate chips.
Drop dough by tablespoon onto cookie sheets spacing 2 ½ inches apart. Sprinkle cookies with salt, giving each cookie a light, but even, coating.
Bake for 12-14 minutes, until the edges are golden brown.