Fuzz and her friends love cake mix based confetti cookies, so I was happy to see the Milk Bar Confetti Cookies recipe in my newly acquired Momofuku Milk Bar
cookbook. If you don't have the book, you can grab the Milk Bar Confetti Cookies recipe off Serious Eats. And if you're still on the fence about getting the book, read on…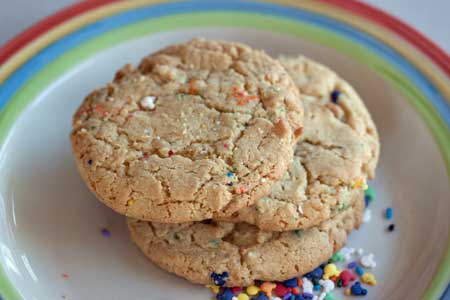 Milk Bar is one of my favorite places to buy cookies in New York, so naturally I put their new book on my Christmas list. Given the fact I'd tried all the "clone" Milk Bar cookie recipes I could get my hands on with varying degrees of success, my hope was the book would lay it all out with clear directions, ingredient descriptions and recipes for the cookies I liked best such as the Compost Cookie and the Cornflake Butterscotch Marshmallow. The book delivers on all points and more. And while I am particularly fond of cookies, those of you interested in sorbet, ice cream, pie and cake, will be happy with the variety of other types of recipes. Plus the book is enjoyable to read in and of itself.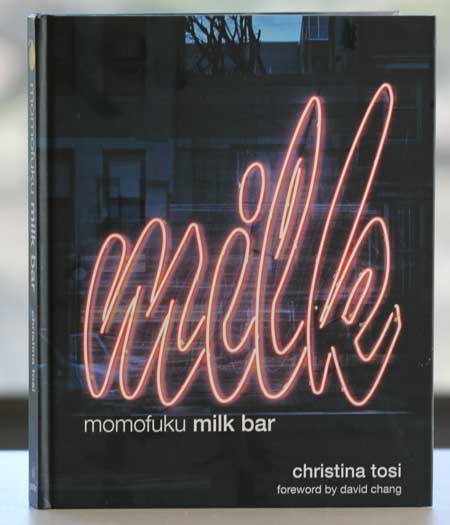 The book has detailed descriptions of the ingredients used by the bakery, uses gram measurements instead of just volume, and features truly innovative recipes. Rather than just a collection of regular cookies with different ratios of the usual sugar, flour and butter, the base dough in each recipe includes a unique "crunch" or "crumb" – a pre-baked mixture of milk powder, sugar, salt, butter or oil and other ingredients that makes it distinct. For instance, the "cake batter crumb" used in the cookies I made today includes sprinkles and clear vanilla, while the Ritz crunch calls for Ritz crackers. Here's a photo of the unbaked cake crumb.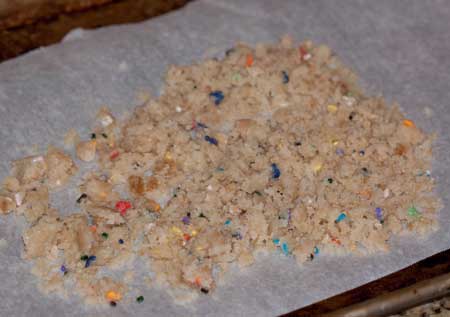 The crunches and crumbs are what make the cookies taste like the ones you buy at the bakery, but there were lots of little "Aha!" moments as I read through the ingredient descriptions in the book. Those tips may or may not show up in Internet versions of Christina's recipes. As mentioned, Serious Eats has the recipe for Milk Bar's Confetti Cookies. They were great as written, but here are a few things to consider: Because the cookies have so much butter, the bakery likes using bread flour. I tested with bread flour and regular flour and both versions worked, though the bread flour cookies had a little more chew to them. For butter, the bakery uses European style (Plugra). I used regular unsalted and it was fine, but I'm sure some of the recipes such as Compost Cookies would be much better with Plugra. As for the salt, make sure you use coarse salt, but if you're stuck with table salt, just weigh it out in grams or cut it in half to make sure you don't overdo it. Glucose is an important ingredient in a lot of recipes, and while you can use a little corn syrup in its place, Christina recommends ordering glucose on line because "you're worth it". So I guess the glucose really makes a difference. I bought some glucose at Michael's a while back (they sell it in the cake decorating aisle), and it was an interesting ingredient, but I'm still not sure if the Wilton version is the same as Christina's. Guess I have more research to do.
Anyway, Fuzz loved the Milk Bar version of confetti cookies, and while sugar cookies aren't my personal favorite, the crunchy on the outside, soft in the center texture made these special. I can't wait to try a few more recipes from the book. If you own the book and have tried a few other things, I'd love to hear your feedback or get a link to your blog post. Thanks!