Thanks for all the comments on the giveaway! Would it be weird if I emailed people for recipes? Yes, probably. Anyhow, speaking of recipes, I have a good one today. It's a new cookie from Better Homes and Gardens with kind of a healthy slant to it. It's a whole wheat bar cookie with a ton of nuts, dark chocolate and maple syrup as the major sweetener.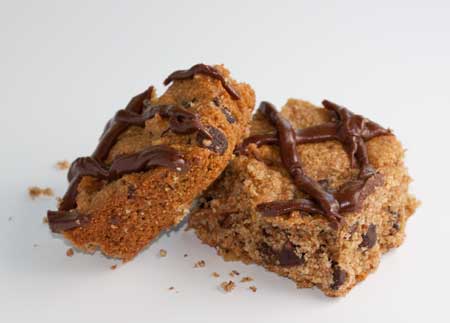 The recipe had only one review from a person who thought the bars had no flavor. Hmmm, maybe because the recipe doesn't call for salt? I don't know, but if I see a recipe that lacks salt and doesn't have any salted butter, I usually add it anyway. I also cut the recipe in half and made it in an 8 inch pan, then quibbled over the icing because I thought it was too sweet (at first) and that it would be weird without the butter. In the end, I made it as written (with a little extra Nutella) then piped it over the bars so it was more like a glaze and I wouldn't have to use it all. Blah, blah, blah. Heres' the recipe!  I wouldn't bring these bars to a cookie exchange, but I'd make them again for myself to go with a cup of coffee.
BHG's recipes uses four nuts and is called BHG's Four Nut and Maple Bars.
I used hazelnuts and pecans and made a smaller batch with a little salt and a dash of vanilla.
Recipe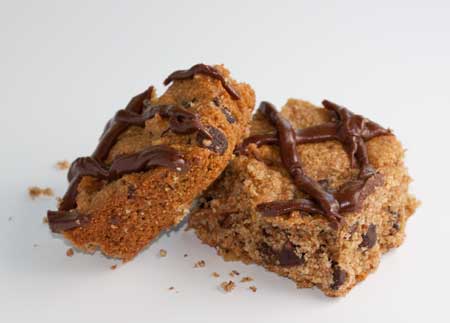 Two Nut Maple Bars
Fall themed nut bar sweetened with maple syrup.
Ingredients 
1

cup

whole wheat flour

½

teaspoon

baking powder

½

teaspoon

baking soda

¼

teaspoon

salt

1

large egg white

¼

cup

plus 2 tablespoons pure maple syrup

¼

cup

canola oil or light tasting olive oil

¼

cup

milk

¾

teaspoon

vanilla

¾

cups

toasted hazelnuts and pecans

½

cup

dark chocolate pieces or dark chocolate chips

Chocolate-Hazelnut Frosting

2-3

tablespoons

chocolate-hazelnut spread

Nutella!

1 ½

tablespoons

milk

½

tablespoon

pure maple syrup

¼

cup

unsweetened cocoa powder

½

cup

plus 2 tablespoons powdered sugar
Instructions 
Preheat oven to 350 degrees F. Line an 8 inch square metal pan with foil and spray with flour-added cooking spray.

Combine flour, baking powder, soda and salt in a large mixing bow; set aside.

In medium bowl whisk together egg whites, maple syrup, oil, milk and vanilla; add to flour mixture. Stir to combine. Stir in the cooled toasted nuts and the chocolate. Spread in prepared pan.

Bake 25 to 30 minutes or until a toothpick inserted near center comes out clean. Cool on wire rack and then lift from pan. Spread with Chocolate-Hazelnut Frosting or put the frosting in a freezer bag, snip off the bottom corner, and pipe stripes of it over the top.
Notes
I didn't use all the frosting.