On Sunday I made my "fourth ever" batch of macarons. That doesn't qualify me as an expert, but these chocolate macarons turned out so well that I'm going to post the recipe. For those of you who mentioned you wanted to try making macarons but hadn't worked up the guts, just do it! It's really pretty simple. The chocolate ones are easier than the vanilla because you don't have to fuss over a buttercream filling.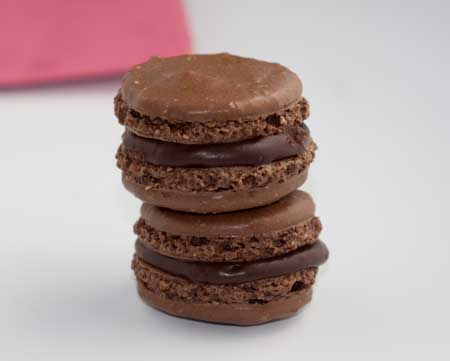 Here are a few things I've learned:
Some recipes say to let the egg whites sit out overnight before using. I did this with one recipe and it didn't seem to make a difference. However, I did let the piped macarons sit on the tray for an hour before baking.
A lot of modern recipes use a food processor to make the almond meal very fine. I skipped that and put the almond meal and confectioners' sugar through a sieve. It worked very well and I didn't have to clean out the processor. For making larger batches, it might be worth pulling out the food processor.
In this recipe you're only beating two egg whites. I didn't need a stand mixer and kind of liked the feel of having more control over the eggs with the hand-held.
Bob's Red Mill brand almond meal works very well. It's expensive, but it's very fine so the macarons had a smoother texture.
Be careful not to overbake. My first batch came out crunchy because I baked them for 15 minutes rather than 12. So make sure not to over-cook unless you like crunchy macarons.
Recipe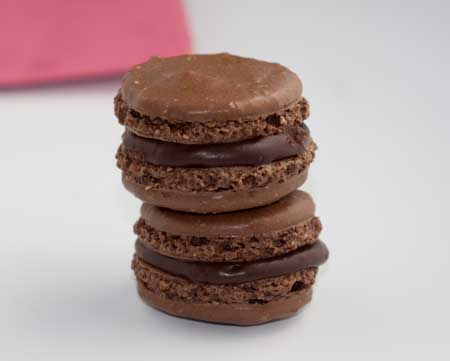 Chocolate Macarons
An easy chocolate macaron recipe that doesn't require a food processor.
Ingredients 
1

cup

confectioners' sugar

½

cup

Bob's Red Mill almond flour/meal

3

tablespoons

unsweetened cocoa powder

I used a mixture of Hershey's dark and natural

2

large egg whites

at room temperature

1

pinch

cream of tartar

4 ¾

tablespoons

granulated sugar

¼

teaspoon

vanilla extract

Chocolate Ganache Filling

½

cup

4 oz heavy cream

4

ounces

good quality dark chocolate

50 to 70%
Instructions 
Line two baking sheets with parchment paper or non-stick foil and have ready a pastry bag with a ¼ inch or ½ inch tip. Most recipes call for a ½ inch tip, but I only had a ¼ inch and it worked just fine.

Set a sieve over a bowl. Combine the confectioners' sugar, almond flour and cocoa and press through the sieve.

With a hand-held electric mixer, beat the egg whites until they start to hold their shape. Beat in the cream of tartar and vanilla, and then gradually add the granulated sugar.

With a rubber scraper, fold in the dry ingredients. When mixed, add to pastry bag. Pipe the batter into 1 inch circles on the lined baking sheets spacing about 1 inch apart. Let the macarons sit out for about 60 minutes. They'll start to lose their sheen.

Preheat oven to 375 degrees F. When preheated, put the macarons in the oven, shut the door and immediately reduce heat to 325 F. Bake for about 12 minutes. Remove macarons and return the oven heat to 375 F and repeat with the second tray of macarons.

Let the cookies cool completely on the baking sheet, then carefully remove.

For the ganache, bring the cream to a simmer or just until it is hot and starts to bubble around the edges in a small saucepan. Add the chocolate, remove from heat and stir until smooth. Let cool slightly. Chocolate will thicken a little as it cools. Drop a spoonful of chocolate over half the macarons and cap with the remaining.

Allow the ganache to set. I cheated and put the macarons in the refrigerator.
Notes
Be careful not to over-bake or the macarons won't be chewy. To be safe, you might want to pipe about 2 circles onto a separate cookie sheet and do a quick test batch.