Today's recipe is indestructible. I did all I could to ruin it, yet somehow it baked into a very nice, everyday coffee cake.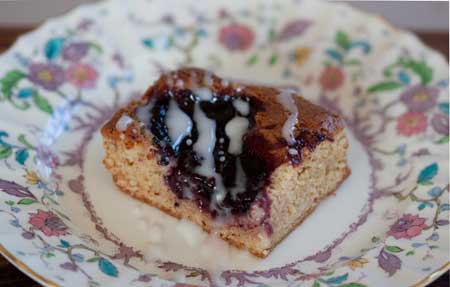 The recipe, before I started monkeying with it, was from the back of a can of Lucky Leaf Premium Blackberry Pie Filling. It's not a flavor of pie filling I would have bought due to the fact we have lots of cheap and decent blackberries here, but Lucky Leaf had sent us a sample and I'd been having trouble deciding how to use it. I'm glad I finally tried it, because it was pretty good. I would have liked for there to have been more fruit, but the gel itself was not too sweet, less thick than some, smooth, and seemed a step above other canned pie filling. In a pinch (or when there were no blackberries), I'd buy it again.
But back to the cake. I've typed the recipe below similar to how it appeared on the can, but my changes were to halve the recipe and bake it in an 8 inch square pan, use half whole wheat pastry flour, Egg Beaters instead of eggs, Fibrelle artificial sweetener instead of sugar, oil instead of butter and added vanilla. The new Frankenstein cake was tender, denser and not very tall, but it still looked and tasted good. Next time I'll halve it again (because that's all we need even though I get stuck with half a can of pie filling), and use a mixture of whole wheat flour instead of all AP. The flavor of the ww flour was really good.
Easy Blackberry Coffee Cake
2 cups all-purpose flour (9 oz)
2 teaspoons baking powder
½ teaspoon salt (increase to ¾ if using unsalted butter)
1 stick (4 oz) butter, softened
2 cups granulated sugar
4 large eggs
1 teaspoon vanilla extract
1 can (21 oz) Premium Lucky Leaf Blackberry Pie Filling
Glaze: 1 cup confectioners' sugar mixed with 2 teaspoons of water and 1 tsp. vanilla
Preheat oven to 350 degrees F. Spray a 13x9 inch pan with flour-added baking spray.
Mix the flour, baking powder and salt together in a bowl and set aside.
In a large mixing bowl, beat the butter and sugar until creamy. Beat in the eggs and vanilla. By hand or using lowest speed of the mixer, stir in the flour mixture.
Spread the batter in the pan reserving a bout 1 cup. Spread the pie filling over the batter. Drop gobs of reserved batter over the pie filling.
Bake for 45 to 50 minutes or until a toothpick inserted in the center comes out with moist crumbs rather than batter. Let cool. Mix together the glaze ingredients and drizzle over the cake before serving.