It's been a while since I posted an actual cookie, so here's one I made this morning for Fuzz, who I might add, is currently addicted to an on-line game called Wolf Quest. If your kids or nieces and nephews like games, tell them to check it out -- especially if they like wolves. But back to cookies. Fuzz pronounced them (in her usual melodramatic way) as "white chocolate heaven".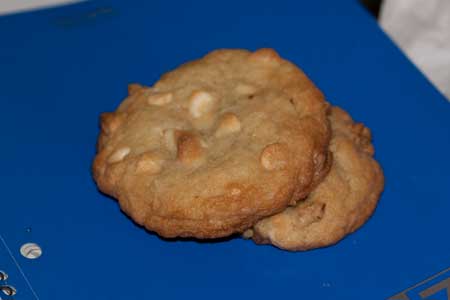 They're good, but on the sweet side. The texture is great – firm edges and cakey but slightly dense centers. For the white chocolate, I used white chips, but I saved some of the dough and plan to fill the rest with actual white chocolate chunks or better yet, some sort of white chocolate caramel candy if that exists. The cookies, which evolved from these, call for Coffee Mate White Chocolate Latte. In my opinion, the taste is more white chocolate and caramel than "latte" but I liked the sounds of "latte" so I left it in the title.
White Chocolate Caramel Latte Flavored Creamer Cookies
1 stick (4 ounces) cold, unsalted butter, cut into small chunks
½ cup packed light brown sugar
½ cup granulated sugar
1 large cold egg
½ teaspoon vanilla
1 tablespoon cold White Chocolate Caramel Latte Creamer
1 ½ cups (6 ounces) cake flour
½ teaspoon baking soda
½ teaspoon salt
1 ½ cups white chips (seems like a lot, but it worked)
¾ cup walnuts, toasted (counters the sweetness)
In a mixing bowl, using high speed of an electric mixer, beat the cold butter until it is creamy. Add both sugars until light and creamy. Scrape sides of bowl. Reduce speed of mixer and beat in egg, vanilla and Coffee Mate, then beat in salt and baking soda. When thoroughly mixed, stir in the cake flour. Finally, add the white chocolate chips and nuts. Chill dough for one hour or until ready to bake.
Preheat oven to 375 degrees F.
Drop dough by generously rounded tablespoons onto an ungreased baking sheet and bake for 15 minutes or until brown around the edges and set in the center. Let cool for about 5 minutes on the baking sheet, then transfer to a wire rack to finish cooling.
Makes about 1 ½ to 2 dozen depending on how big you make the cookies.