Yesterday I mentioned that I might make Mexican brownies for a teacher event. I did, and here they are!  They're Chipotle Brownies.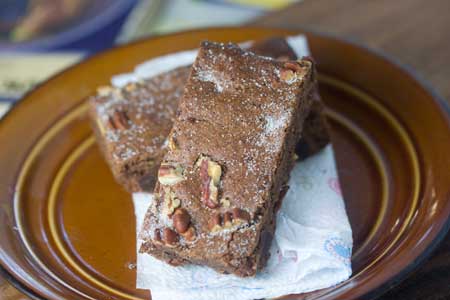 I dropped the brownies off this morning and couldn't stick around for reviews, but I left some samples with the ladies in the office and will wait and see if they have any feedback. Todd thought the brownies were great (but he loves chipotle in just about anything) and I thought they were very good, though a real change from regular brownies.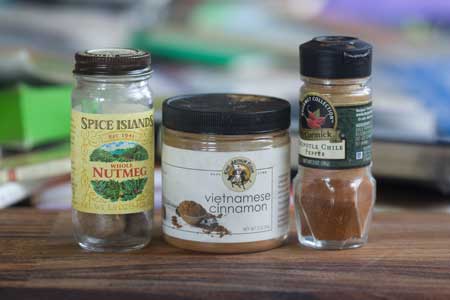 To get the Mexican flavor, I used McCormick chipotle powder, Spice Islands nutmeg and King Arthur Vietnamese cinnamon.You really can taste the chipotle and feel the heat in these, so if you want a more subtle flavor, you might try cayenne pepper instead. Or maybe a combination of ancho and cayenne.
Recipe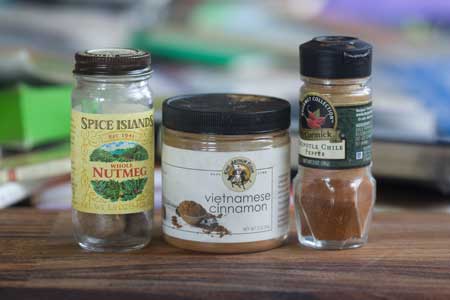 Mexican Chipotle Brownies
Brownies flavored with chipotle, cinnamon and nutmeg
Ingredients 
½

cup

2.25 ounces all-purpose flour

¾

teaspoon

cinnamon

1

teaspoon

chipotle powder

see note

⅛

teaspoon

freshly ground nutmeg

1

stick

4 ounces unsalted butter

⅜

teaspoon

salt

omit if using salted butter

2

ounces

squares unsweetened chocolate

chopped

2

tablespoons

brewed coffee or water

2

large eggs

1

cup

granulated sugar

½

teaspoon

vanilla extract

1

cup

extra dark chocolate morsels

2

tablespoons

chopped pecans

2

teaspoons

cinnamon sugar

see note
Instructions 
Preheat the oven to 375F. Line an 8 inch square metal pan with nonstick foil.

Mix together the flour, cinnamon, chipotle powder and nutmeg. Set aside.

Melt the butter in a small saucepan or in a microwave-safe bowl. Add the salt, chocolate and coffee Reduce heat to low, and stir until melted. Remove from heat and allow it to cool slightly.

In a mixing bowl, beat eggs on high speed of an electric mixer. Gradually add sugar and vanilla, beating 3 minutes or until thick and pale. Add chocolate mixture, beating until blended. Gradually add flour, beating at low speed just until blended. Stir in chocolate morsels. Pour into the pan and sprinkle pecans over the top.

Bake on center rack at at 375° for 30 minutes.

Remove from the oven and sprinkle hot brownies with cinnamon sugar. Set the brownie pan in a in a roasting pan filled half way with ice water (it should come about ⅔ of the way up the sides of the brownie pan, let sit for 15 minutes to quick-cool, then transfer to refrigerator and chill for another hour or two or until very cold. Lift foil with brownies out of pan. Cut brownies into squares.
Notes
Ice bath cooling is optional, but it sure worked well here!
Consider using half ancho and half cayenne in place of the chipotle.
To make cinnamon sugar, use 2 teaspoons of granulated sugar and a big pinch of cinnamon. If you want, add some grated chocolate to the cinnamon sugar. I used cinnamon sugar leftover from the Mexican cookies posted yesterday.
Also, as noted in the recipe I quick-cooled the brownies in an ice water bath. They came out of the oven looking like they might be a little overdone, and so I used the bath, which is supposed to curtail any internal baking that might be happening as the hot brownies cool. I'm not sure if it really did anything or not, but the brownies had a nice crust and a perfectly cooked center, despite the fact I thought I overbaked them. So I recommend the water bath cooling method, but you can skip it if you want.