These Mexican Cookies are traditionally for Christmas, but don't worry. I'm not making them that far ahead of time. This batch is for graduation festivities, particularly, our Teacher Appreciation fiesta.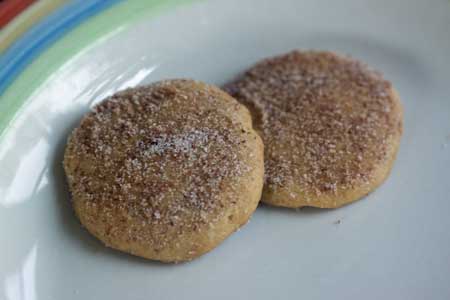 Mexican Cookies Notes
The original recipe is based on one from the Houston Junior League's Stop and Smell the Rosemary: Recipes and Traditions to Remember
, but I've made a few modifications.
The coating is interesting because it's made with the usual sugar and cinnamon as well as grated chocolate, which melts onto the shell of the cookie and adds some color, but not a whole lot of chocolate flavor. 
The flavor is inside the cookie.  The combo of cinnamon and vanilla goes a long way, and that hefty proportion of butter does its job for the texture.  These aren't quite as dusty as Polverones, but they are ethereally light and delicious, nonetheless. 
While not exactly flashy in appearance, they will impress after one bite.  And they're just perfect for an afternoon snack with a cup of coffee.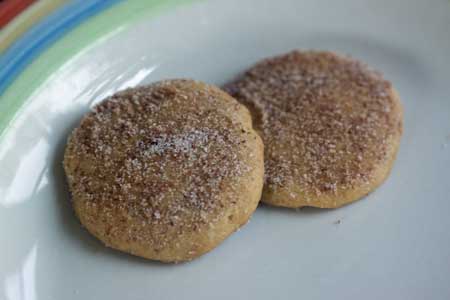 Mexican Cookies
Cookies rolled in sugar, chocolate and cinnamon
Ingredients 
2

sticks

8 ounces unsalted butter, softened

3/4

teaspoon

salt

omit if using salted butter

1/2

cup

powdered sugar

2

tablespoons

milk

1 1/2

teaspoons

pure vanilla extract or Mexican vanilla

1/2

teaspoon

ground cinnamon

1

teaspoon

baking powder

1 1/2

cups

to 1 3/4 cups

7.9 ounces all-purpose flour (see note)
Coating
1/2

cup

granulated sugar

1/2

ounce

semisweet chocolate

grated

1/4

teaspoon

cinnamon
Instructions 
In a large mixing bowl using an electric mixer, beat the butter until creamy. Beat in the salt, powdered sugar, milk, vanilla and cinnamon, scraping the sides of the bowl often, until mixture is smooth. Beat in the baking powder. When it's thoroughly mixed in, add the flour and stir by hand until it's well mixed. The batter should be soft, yet sturdy enough to shape.

With a level tablespoon, scoop up the dough and shape into 24 balls. Place the balls on a plate and chill for 2 hours or if baking ahead, chill until very firm, then put in a heavy duty zipper bag and freeze.

When ready to bake, bring the dough balls to room temperature.

Preheat the oven to 325 degrees F.

Arrange the dough balls, spacing about 2 1/2 inches apart on ungreased baking sheets, then press the balls into 2 inch rounds. Bake 20 to 25 minutes or until the edges are golden brown.

Meanwhile, mix the sugar, chocolate and cinnamon in a small bowl.

Remove warm cookies from baking sheets and let cool for about 3 minutes on a wire rack set over a sheet of foil. Spoon coating over the cookies, letting it fall down onto the foil. Scoop fallen coating off the foil and use it to coat the bottom of the cookies. Let cool completely before serving.
Notes
To grate the chocolate, I used a cold bar of semisweet chocolate and a Microplane zester.
If you don't have a scale, start with 1 1/2 cups of flour and if the dough is too sticky, add another 1/4 cup. If you have a scale you should be fine weighing out 1 3/4 cup (7.9 ounces)
I had leftover sugar mixture, so I cut the original amount in half.