When I was in college, a lady I worked for introduced me to steel cut oatmeal. Part of my job was to always pick up a brand called McCann's, which was more expensive than regular oats, but more flavorful in her opinion, and with a better texture. I guess at the time I wasn't eating oatmeal because I never bothered to try steel cut oatmeal. But for years after I was curious as to whether or not steel cut oats would work in cookies.
Or maybe not that curious since it took me 20 years to finally buy a bag! But I'm glad I did because I was able to make Steelcut Oatmeal Walnut Cookies. And just so you know, I bought Bob's Red Mill brand rather than McCann's, which I'm mentioning in case there are differences between brands.
I made a couple of variations on these. For the first batch I used 2 ⅔ cup of steel cut oats. The cookies were tasty, but a little gritty. All those steel cut oats were overkill. For the second round, I swapped out the oats for quinoa. It worked, but the flavor reminded me why I don't care for quinoa. For the third round, I used a mixture of regular oats and steel cut. Success! The steel cut oats add just a little extra texture depth to the cookies without adding too much grittiness.
Recipe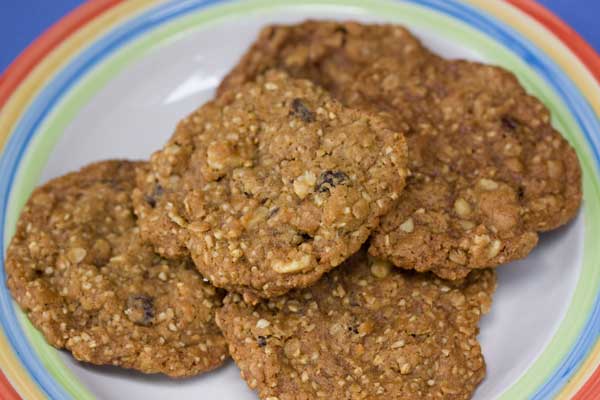 Steel Cut Oatmeal Walnut Cookies
Large oatmeal cookies made with steel cut oats. For a half batch, follow directions below but use 2 tablespoons of lightly beaten egg
Ingredients 
1 ½

cups

organic all-purpose flour (King Arthur)

(190 grams)

1

teaspoon

baking soda

1

teaspoon

salt

¾

teaspoon

cinnamon

8

ounces

unsalted butter, softened

(230 grams)

¾

cup

natural granulated sugar

(150 grams)

½

cup

plus 1 tablespoon tightly packed LIGHT brown sugar

(115 grams)

½

cup

tightly packed DARK brown sugar

(110 grams)

1

large

egg

1

teaspoon

vanilla extract

2

cups

old fashioned oats

⅔

cup

Bob's Red Mill steel cut oats

⅔

cup

dark raisins

1

cup

toasted and coarsely chopped walnuts
Instructions 
Combine the flour, baking soda, salt and cinnamon and set aside.

In a large mixing bowl, beat the butter until creamy. Add all sugars and mix just until blended, then add the egg and vanilla and mix until incorporated. Add the flour mixture by hand or using the lowest speed of a stand mixer. Stir in the oats, raisins and nuts.

Using a generously heaping tablespoon, scoop up about 20 to 22 large balls of dough and arrange them on a cookie sheet or two plates side by side – no need to worry about spacing. Cover with plastic wrap and chill for a few hours or overnight. The texture improves if you chill the cookies longer.

Preheat the oven to 350 degrees F. Line two baking pans with parchment paper. Meanwhile, let the dough come to room temperature for about 20 minutes.

Arrange the dough balls about 3 ½ inches apart on baking sheets and press tops down slightly. Bake one sheet at a time for 12 to 15 minutes or until edges are brown and centers appear set. Let cool on the baking sheets for 5 minutes, then carefully transfer to wire racks to cool.
Notes
**Make sure to omit the salt if you are using salted butter
Also, since these are fairly large cookies, you might want to bake one or two cookies as "test" cookies just to get the timing down. Mine took 15 minutes, but this will vary with ovens and various sized cookies.