Double Chocolate Coconut Cookies are made with a recipe I thought up on my morning walk. My mom was coming for a visit, and I wanted to treat her to something special, yet a little more wholesome since she's watching her diet.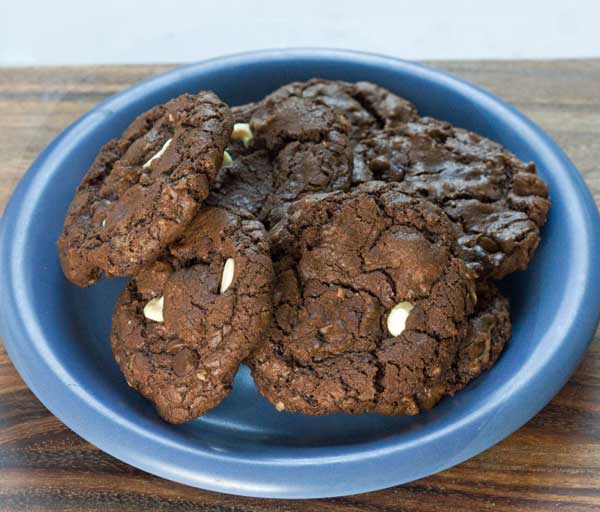 For a while I worried about being a diet wrecker, and at one point I stopped making my mom treats. She was disappointed. But when I told her why, she assured me she budgets her calories and expects something delicious when she visits. That's smart dieting and one reason she's been so successful, and I have to say I'm very proud of her efforts.
So this recipe isn't lacking in flavor, texture or calories, but it's not appallingly junky and it calls for a few ingredients with benefits.
-- Ultragrain Flour has a little more fiber than all-purpose, as does white whole wheat
-- Coconut oil has lauric acid
-- Dark chocolate is a well known source of antioxidants
Plus the recipe only makes about 16 cookies, so you can take a few and share the rest or freeze them. Also, the coconut flavor is NOT strong. You could leave it out, but it adds some nice texture and a little bit of flavor to the cookies.
Recipe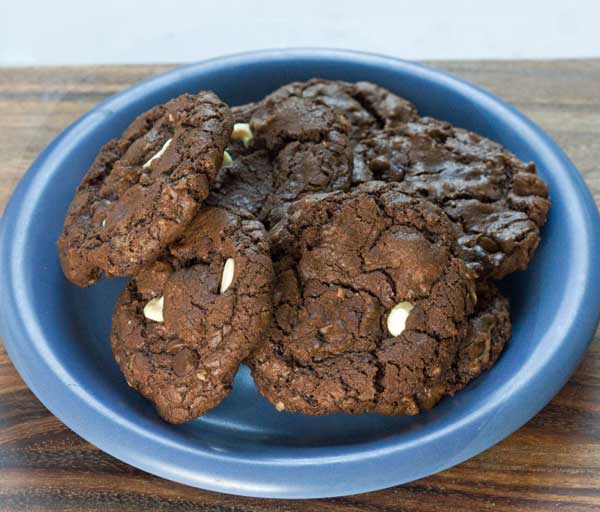 Small Batch Double Chocolate Coconut Cookies
Small batch double chocolate cookies made with coconut oil and whole wheat flour
Ingredients 
⅓

cup

2 ounces extra dark chocolate chips plus an extra ⅓ cup for adding whole

4

tablespoons

coconut oil

¼

cup

unsweetened cocoa powder

natural (I used Penzey's)

½

cup

2.3 ounces white whole wheat or Ultragrain flour

¼

teaspoon

baking soda

¼

teaspoon

salt

¾

cup

granulated sugar or organic granulated sugar

1

large egg

room temperature

¾

teaspoon

pure vanilla extract

¼

cup

flaked coconut

sweetened or unsweetened
Instructions 
Preheat oven to 350 degrees. Line two baking sheets with nonstick foil or parchment paper.

In a microwave-safe bowl or Pyrex measuring cup, combine the ⅓ cup chocolate chips and the 4 tablespoons of coconut oil. If coconut oil is solid, warm it a little before measuring. Microwave the mixture for 30 seconds on high. Stir well until completely melted and smooth. Add the cocoa powder and stir until smooth, then set aside to cool.

Mix the flour, baking soda and salt together in a bowl and set aside.

In a mixing bowl, beat the sugar and egg with an electric mixer until light and fluffy. Beat in the vanilla and the cooled melted chocolate mixture. By hand, stir in the flour mixture. Make sure the batter is cool and add the remaining ⅓ cup chocolate chips and the coconut. At this point batter should hold its shape when scooped. If not, chill the batter for 30 minutes.

Drop dough by heaping tablespoons about 2 ½ inches apart onto the prepared baking sheets. For flatter cookies, press tops down slightly. Bake one sheet at a time for about 10 minutes or until set and cracked. Let cool on baking sheet for 5 minutes, then transfer to a wire rack to finish cooling.
Notes
To bake only a few cookies at a time, scoop up mounds of dough and arrange them on a foil lined baking sheet. Freeze. Put all the mounds in a freezer bag. When ready to bake, bring to room temperature and bake as directed.
Throw in a few white chips for contrast!