I originally made Triple Chip Cookies for a block party. The recipe is great because it feeds a crowd and the cookies are delicious! They're soft, thick, and perfect for stuffing with three different types of chips. In this case, semisweet, dark and white chocolate chips. You can also add nuts.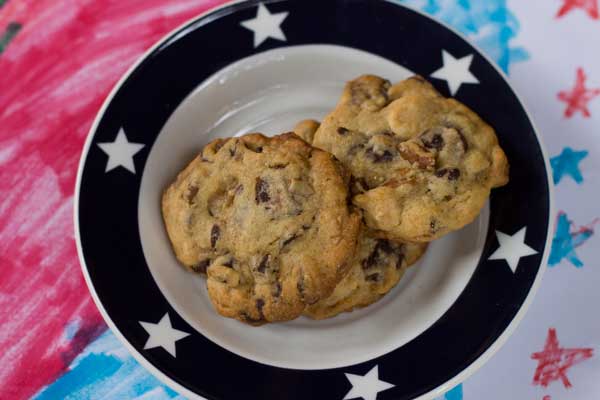 Chill The Dough
The cookies have a better texture when baked with chilled dough. I recommend scooping out the cookie dough balls ahead of time, refrigerating for a few hours, then baking before the festivities start. If you don't know when the festivities will be, make the dough anyway and freeze it until the time comes!
Recipe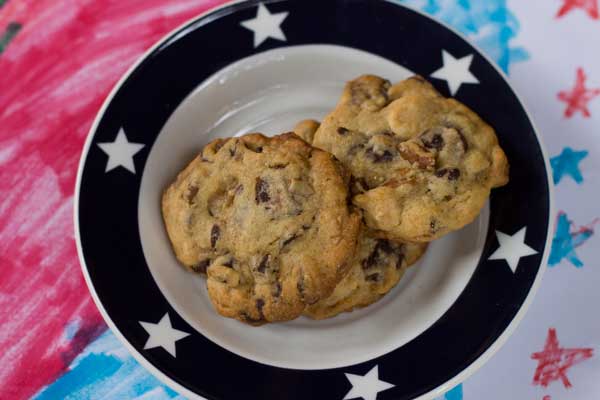 Big Batch Triple Chip Cookies
An easy cookie perfect for potlucks
Ingredients 
3

cups

all-purpose flour, sift or stir OR weigh

(380 grams)

1

teaspoon

baking powder

1

teaspoon

salt

or only a pinch if using salted butter

2

sticks

unsalted butter, room temperature

(230 grams)

1

cup

granulated sugar

(200 grams)

¾

cup

packed light brown sugar

(150 grams)

3

large

eggs

1 ½

teaspoon

vanilla extract

2

cups

bittersweet chocolate chips

2

cups

extra dark chocolate chips

2

cups

white chips

1

cup

toasted and chopped pecans
Instructions 
Mix the flour, baking powder and salt together thoroughly and set aside.

In a last mixing bowl, beat the butter until creamy. Add both sugar and beat for another 2 minutes, then add the eggs and vanilla and beat just until mixed – don't go crazy trying to make the batter smooth. You want everything to be mixed, but not it doesn't need to be absolutely smooth.

By hand or with lowest speed of mixer, add the flour mixture to the butter mixture and stir just until blended. Stir in all of the chips and the pecans.

Line a cookie sheet with foil. Using a rounded tablespoon, scoop about 60 scoops of dough and arrange them on the cookie sheet without worrying about spacing. Cover loosely with plastic wrap and chill the scoops of dough overnight. When ready to bake, remove from the refrigerator.

Preheat oven to 350 degrees F. and line a couple of baking sheets with nonstick foil or parchment paper.

Arranging the cold cookie dough balls on baking sheets and let come to room temperature as the oven preheats. Bake one sheet at a time on center rack for 15 minutes or until cookies are nicely browned. Let cool on cooking sheet for 5 minutes, then transfer to a wire rack to finish cooling. Alternatively, you can bake two sheets at a time using the middle and lower rack, but alternate about halfway through so that the cookies bake evenly.
Notes
Note: To toast pecans, lay them on a baking sheet and bake for about 6 to 8 minutes at 350. Cool completely, then chop. Also, cook-time is meant to include chill-time. The dough does not have to be chilled, but I think doing so improves the texture.
If using salted butter, use only a pinch of salt