In honor of Fuzz's first day at Brownie Day Camp, I made a quick batch of fudge brownies – but not just any brownies. I used an old Cook's Illustrated recipe and made the brownies with top quality chocolate.  Also known as Chewy Triple Fudge Brownies,  they contain three different types of chocolate including unsweetened, semisweet and cocoa powder.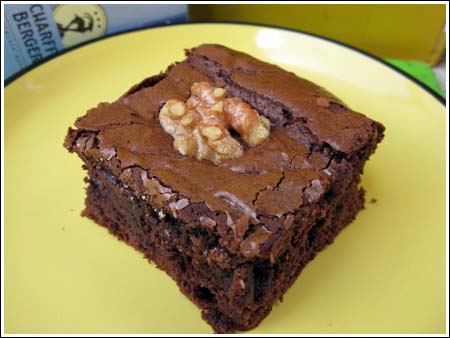 In creating the original recipe, the CI team said they wanted a brownie with a flaky top, chewy sides and a "velvety" fudge texture. Mission accomplished. These were excellent – maybe the best brownies I've ever made.
Below is how I made the recipe. Someone posted a more detailed version on Recipezaar and cite the May 2000 issue, but these are actually from June 2000 and the recipe is by Dawn Yanagihara who made the brownies 50 times to get it "right".  At the end of the day it's all subjective and while these are excellent brownies, they may be too chocolaty for some, but if you are a chocoholic they're perfect.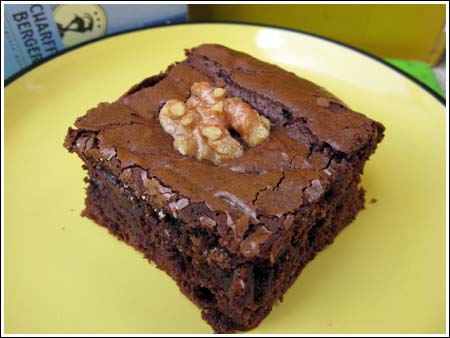 Recipe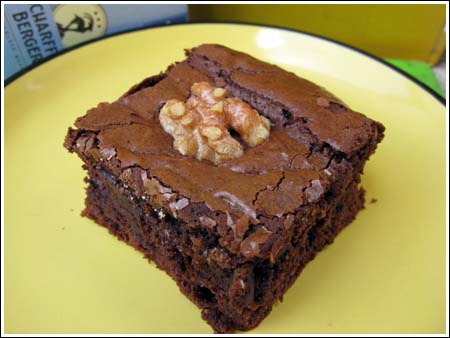 Chewy Triple Fudge Brownies
Originally from Cook's Illustrated, Chewy Triple Fudge Brownies are not too cakey and not too fudgy. Make sure to use good quality chocolate for the best results.
Ingredients 
5

oz

semisweet or bittersweet chocolate (70%)

(142 grams)

2

oz

unsweetened chocolate

(56 grams)

8

tablespoons

unsalted butter

(114 grams)

3

tablespoons

unsweetened cocoa powder

3

large eggs

1 ¼

cups

granulated sugar

245 grams

1 ½

teaspoons

vanilla extract

½

teaspoon

salt

1

cup

all purpose flour

130 grams

Walnuts for top

optional
Instructions 
Preheat oven to 350 degree F. Line an 8 inch metal pan with nonstick foil or line with regular foil and spray foil with cooking spray.

Chop the chocolate.

Melt butter in a saucepan set over medium heat. When it's about halfway melted,add the chocolate, reduce heat to low and stir until chocolate is melted. Stir in cocoa powder. Remove from heat and let cool slightly.

Whisk eggs, sugar, vanilla and salt together in a mixing bowl. Whisk in the melted chocolate mixture. Add the flour and stir until blended. Pour into pan.

If desired, place 9 walnut halves across the top. This is best for large brownies.

Bake for 35-40 minutes. Let sit on a wire rack until completely cool.

Chill thoroughly before slicing for neater brownies.
Updated:  Another photo of the same recipe. These were cut right out of the refrigerator.  Also, I did not use any walnuts and I had to use 62% chocolate instead of 70%.  It's interesting how "minor" changes can affect a recipe.