I was hesitant to post yet another brownie recipe, but then I tried this one!  Originally from Eating Well Magazine and recommended by Katrina, it has less butter than most brownie recipes, but enough chocolate to keep the brownies satisfying and flavorful. A little bit of corn syrup makes the brownies chewy (I used honey instead), and a topping of toasted nuts keeps the Eating Well brownies interesting.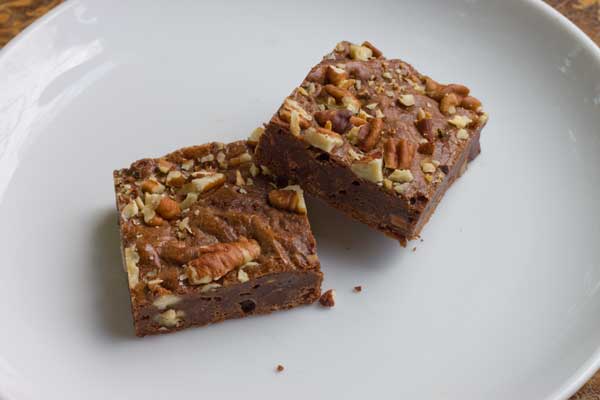 -- Katrina used butter instead of oil for her brownies, and since I followed her recipe I did too. The original recipe calls for oil, though, so that's an option.
-- As mentioned, I used honey in place of corn syrup. Having made some really good brownies with honey (Honey Bear Brownies!), I thought the honey would taste good here, too. It was okay, but the flavor got in the way and in hindsight I wish I'd just stuck with the corn syrup.
-- And finally, one really nice thing about this recipe is that it calls for 3 ounces of semisweet or bittersweet chocolate. This leaves lots of room for experimenting with different brands and flavors of chocolate. For instance, if it only called for unsweetened, you wouldn't have a lot of choices because most mainstream grocery stores just sell Baker's and Ghirardelli unsweetened. However, with semisweet and bittersweet you can choose from all kinds of brands. My regular grocery store several types of bars in the 50 to 72% cacao range, plus they also have some flavored dark chocolates such as Green & Black's Maya Gold.
It was interesting reading the reviews over on Eating Well. Some people absolutely hate these brownies, while others give 5 stars. And then there are some reviews where people leave terrible comments, but give the brownies 4 stars. I'm not sure what's up with that, but I do feel sorry for the people whose brownies turned out terrible. My guess is that they didn't fluff up or weigh their flour.  I really don't know, but I always wish I could go and see what people were doing differently from the test kitchen to get awful results. Maybe that should be a TV show? Someone finds horrible, horrible reviews from a cooking website, then shows up at the person's door (not sure how they would find them) and says "Let's make this item together".  I'd watch that.  Maybe nobody else would.
Anyhow, give these a try and measure everything carefully. I think you'll like the results. They're not as rich as regular brownies, but I think they are just as satisfying. I may make another batch today...without the honey.
Recipe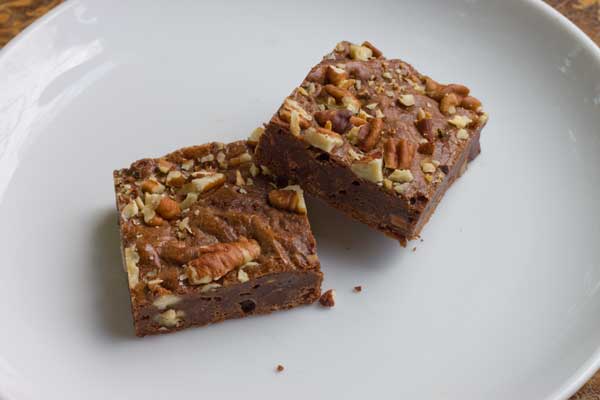 Eating Well Brownies
A reduced fat brownie recipe made with dark chocolate, cocoa powder and corn syrup.
Ingredients 
1 ½

tablespoons

21 grams unsalted butter

3

ounces

dark chocolate

86 grams, coarsely chopped

3

tablespoons

15 grams unsweetened natural cocoa powder

¼

cup

50 grams granulated sugar

1 ½

tablespoons

light corn syrup blended with 3 tablespoons lukewarm water

2

teaspoons

vanilla extract

⅛

teaspoon

salt

1

large

cold egg

¾

cup

90 grams all-purpose flour -- fluff it up or sift before measuring

⅔

cup

73 grams powdered sugar

⅓

cup

extra dark chocolate chips

or use about 2 ounces chopped chocolate

½

cup

toasted and chopped pecans
Instructions 
Preheat oven to 350 degrees. Line an 8x8 baking pan with nonstick foil or line with regular foil and spray with cooking spray.

Melt the butter in a medium size saucepan. Add chocolate to the hot butter and remove from heat. Stir, using residual heat from chocolate, until it is melted and smooth. If the chocolate doesn't melt completely, return it to a very low heat. When melted, stir in the cocoa powder, then stir in the sugar and the corn syrup/water mixture. Add the vanilla, salt, and egg and beat with a spoon just until mixed.

Combine the flour and powdered sugar and stir into the batter. Make sure the batter is cool, then add the chocolate chips and nuts. Pour the batter into the pan and spread evenly.

Bake for 22-24 minutes until a toothpick inserted in the center comes out mostly clean. Let cool completely on a wire rack for at least 2 hours. Remove the brownies from the pan by lifting the foil, then cut into 16 squares.
Notes
Measure everything carefully and don't swap out the first 3 ounces of chopped chocolate for chocolate chips. You'll get better results with good chocolate.