In honor of Julia Child's Birthday on August 15, today's recipe is a Bourbon Ice Cream tribute from one of her past students, Chef Janina O' Leary of Austin's Trace restaurant.
Chef O' Leary, who trained at New York's French Culinary Institute and had the opportunity to study with Julia Child, was advised by Child to apply for a job at New York's famous Per Se restaurant. O' Leary worried she was too young and inexperienced, but because of Child's encouragement she applied anyway and landed the job. To this day, Chef O 'Leary celebrates every birthday with a new Julia Child book.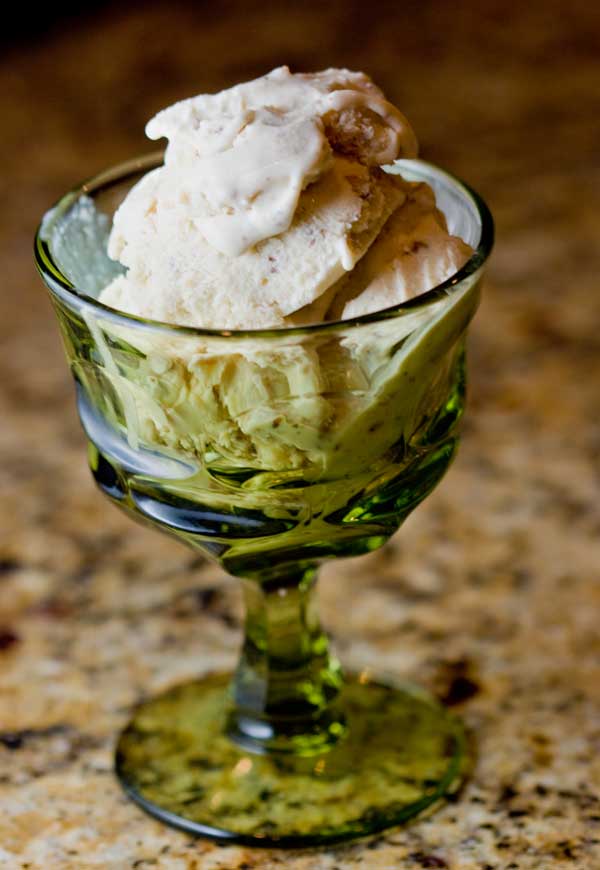 As for her dessert creation, it's a butter pecan, brown sugar, and bourbon  ice cream served with profiteroles. I've only tried the ice cream so far, and Todd and I both loved it.  It's not too sweet, so it's perfect with caramel sauce, whipped cream and maybe (if you like them) some bananas.  The profiteroles are on the agenda for another day.
Recipe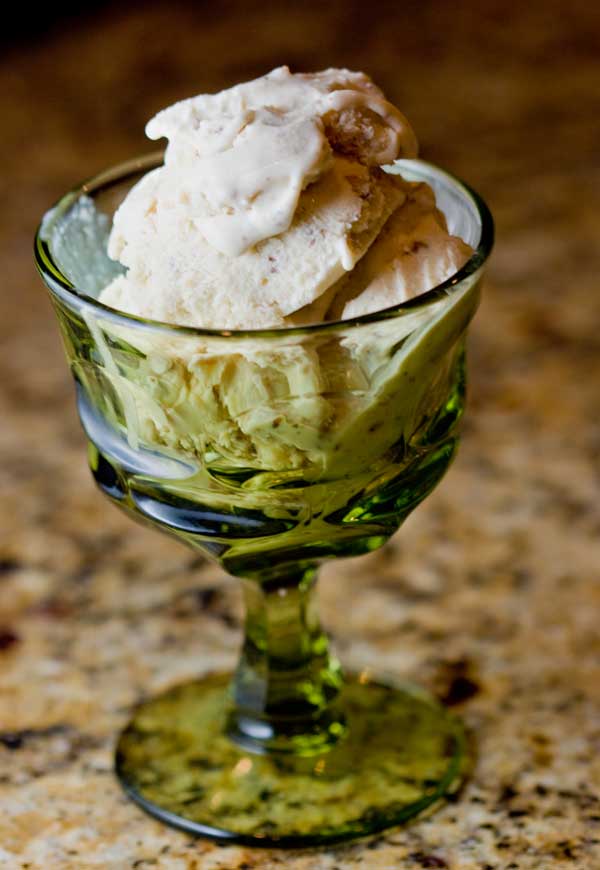 Bourbon Pecan Ice Cream from Trace
A bourbon flavored ice cream with chopped pecans
Ingredients 
Bourbon Ice Cream
¼

cup

packed brown sugar

2

large eggs

beaten

1 ½

cups

half-and-half cream

or half milk, half cream

½

cup

heavy cream

1

vanilla bean or 1 ½ teaspoons good vanilla

Pinch

of salt

⅓

cup

chopped pecans

2

tablespoon

butter

2

Tablespoons

Bourbon
Profiteroles from Trace
1 ¼

cup

water

½

cup

cold butter

⅓

teaspoon

salt

1

cup

all-purpose flour

5

eggs

1

cup

heavy cream

¼

cup

confectioners' sugar

1

teaspoon

rose water

optional

1

cup

heavy cream

9

ounces

semisweet chocolate

chopped
Instructions 
In saucepan set over low to medium low heat, stir together brown sugar, eggs, salt and half and half until smooth. Bring to a simmer, stirring occasionally (I stirred mine constantly), and cook 2 minutes more or until mixture reaches 160F on a thermometer. Remove from heat and pour through a sieve and into a clean bowl. Stir in the cream, vanilla and salt. Let cool slightly, then cover and chill thoroughly -- overnight is best.

In a small pan over medium heat, sauté pecans in butter until lightly browned, stirring frequently. Strain them out of the butter with a slotted spoon and allow them to drain and cool. Chop. You do not add the extra butter to the ice cream (or at least I didn't). Stir the bourbon and chopped pecans into the cream mixture and pour it in the ice cream maker. Chill per manufacturer's directions.

Make the profiteroles. Preheat an oven to 425 degrees Line a baking sheet with parchment paper.

Bring the water to a boil in a saucepan. Stir in the butter and salt until the butter has melted; remove the saucepan from the heat. Stir in the flour until no dry lumps remain; stir in the eggs, one at a time, adding the next egg only after the last one has been completely incorporated into the mixture. Drop the profiterole paste onto the prepared baking sheet in evenly spaced dollops.

Bake in the preheated oven until the pastries have puffed up and turned golden brown, 25 to 30 minutes. Remove from the baking sheet and cool on a wire rack to room temperature.

Beat 1 cup of heavy cream to soft peaks; stir in the confectioners' sugar and rosewater until the sugar has dissolved. Bring the remaining cup of heavy cream to a simmer in a small saucepan over medium heat. Remove from the heat and stir in the chocolate until melted and smooth.

To assemble, poke a hole into the bottom of each pastry and fill with the rose water cream. Place the filled profiteroles onto individual serving plates and top with the warm sauce. Leftover profiteroles may be stored sealed in an airtight container in the refrigerator up to 5 days.
Notes
Cook time refers to chill time and is only an estimate.