Sometimes the best recipes result from accidents, and that's exactly what happened with Divine Lemon Bars.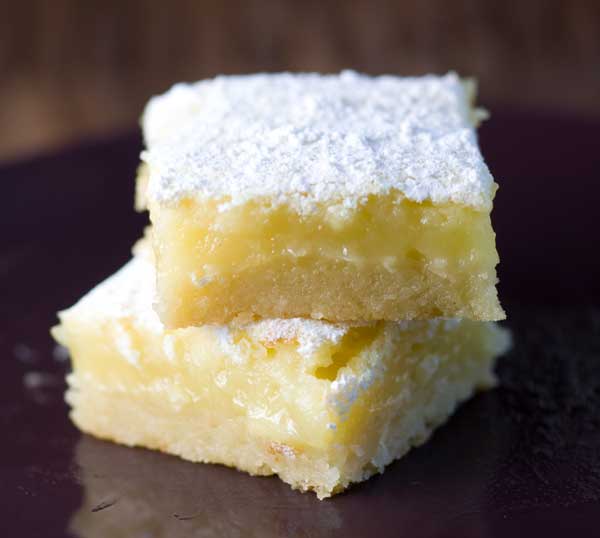 Nancy at Tag Sale Tastes volunteered to make lemon bars for a church luncheon and realized she didn't have enough granulated sugar. Rather than stop everything and run to the store, she substituted powdered sugar and crossed her fingers. The result was a tart, smooth and slightly stiffer version of the usual lemon bars. Compared to some of the gloppy, gelatinous lemon bars she'd made in the past, these were far superior, and Nancy attributed that to the extra bit of cornstarch in the powdered sugar. Or maybe it was just divine intervention?  But that's how the bars got their name.
If you try Nancy's recipe (which she noted, was adapted from Ina Garten's recipe), you'll notice it calls for 6 extra-large eggs. I don't always have extra-large eggs on hand, so what I did was use 6 large eggs and about 2 tablespoons, which translates to 3 large eggs and 1 tablespoon of egg if you plan to halve these and bake in an 8 inch pan. Also, Nancy used salted butter. If you use unsalted, make sure to add about ½ teaspoon of salt to the crust.  If you're making half batch, add ¼ tsp.
So other than halving the recipe, adding a tad of salt to the crust and making up for the differences in large and extra-large egg, I followed Nancy's recipe. These might be my new favorite Lemon Bars.