Potato Flake Buckeyes are a fluffier, lighter version of the classic candy with a not-so-secret ingredient. The potato flakes (I use Hungry Jack) are completely unexpected and make for a fun conversation starter. Everyone tries to see if they can taste the potato in the candy.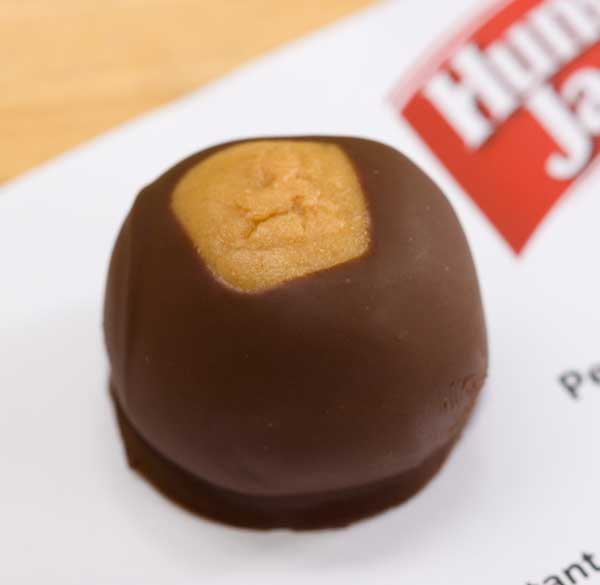 In this case, the potato flakes temper the sweetness of the peanut butter mixture and add bulk, making the dough extremely easy to work with. I had no problem rolling these guys into really smooth balls.  However, I did make a few little changes to the original recipe.  It calls for almond extract, but I prefer vanilla.  It uses 2 1/2 cups sugar, but I cut it down to 2 cups for more peanut butter flavor.  The ratio of chocolate to shortening was perfect and the buckeyes had a nice, smooth, coating.  Dipping them with a toothpick did leave a little hole in the center, but I covered up the toothpick holes with little dabs of peanut butter
This post was originally part of a Hungry Jack giveaway. The giveaway is over, but you can still have fun perusing the Hungry Jack recipe collection for more interesting ways to use potato flakes. They make breads and rolls light, add a little bulk to brownies, and they're even used in some cookie and candy recipes.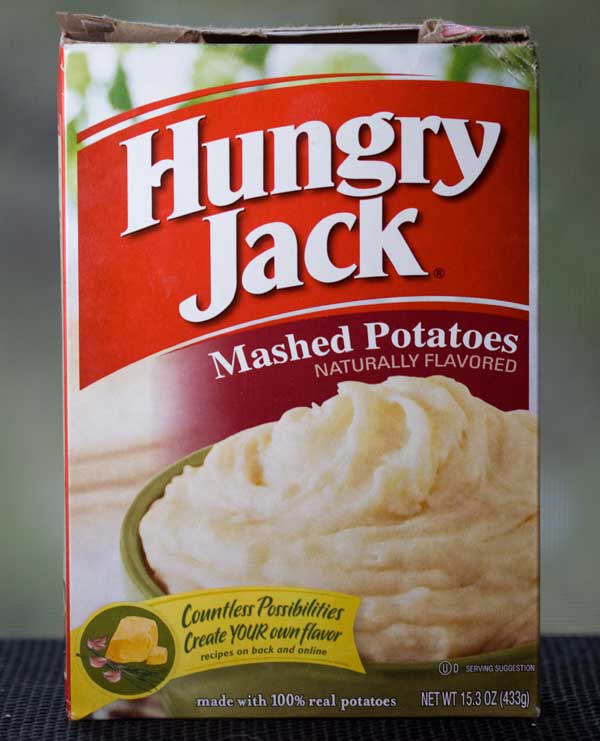 I
Recipe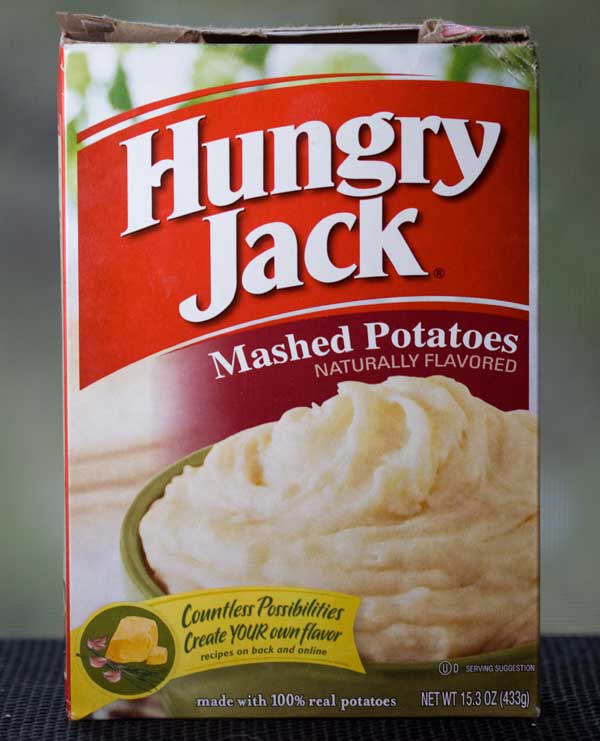 Hungry Jack Potato Flake Buckeyes
Peanut Butter Buckeyes made with Hungry Jack Instant Mashed Potato Flakes
Ingredients 
1/2

cup

Hungry Jack® Instant Mashed Potato Flakes

1/4

cup

water

1

cup

Jif® Creamy Peanut Butter

1

tablespoon

butter

melted

1/4

teaspoon

vanilla or almond extract

2 to 2 1/2

cups

powdered sugar

I used 2

1

cup

semi-sweet or dark chocolate chips or 6 ounces of melting chocolate

1

tablespoon

Crisco® All-Vegetable Shortening
Instructions 
Combine potato flakes and water in large bowl. Allow to stand 2 minutes or until potato flakes are fully hydrated.

Beat in peanut butter, butter and almond extract with an electric mixer on low speed until blended. Add powdered sugar 1 cup at a time, beating until smooth. Make 36 1-inch balls using 2 teaspoonfuls of mixture for each ball.

Melt chocolate chips and shortening in a microwave-safe bowl at 50% power, stirring every 30 seconds. Dip peanut butter balls partially into chocolate, keeping the top uncovered. Chill until chocolate has hardened.