As Thanksgiving approaches, I'd like to give thanks for the Kraft Caramel Bits which have saved us from the job of unwrapping individual candies.  The task is tedious in and of itself, but what drives me crazy is how the wrappers always find their way to the floor, where a dog will inevitably be waiting. Next thing you know you have a dog bite from trying to fish a wrapper out of tightly clenched canine jaws.  
So thank you, Kraft, for your unwrapped pellets of caramel.  Please don't discontinue them.  I'll keep buying them even when I don't really need them, which is how a bag wound up in my pantry and sat there for months until I finally was in the mood to make Caramel Oat Bars.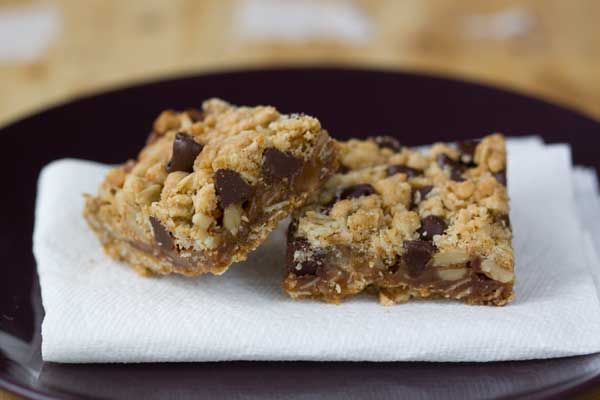 Caramel Filled Oat Bars
These are kind of like the classic "Caramelitas" which call for caramel sundae sauce, but I used the bits for a firmer, harder, center.  With the coconut, toasted nuts, and chocolate, these bake into a thick, chewy, candy-like bar which we really like.  If you chill oat bars, make sure to bring them to room temperature before serving or you may break a tooth.
How Many Kraft Caramel Bits Equal One Caramel Square
Bits come in an 11 oz bag
Two teaspoons of the bits equals one square of caramel
One cup of Caramel Bits equals 24 caramel squares
An 11 oz bag of Caramel Bits equals about 35 squares of caramel
Recipe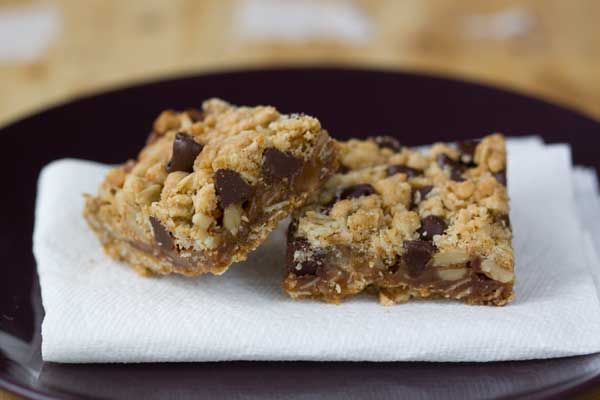 Caramel Filled Oat Bars
An oatmeal coconut bar with caramel and chocolate chips in the middle.
Ingredients 
¾

cup

3.4 ounces flour, stir and aerate before scooping or weigh

½

teaspoon

Kosher salt

½

teaspoon

baking soda

3

tablespoons

packed light brown sugar

3

tablespoons

granulated sugar

¾

cup

plus a tablespoon old fashioned oats

⅓

cup

very lightly packed angel flake coconut

6

tablespoons

unsalted butter

melted

½

teaspoon

vanilla extract
Filling
1

cup

Kraft caramel bits

2

tablespoons

heavy cream

½

cup

chopped and toasted walnuts

½

cup

dark chocolate chips
Instructions 
Preheat the oven to 350 degrees F. Line an 8 inch square metal pan with nonstick foil or line with regular foil and spray foil with cooking spray.

In a mixing bowl, combine the flour, baking soda, salt, and both sugars. Stir very well, then stir in the oats and coconut.

Mix the melted butter and vanilla, then pour into flour mixture and stir until blended and kind of crumbly. Measure out about a cup of flour mixture, then press the rest tightly in the pan to cover bottom.

In a microwave-safe bowl or Pyrex measuring cup, combine the caramel bits and cream. Microwave on high for 30 seconds. Stir and continue to microwave on high, stirring every 10 seconds, until completely melted. Spread melted caramel over oat crust. Sprinkle nuts and chocolate chips over oat crust, then sprinkle reserved oat mixture over the top.

Bake on center rack for about 30 to 35 minutes, laying a sheet of foil loosely over top during last 10 minute to prevent over-brownies.. Let cool completely, then lift from pan and cut into squares.
Notes
If you double, use a 9x13 inch metal pan.
For a cleaner cut, chill before slicing. Keep in mind that if you do this, the bars will get become very firm in the refrigerator. Cut while firm, then bring to room temperature before serving.