For the past couple of weeks I've been craving big, crunchy, bakery style peanut butter cookies. Unfortunately, the only big peanut butter cookies that were coming out crunchy were my Monster Cookies. I gave up for a while, then remembered I had some bread flour in the pantry and that bread flour usually produces thicker, crunchier, cookies. Using the bread flour, melted butter and loads of peanut butter did the trick!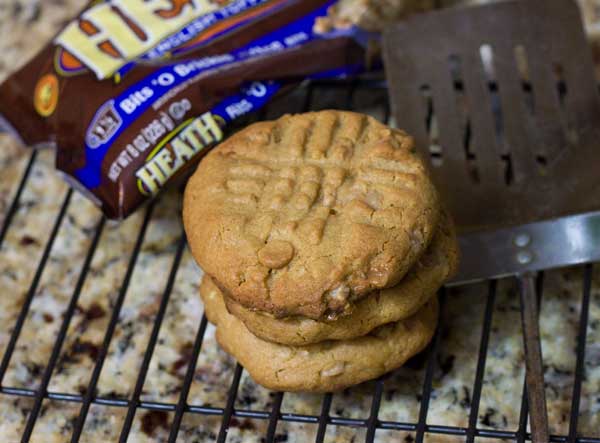 To make the cookies a little more interesting, I added a big handful of toffee bits (Bits of Brickle), which give the cookies a little extra sweetness and crunch. As of now, these are my favorite peanut butter cookies (though that could change any day and probably will). If you make them, be sure to add the peanut butter chips. The toffee bits are optional, but I think the texture of the cookie necessitates some peanut butter chips to offset the natural dryness that occurs in peanut butter cookies. Oh, and about that crunchiness. One of my batches was crunchy through and through, which was fine with me. If you like soft centers and crunchy shells, just take them out of the oven a little sooner.
Recipe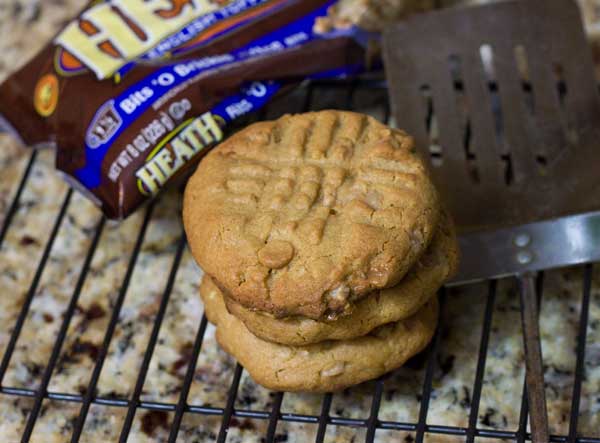 Giant Peanut Butter Brickle Cookies
Peanut butter cookies made with peanut butter chips and Heath Bits 'O Brickle
Ingredients 
½

cup

1 stick/4 oz unsalted butter

1 ⅓

cups

bread flour --

6 ounces, stir and aerate well then measure carefully

¼

teaspoon

baking powder

¼

teaspoon

baking soda

⅜

teaspoon

salt

½

cup

firmly packed dark brown sugar

½

cup

sugar --

3.5 oz

⅔

cup

crunchy peanut butter --

6 oz

1

large egg

1

teaspoon

vanilla extract

1

cup

peanut butter chips

¼

cup

Bits 'O Brickle Toffee Bits
Instructions 
Melt the butter in the microwave or in a saucepan and let it cool down a bit.

Mix together the flour, baking powder, baking soda and salt and set aside.

Combine the melted butter, and both sugars in a large mixing bowl. Stir well, then stir in the peanut butter, egg and vanilla. Add the flour mixture and stir until blended, then stir in the peanut butter chips. At this point, dough should be stiff enough to mold, but if it's not, chill it for about 10 minutes.

Scoop up large balls of dough (a little less than ¼ cup each) and put on two plates or a large cookie sheet. Shape into neat balls, then use a fork to make a criss-cross pattern so that you have thick discs with criss-crosses. Chill for an hour or until cold and stiff.

Preheat oven to 375 degrees F. and line two baking sheets foil.

Arrange six criss-cross discs on each baking sheet and bake one sheet at a time on center rack for about 14 minutes or just until edges start to brown. Let cool on baking sheets for about 5 minutes, then transfer to a rack to cool completely. In my opinion, these are best when they are completely cool and crisp.
Notes
If your butter is too warm, the dough might be a little soft. If your dough is too soft to work with, just chill it for about 10 minutes.
For the peanut butter, use a mainstream type such as Jif of Skippy Natural with chunks.
Stir of sift the flour before using OR just weigh it. Using too much flour will definitely give you a dry cookie.