Perfectly Chocolate Bundt Cake lives ups to its name in so many ways, which makes me feel even worse about this picture. I really could have taken a better one, as this cake deserves it. I'll update the photo next time I make it. As much as we love this cake we just haven't had as many special occasions to celebrate.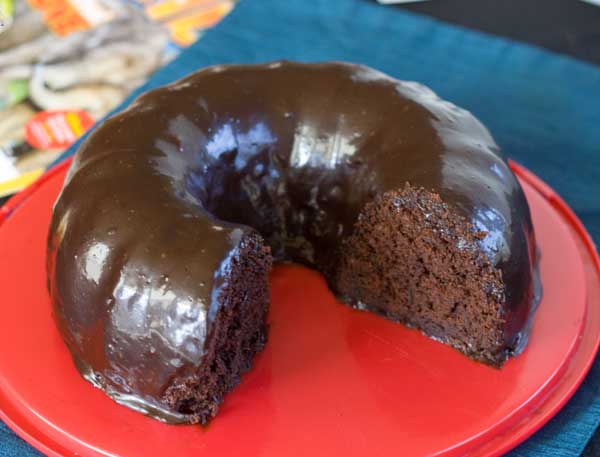 This is the fastest, most convenient, and economical cake I know of.  Plus you probably have all the ingredients in the pantry right now.  No sour cream? No worries! This is a chocolate Bundt cake without sour cream. No butter? Again — no problem. This Perfectly Chocolate Cake calls for oil.
You may not have everything for The Cake Mix Doctor's Marshmallow Frosting, but this cake can be drizzled with just about anything including a basic chocolate ganache.
Hershey's Perfectly Chocolate Cake as a Bundt
The "secret" source of this recipe is Hershey's, but I got it years ago from my cousin, Julie.  We usually make it as cupcakes or layers, but I've been on a Bundt cake kick and wanted to use a fluted pan.  For the cocoa powder, I use natural, but Dutch process also works well.  And if you prefer using buttermilk in place of milk or coffee in place of water, go  for it.  The only thing to watch carefully is the time.  Mine was done in 45 minutes, but sometimes it takes up to 55 depending on your oven and Bundt pan.
My Favorite Chocolate Ganache Glaze
The recipe included with the Perfectly Chocolate Cake is a good one, but if you don't have the marshmallows or just want to go with something simple, I recommend Chocolate Ganache Glaze. To make the glaze, combine 3 oz (84 grams) chopped chocolate, 1/2 tablespoon (14 grams) butter and 1/2 tablespoon (10 grams) corn syrup in a small bowl. Heat 1/3 cup (80 grams) heavy cream in a small saucepan or in the microwave. Remove from heat and add the chocolate mixture to the cream. Stir until smooth, then drizzle over the cake.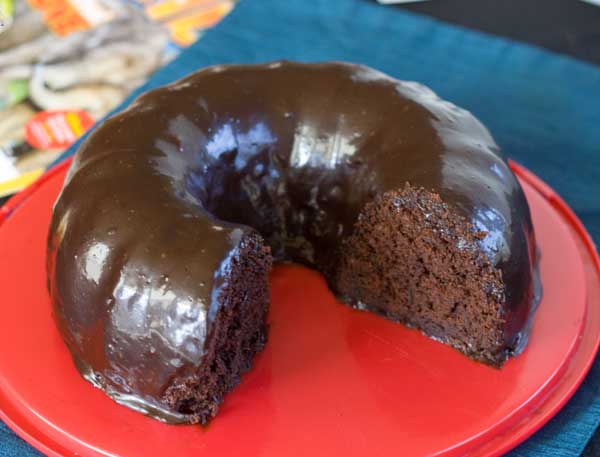 Perfectly Chocolate Bundt Cake
An easy Bundt cake made in one bowl.
Ingredients 
1 3/4

cups

all-purpose flour

230 grams

2

cups

granulated sugar

385 grams

3/4

cup

unsweetened cocoa powder

natural type

1 1/2

teaspoon

baking soda

1 1/2

teaspoons

baking powder

1

teaspoon

salt

1/2

cup

vegetable oil

1

cup

milk or buttermilk

see note if using buttermilk

2

large eggs

2

teaspoons

vanilla extract

1

cup

boiling water

or coffee
Marshmallow Frosting
2

cups

powdered sugar

1/2

cup

unsweetened natural or Dutch cocoa powder

3/4

cup

small or 6 large marshmallows

1/3

cup

plus 2 tablespoon of milk

4

tablespoons

of unsalted butter

1

teaspoon

vanilla extract
Instructions 
Preheat oven to 350 F. Spray a Bundt pan with flour-added baking spray.

Mix together flour, sugar, cocoa, soda, baking powder and salt in large bowl. Add oil, milk, eggs and vanilla. Beat two minutes with electric mixer at medium speed. Stir in water until blended. Batter will be thin.

Pour batter in the Bundt pan and bake for 45-50 minutes or until skewer or pick inserted comes out clean.

Let the cake sit in the pan for about 10 minutes, then carefully turn it from the Bundt.

To make the frosting, sift the sugar and set it next to the stove. Keep the cocoa powder handy, too. I don't usually mix the two ahead of time, because I know I'll use all of the cocoa powder, but I don't always use every bit of sugar.

Combine the butter, marshmallows and milk in a large (3 quart) saucepan. Heat on medium to medium low, stirring often, until melted and smooth. Remove from heat and stir in cocoa. Add about half the powdered sugar and stir well, then gradually add more until you get just the consistency you want. I usually use it all. Add vanilla and stir until smooth. Pour over the cake, letting it fall down the sides and into the center.
Notes
For shiny, heavy Bundt pans use 350 degrees F. For black Bundt pans, use 325F.
if using buttermilk, increase soda to 2 teaspoons and decrease baking powder to 1.
Super Bowl Sunday Perfectly Chocolate Bundt Cake