This weekend I did a little experiment. Instead of using 1 cup of peanut butter in my usual Flourless Peanut Butter Cookies, I left out the baking soda and replaced 1 cup of regular peanut butter with a 15 oz package of Jif Whips. If you haven't tried it yet, it's a lighter, airier version of Jif that's easier to spread and can be used as a dip.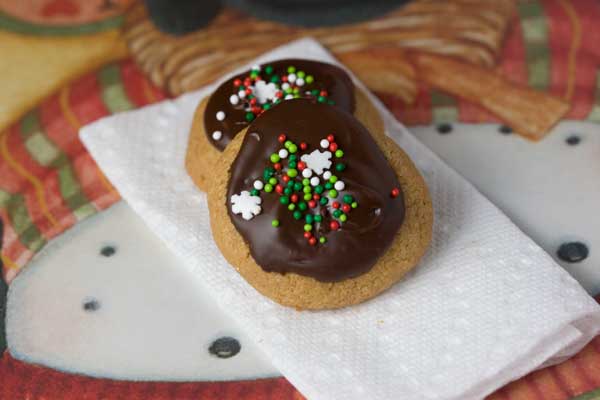 The cookies had a robust peanut butter flavor and slightly domed tops which were perfect for draping in chocolate. Their texture was firm but not crispy and they were sweet but not overly so.  I couldn't figure out if this new rounded shape was due to the higher proportion of peanut butter and omission of baking soda or the whipped texture of the Jif Whip, so I ran another little test and weighed out the same proportions using regular peanut butter and omitting the baking soda.  Again, the cookies didn't really spread, were less sweet, and perfect for topping with chocolate.  The texture was denser and heavier than the Jif Whips version but still really good.
Note:  For this recipe to be gluten-free, it's important to check labels and make sure whatever brand you are using is made without wheat.
Recipe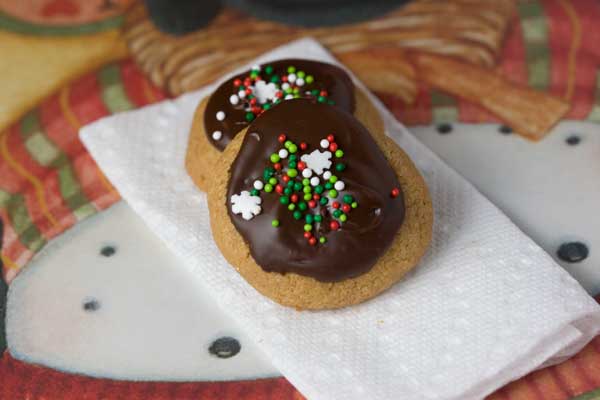 Flourless Peanut Butter Cookies with Jif Whips
Flourless peanut butter cookies made with Jif's new whipped peanut butter
Ingredients 
1

package

15 oz Jif Whips or 15 oz of regular peanut butter**

1

cup

granulated sugar

1

large egg

1

teaspoon

of vanilla extract

5

ounces

of chopped semisweet chocolate

1

tablespoon

butter

optional -- for softer chocolate
Instructions 
Preheat oven to 350 degrees F and line two baking sheets with parchment paper.

In a mixing bowl, stir together all ingredients except for chocolate to form a smooth dough.

Using a heaping teaspoon, spoon balls of dough onto cookie sheets. Round off the tops a little bit with your fingertips or the back of a spoon.

Bake for about 9 to 11 minutes or until they appear set, then transfer to a wire rack to cool.

Melt the chocolate and butter in the microwave using 50% power and stirring every 30 seconds. Spoon a little chocolate over the top of each cookie.

Put the cookies in the refrigerator until the chocolate is set.

You can make halve a batch by using 2 tablespoons of beaten egg
Notes
Most peanut butter comes in 15 oz jar, so use all but about 1 ½ tablespoons or to be more accurate, weigh out 15 oz.
If you want to make the usual type of cookies which spread, use only 1 cup of peanut butter and add 1 teaspoon of baking soda.
For the melted chocolate that goes on top, you can melt the chocolate by itself or add a tablespoon of butter. Butter will give the set chocolate a softer texture, whereas if you just put straight melted chocolate on top the chocolate will be harder.