Monkey Bread Goes Italian!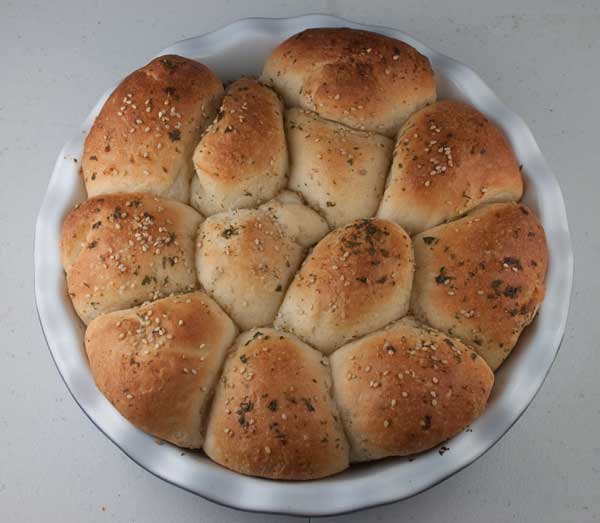 Monkey Bread may seem like an unusual choice for an Italian meal, but we had company last night and I wanted to partner the lasagna with something a little more interesting than garlic bread.  A savory version of Monkey Bread, which is usually made in a Bundt pan and often called "pull-apart" or "bubble" bread, seemed like a good idea. However, rather than serve monkey bread in a Bundt pan, I piled the balls of bread dough in my one and only Emile Henry Pie Dish
.
The presentation was a hit, and I can't wait to make it again.
The first step is to line the pie dish with flavored butter.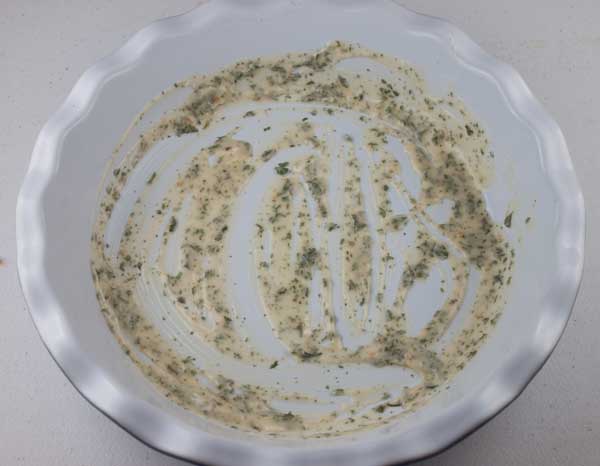 Next, you dip thawed frozen dinner roll dough balls into butter and arrange them in the pie plate. Lovely, eh?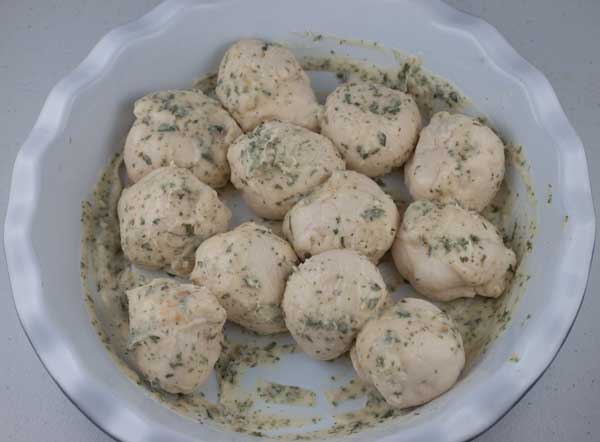 If the dough balls are frozen, it should take about 4 hours for them to rise. If they are thawed and cold, they'll rise in 1 ½ to 2 hours.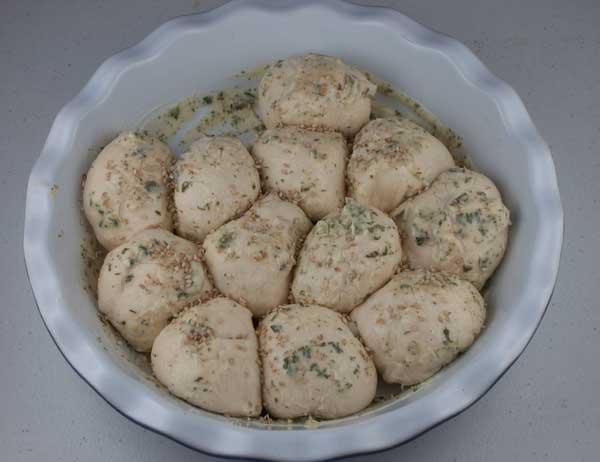 And of course they'll rise even more in the oven, so it's a good thing I left some gaps.
Now I have a second pack of  thawed bread dough in the refrigerator and will probably try a small batch version of the traditional caramel flavored monkey bread made with pudding mix.
Recipe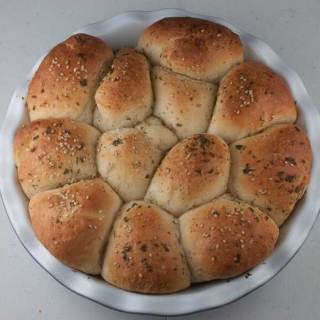 Monkey Bread with Garlic
This is savory version of monkey bread made with a flavored garlic butter.
Ingredients 
1

pound

12 count frozen dinner rolls, thawed (I used Rhodes brand)

4

tablespoon

unsalted butter

melted

1

tablespoon

dried parsley flakes

1

teaspoon

garlic powder

¼

teaspoon

salt

A little garlic salt

optional

Some sesame seeds

optional
Instructions 
Combine the melted butter, parsley flakes, garlic powder and salt in a bowl.

Pour just enough of the melted butter mixture into a 9 inch deep dish pie plate to coat the bottom. Brush a little bit on the sides as well.

Dip thawed dough pieces in remaining butter mixture and arrange them dipped side up in the plate. Brush any remaining butter over the top.

Cover with an overturned mixing bowl and let rise at room temperature until doubled in bulk -- about 1 ½ to 2 hours depending on how cold the dough is.

Preheat oven to 350 degrees and bake for 30 minutes or until golden brown.