Whole Wheat Walnut Bread is a bread I've been making for a few years now. Unlike the Walnut Bread from Southern Burgundy which has onions and a lighter interior, this bread is denser, tight crumbed and a little chewy (especially with vital wheat gluten, which is optional). It has just a hint of sweetness from the honey, so it's really good with peanut butter. However, it's not so sweet that you couldn't use it with a turkey sandwich or even a BLT.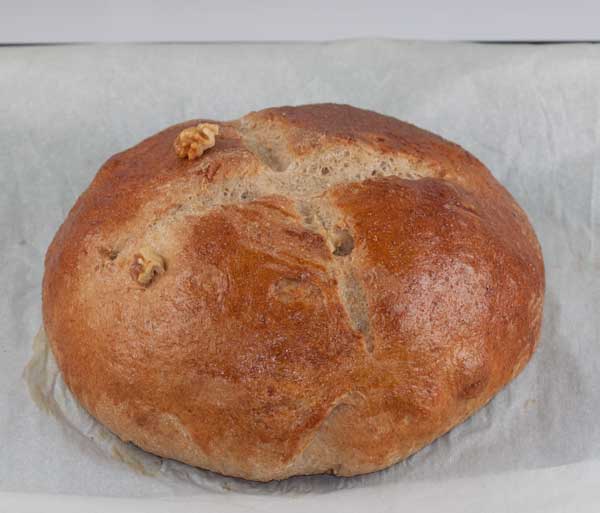 For Whole Wheat Walnut Bread, I started with King Arthur's recipe for Walnut Bread. Their version is not whole wheat, but rather calls for all-purpose flour. To change things up, I halved the recipe and used a combination of bread flour, rye flour and whole wheat. With the rye and whole wheat, it seemed like a good idea to add some vital wheat gluten, so I threw in a generous tablespoon of that as well.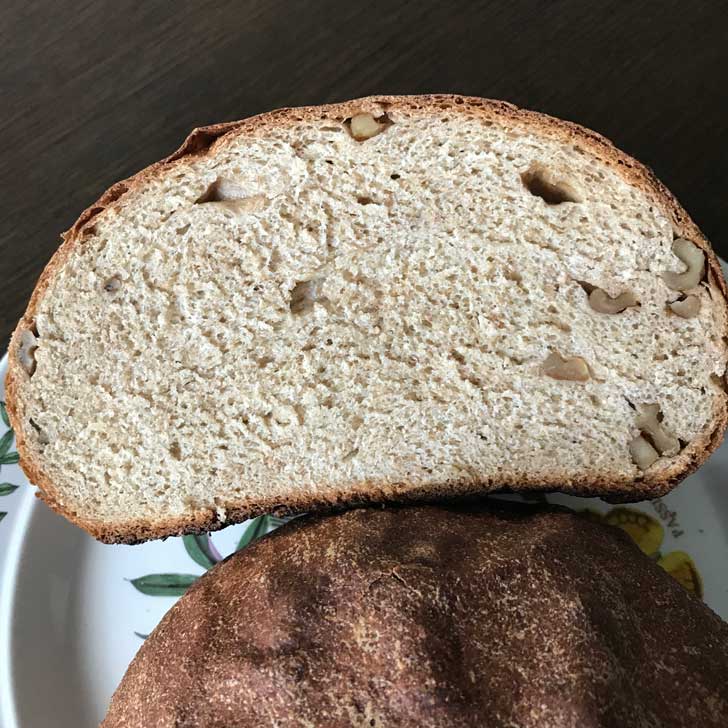 Baking Whole Wheat Walnut Bread
In the past I just baked it at 375 for about 30 minutes. That works perfectly fine, but my favorite method is to bake it in a preheated ceramic pot (Le Creuset French Oven). I bake it at 450 with the top on for the first 15 minutes to give it some spring, then remove the top, reduce heat to 350 and bake for another 15 to 20 minutes.
Recipe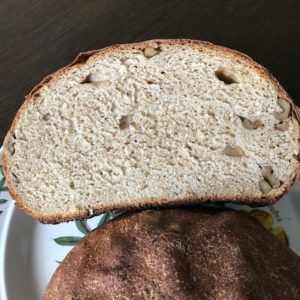 Walnut Bread
This bread is perfect for toast, but should also work well for sandwiches.
Ingredients 
1 ½

teaspoons

active dry yeast

¾

cup

warm water

(115 degrees F)

¾

cup

bread flour

(100 grams)

1 ½

tablespoons

olive oil (or use walnut oil)

plus more for bowl

2

tablespoons

honey

(40 grams)

1

teaspoon

salt

1 ¼

cup

whole wheat flour, I like KA organic

(170 grams)

¼

cup

dark rye flour

(35 grams)

1

tablespoon

vital wheat gluten (slightly generous T)

¾

cup

toasted and chopped walnuts

Egg white for brushing, optional
Instructions 
Combine the yeast and water in the bowl of a stand mixer and stir well. Add ¼ cup of the bread flour and let sit for 10 minutes. Bubbles should form to let you know the yeast is working.

Stir the honey and oil into the yeast mixture; add salt, whole wheat flour and rye flour (and vital wheat gluten, if using) and stir well. Dough should be very sticky at this point. Add another ¼ cup of bread flour and stir – now dough should be a little bit dryer, but still a tad bit sticky. At this point you should still have ¼ cup of bread flour left to control stickiness. If dough is still really sticky, go ahead and add 2 tablespoons more. The dough will be kind of a dense one, yet it shouldn't feel dry.

Put the bowl on the stand mixer, attach the dough hook and let the mixer knead until smooth and elastic. If dough clears the side of the bowl as it kneads, continue kneading without adding remaining flour. If it does not, go ahead and add remaining 2 tablespoons of flour.

If you weighed your flour, you'll probably use ALL the bread flour.

Put about ½ tablespoon of extra olive oil or walnut oil in another mixing bowl. Set the kneaded dough in the bowl and turn it to coat the dough ball with oil. Cover with plastic wrap and set in a warm place (like a closed microwave) for an hour to 1 ½ hours or until doubled in bulk.

Punch dough down and knead in the walnuts. Shape into a ball, set the ball on a parchment lined baking sheet, cover with up upside down mixing bowl and let rise for another 45 minutes.

When dough has risen, use a razor blade to make an x through the top – do it carefully without deflating the dough too much. Brush lightly with egg white if desired and bake at 375 degrees F for 25 to 30 minutes or until dough sounds hollow when tapped. Let cool completely and slice (or serve hot – it slices neatly when cool). Alternatively, bake it for 15 minutes at 450 in a preheated, covered Dutch oven. Remove top and bake for another 20 minutes at 350.
Notes
If during your second rise, your dough spreads outward rather than rises upward, gently smooth the sides downward, tucking them under gently and plumping the shape into a ball that is taller than it is wide. Do this a couple of times, gently so as not to lose height, and allow the dough to rise for another 10 minutes.