Today's recipe is from Sally's Baking Addiction: Irresistible Cookies, Cupcakes, and Desserts for Your Sweet-Tooth Fix. It's a fudge recipe similar to the old condensed milk/chocolate chip "Foolproof Fudge", but with slightly different ratios of condensed milk and chocolate chips plus just enough butter to make it creamier than the original.  That, plus graham crackers and marshmallows which of course make everything better.
The Easiest S'mores Fudge!
I enjoyed making and eating this easy fudge even though I'm kind of a fudge snob. I'll pass this one on to Fuzz, since the condensed milk/chocolate chip version is her "signature" fudge. I might even buy her the Sally's Baking Addiction book, but only if she promises to make me Sally's Chex Mix Funfetti. You pour melted white chocolate over Chex, then shake it up in a mixture of sprinkles, powdered sugar and dry cake mix. Can't wait to see what that's like!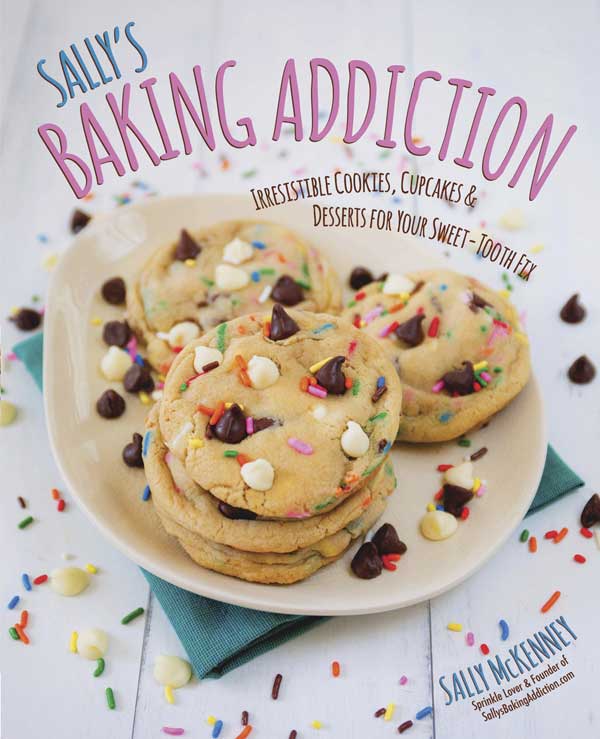 Other Recipes from the Book
There are also plenty of less whimsical recipes including a strawberry yogurt pie made with only 4 ingredients, basic crepes made with Nutella, monster cookie themed bar cookies and a simple scratch marble loaf cake which you can see on the book's Amazon page. From looking at sample recipes, it seems the theme is fun yet simple and still very much from scratch. And guess what? The scratch recipes contain weights, which means you are almost guaranteed success! I am so happy to see that baking with a scale is catching on in the USA. Speaking of which, if you have a scale, you can halve this recipe and make it in an 8x4 inch loaf pan. Or just make it all and freeze it!
Recipe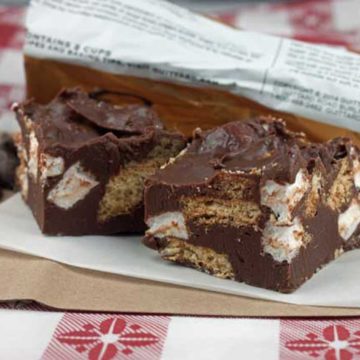 Marshmallow Swirl S'mores Fudge
My first camping experience included allergies, mosquitos, and shivering temperatures. Let's just leave it at that. The only good memory I have from the weekend is sinking my teeth into a few s'mores. I took my favorite part about camping and stuffed it into this creamy, silky fudge. Made from just a few ingredients, this low-maintenance fudge is worlds better than bug bites and sleeping bags if you ask me.
Ingredients 
2

cups

360g semi-sweet chocolate chips

¼

cup

60g butter

14

oz

400g can full-fat sweetened condensed milk

2

cups

180g mini marshmallows

4

full sheets Graham crackers

broken into pieces
Instructions 
Line the bottom and sides of an 8 x 8in baking pan with aluminum foil, leaving an overhang on all sides. Set aside.

In a medium saucepan over a low-medium heat, combine the chocolate chips, butter, and sweetened condensed milk. Stir constantly until the chocolate chips are completely melted. The mixture will be very thick.

Remove from the heat and allow to slightly cool for 3–4 minutes. Gently fold in the marshmallows and Graham cracker pieces. The marshmallows will melt slightly, creating swirls. Spoon the chocolate mixture into the prepared pan, smoothing down the top as best you can. Chill in the refrigerator for 4–6 hours until firm. Using a very sharp knife, cut into squares.

Cover the fudge tightly and store in the refrigerator for up to 4 days.

Sally Says: This is my go-to chocolate fudge recipe. Instead of s'mores fixings, try adding walnuts, candy cane pieces, peanut butter swirls, or crushed Oreo® cookies
Notes
From Sally's Baking Addiction and reprinted with permission of Racepoint Publishing 2014