I never considered making Honeycomb Candy until I saw it at Whole Foods a couple of weeks ago. The cross-section was what caught my attention -- it was thick and pretty and left enough of an impression to motivate me to start researching the candy that same evening. Turns out it's pretty much the same thing as Seafoam candy or Angel Food candy which are two candies that have been around forever. I'm guessing I tried making it as a kid and ruined it and blocked it out of my memory forever. Who knows? At any rate, I was ready for another go.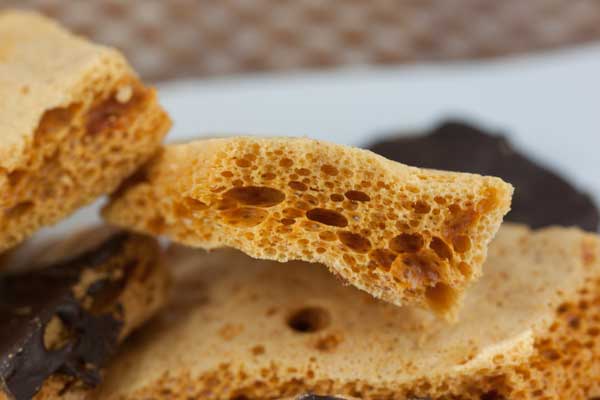 To get started, I went through dozens of recipes and settled on this version from allrecipes.com. It's called Angel Food Candy but looked like what I saw at Whole Foods and had good reviews. For the first round I followed it as written with the dark corn syrup and 300 degree temp. It tasted pretty good, but oddly enough I liked it a little better without the chocolate.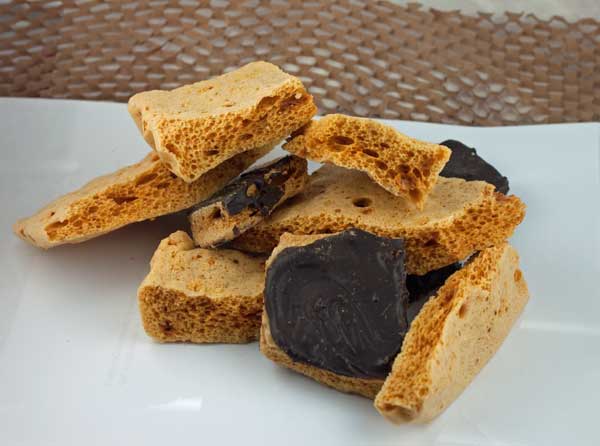 For the second round I used half brown sugar and half white and used light corn syrup instead of dark. The candy was good, but the original candy made with the dark corn syrup was more robust and flavorful. The trick is not to burn it, so make sure you use a thick saucepan that conducts heat evenly. It appears there are a lot of different ways to make Honeycomb Candy (also known as Angel Candy or Seafoam Candy), so if you have any tricks or tips or new recipes, let me know. I think the next one on my list will be this version from Epicurious, so I'll let you know how the two compare.
Recipe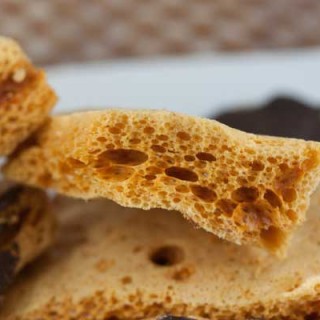 Honeycomb Candy
Honeycomb Candy is a crispy, crunchy candy also known as Angel Candy or Seafoam Candy.
Ingredients 
1

cup

dark corn syrup

1

cup

regular granulated sugar

1

tablespoon

vinegar

1

tablespoon

baking soda

sifted

Dark chocolate

chopped (up to a pound)
Instructions 
Line a 9x13 inch baking pan with nonstick foil.

In a medium saucepan (mine was 3 quarts) over medium heat, combine sugar, corn syrup and vinegar and stir for about 3 minutes or until sugar dissolves and mixture appears shiny and smooth. Continue cooking over medium heat, without stirring, to 300 degrees on a candy thermometer. At exactly 300 degrees, remove from heat and stir in baking soda. Pour into prepared pan and let it fan out, but do not spread. Let the candy cool, then break it into chunks.

Melt the chocolate in the microwave using 50% power and stirring every 30 seconds or in the top of a double boiler. Dip chunks of candy in the chocolate and let it set.