Some recipes are better than the sum total of their parts. In other words, on paper they appear to be very easy or maybe even too basic, but when all the flavors and textures come together, the product is better than something that might have taken more time and effort. This is one of those recipes. Chocolate Caramel Bars are basically two layers of milk chocolate with a layer of peanut studded caramel sandwiched between.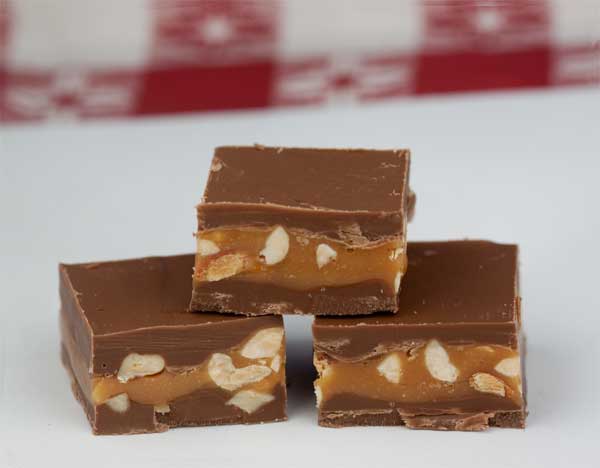 When made fresh, these caramel candies are miles above anything you'd buy. They're pretty and slice neatly, but It's the flavor I like the best. They remind me of a Snickers bar but without any pesky nougat and with a richer, firmer, milk chocolate which of course you control because you pick the type used.
Here is a link to the original recipe.
Chocolate Caramel Bar Tips
My personal substitutions were as follows: #1. I used 2 tablespoons of coconut oil in place of the shortening. And #2 I used Guittard brand milk chocolate chips.    
If you don't have a double boiler, a bowl set over barely simmering water works perfectly for both the chocolate and the caramel mixture.  I suppose a microwave could also be employed to melt either the chocolate and/or the caramel, but I kind of enjoyed the more leisurely paced and gentler melting technique of putting the bowls of chocolate and caramel over simmering water. Whatever you do, don't skip this recipe because it seems too simple or boring. Everyone will love the candies and you'll probably end up making them again.