Using raw eggs in candy has fallen out of favor due to the risk of salmonella, but thanks to pasteurized eggs, I now give old recipes like this one a second look.  Made with an airy mixture of melted chocolate, eggs and butter, Creamy Chocolate Bon Bons are rich in chocolate and have a phenomenal velvety, airy texture from the whipped egg.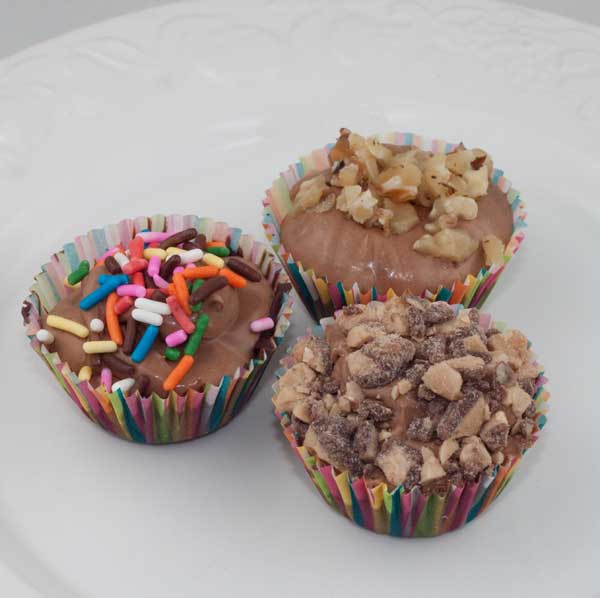 The only tricky part of this recipe is making sure the filling is thick enough. The first time I made it it was a bit runny, so I put it in the refrigerator, beat again, and got the right consistency for heaping into the shells. When I made the recipe again I was careful to let the chocolate mixture cool a bit longer and adding it to the eggs very slowly.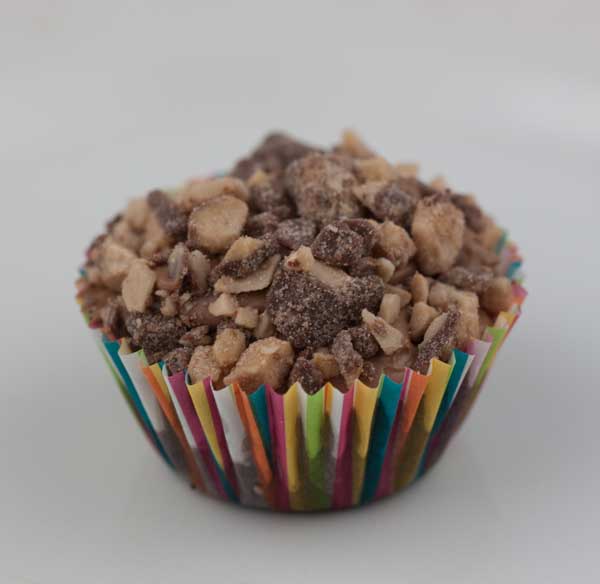 Originally, these were made with maple and topped with pecans, but the beauty of this recipes is you can mix and match the creamy chocolate bonbons to extracts and toppings to suit your tastes. I made today's version with vanilla and an assortment of different toppings.  And finally, this is a good make-ahead.  The bon bons are stored in the freezer, so you can wrap them tightly and make them a few weeks ahead of time if you need to.
Recipe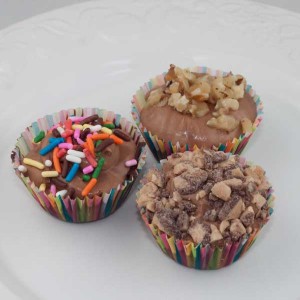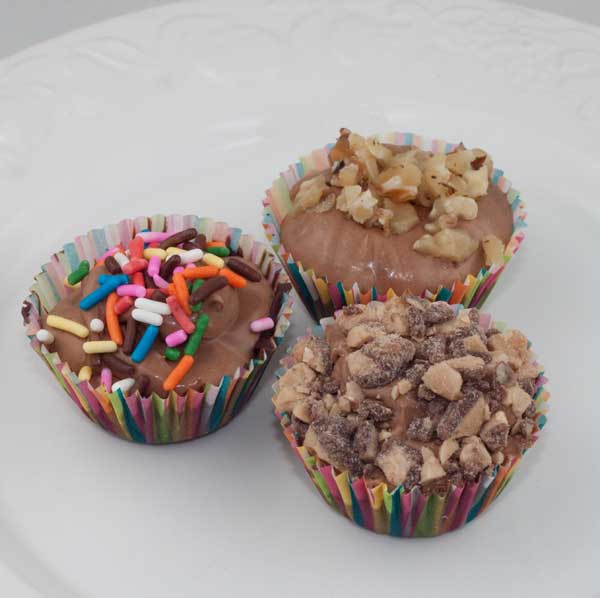 Creamy Chocolate Bon Bons
Creamy Chocolate Bon Bons are velvety smooth and can be topped with your favorite nuts or candies. Vary the extract to suit your mood.
Ingredients 
Shell
3/4

cup

semisweet chocolate chips

5

oz

chopped milk chocolate or a little less than 1 cup milk chocolate chips
Filling:
2

sticks

8 oz unsalted butter, cut into chunks

1

cup

6 oz semisweet chocolate chips, divided use

5

oz

milk chocolate or a little less than 1 cup milk chocolate chips

3

pasteurized large eggs

cold

1/2

teaspoon

salt -- OMIT if you use salted butter

but I don't recommend salted butter

2

teaspoons

your favorite extract

vanilla, maple, almond

3/4

cups

walnuts

toasted and chopped or sprinkles, Heath bits, etc.

32

1.25 inch paper baking cups
Instructions 
Make the chocolate shells first. Set the paper baking cups in the indentations of a miniature muffin pan. If you don't have a mini muffin pan, you can skip it and just set the cups on a tray.

Combine the 3/4 cup of chocolate chips and the 5 oz milk chocolate in a microwave-safe bowl. Melt in the microwave using 50% power and stirring every 30 seconds. Spoon a little bit of the mixture into each miniature cup dividing evenly among 32 cups. Gently spread chocolate a little over halfway up the sides with the back of a small measuring spoon. Put the cups in the freezer and make the filling.

Filling: Melt butter over low heat in a saucepan. Add the 1 cup of semisweet chocolate chips and 5 ounces of milk chocolate to melted butter and stir until chocolate is melted and mixture is smooth. Remove from heat and add your favorite flavor extract. Let cool for about 10 minutes.

In a mixing bowl, using an electric mixer, beat eggs and salt on high speed until foamy and lemon colored. With the mixer going, gradually add melted chocolate mixture about 1 tablespoon at a time, until mixture thickens to about the consistency of mayonnaise. This should take about 5 minutes. The mixture thickens as it cools and should get to about the consistency of mayonnaise. If it is runny, put the bowl in the refrigerator for 5 minutes and then continue beating.

Using a heaping tablespoon of filling, fill the chilled baking cups with chocolate mixture, piling it in the center. Sprinkle top with toasted nuts, sprinkles or Heath bits. Freeze for 2 hours or overnight hours.

To serve, remove from the freezer and allow the cups to thaw a bit so that they are cold, but not frozen. They can be kept at room temperature for a few hours, but be sure to store them in an airtight container or freezer bag in the freezer.
Notes
The original recipe was shared by Tammy in Bryan who made it with maple and pecans. I sometimes make 1/3 of a batch by weighing out 1/3 the amount of chocolate and using 1 egg, and I always vary the flavors.