My favorite red velvet cake recipes call for a full bottle of red food coloring. At $3.00 a bottle, that's pretty steep for a one-time use ingredient. On the other hand, red food coloring paste is more concentrated and a small bottle usually lasts for months. I'm not sure why it took me so long, but I finally tried using red food coloring paste in red velvet.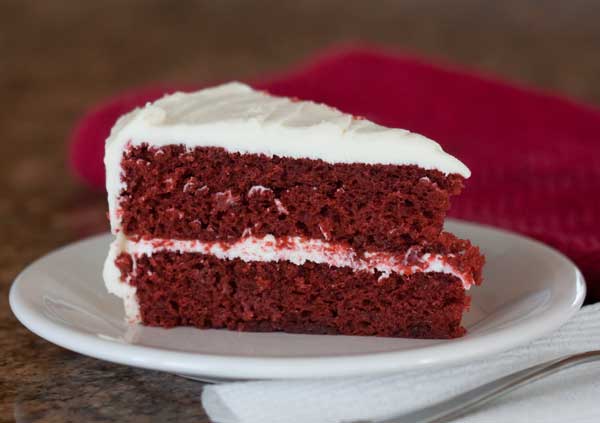 For every 1 tablespoon of red food coloring, I used ¾ teaspoon red food coloring paste and 1 tablespoon warm water. For this red velvet cake, which is from Divas Can Cook, I dissolved 1 ½ teaspoons Wilton "Christmas Red" in 2 tablespoons warm water, let it cool, then measured out 2 tablespoons. It worked perfectly.
So how was the cake? It was really good! It's different than my favorite red velvet cake in that it is way softer and reminds me of a red velvet version of Hershey's Perfectly Chocolate Cake or Black Magic Cake, but it's incredibly easy to throw together and you don't need an electric mixer or special flour. It's also cheaper because you use oil instead of butter. I missed the tangy flavor of my favorite recipe, though. This one lacked butter flavor and didn't have quite the sour taste (maybe the extra oil and sugar diffused the buttermilk flavor a bit?), but its texture was pleasant and the coffee might have highlighted the chocolate notes. I'd recommend this one for novice bakers.