When I found this recipe I literally stopped what I was doing and went straight to the kitchen. It's for no knead roasted apple bread, a crusty artisan style yeast bread from King Arthur flour. It was so good!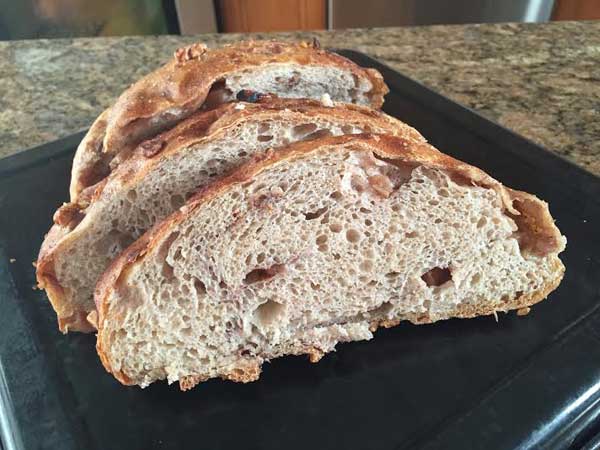 The first step of the recipe is to roast a couple of apples. You only need about 2 big ones, and you don't even have to peel them. You just chop the apples, toss in cinnamon and sugar and roast at 425 for about 12 minutes.
While the apples roast, you mix together bread flour (or better yet, high gluten bread flour like Sir Lancelot), whole wheat flour, a bit of instant yeast, salt and water. As with other popular no knead recipes, you let this mixture sit for 8 hours. So yes, I stopped what I was doing to make the bread, but that's where the spontaneity ended.  I roasted the apples and let the dough sit for 8 hours, which is the point where things got fun.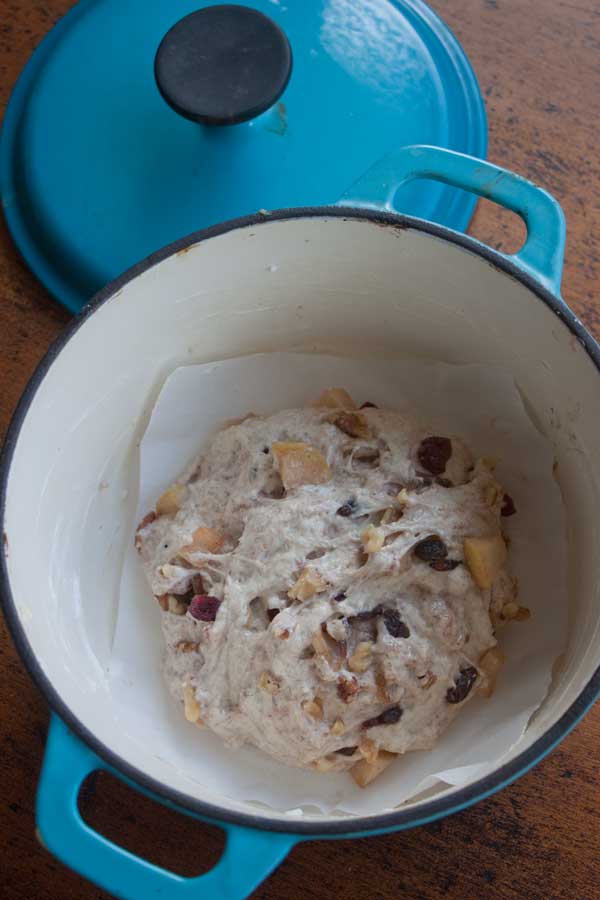 I stirred in the apples, added some walnuts, shaped into loaves and baked. The King Arthur recipe calls for one very large, oblong, covered baking vessel. Since I have two smaller size enamel coated pots, I made two smaller loaves and baked in the smaller enamel coated cast iron pots using the same King Arthur instructions. Notice all the extra add-ins in the dough?  After making the dough with just apples, I made a couple more batches with walnuts, dried cherries raisins and apples.  These loaves were even more delicious, but adding more nuts and fruit hindered the rising process a bit, so the baked loaves with more nuts and fruit were flatter.  This is where a high gluten bread flour such as the Sir Lancelot flour (which I've never tried) or perhaps bread flour with a little vital wheat gluten added would come in handy.
So if you're in the mood for some really good bread, I highly recommend both the No Knead Roasted Apple Bread or the No Knead Harvest Bread, which has more add-ins and a bit more salt.  The recipes are on King Arthur's site. If you have Sir Lancelot flour, you'll get the best results, but using a combination of King Arthur bread flour and wheat flour worked really well, too.  Also, make sure to weigh the flour and measure the water carefully.