Today's recipe was inspired by some Ancho Chile Brownies I brought home from The Chicago Food Swap. Made by a fellow swapper who also happens to be from Texas, the brownies were labeled "Texas State Fair Best of Show".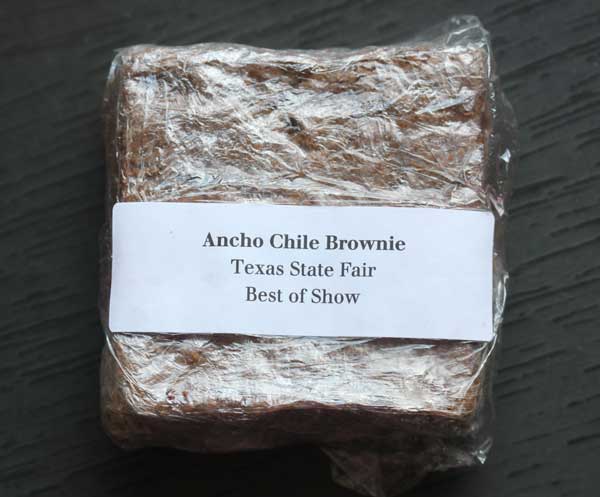 I loved how they were wrapped — not fancy, but each brownie was a generous 4 inch square. Basically, if you make an 8 inch pan of brownies you get 4 brownies. That size might not sound practical, but it's actually perfect for gift giving. Another advantage to the size is you can wrap the 4 giant brownies, stack them neatly in the freezer, take one out when needed and cut it into 3 or 4 pieces. So I liked the size, but what I loved was the texture and flavor. The Ancho Chile Brownies were light yet rich and the ancho flavor came on at the end with just a tad bit of heat. Unlike some Mexican brownies that include other spices such as cinnamon, these were more like normal fudge brownies but with a tiny bit of heat. Unfortunately, the food swap was moving pretty quickly and we didn't have much time to talk, so I didn't get the baker's recipe and had to figure it out myself. After making several different recipes for ancho brownies (including the most popular one by Rebecca Rather and Robb Walsh) I thought I'd share this one because it's based on a Texas State Fair winner and was closest in texture and flavor to the swap brownies. In fact, it very well might be the swap brownie. The flavor of these will vary from baker to baker depending on brand of unsweetened chocolate (I used Callebaut for those), chocolate chips and amounts of ancho.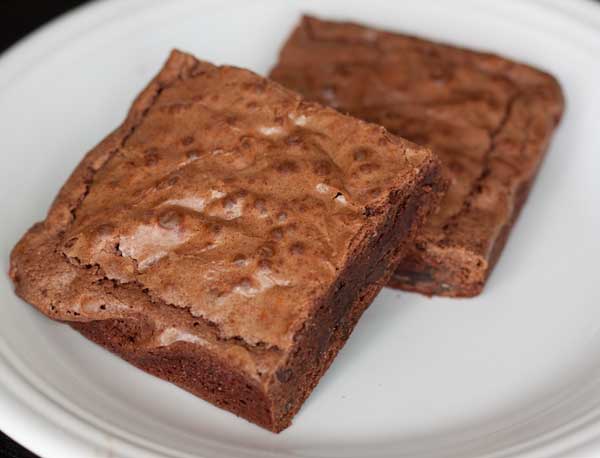 One final note. Ancho powder can be found with the spices, on the Mexican aisle or in some cases, the produce section. Some ancho seems to have a little more heat than others which may have to do with freshness. If you really want it fresh you can grind your own. Just remove the stem and seeds from an ancho, toast it a bit in the skillet and put it in a coffee grinder.
For these brownies I used some ancho powder I found at Jewel from a brand called Sugar 'N Spice.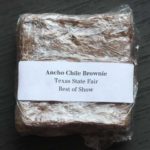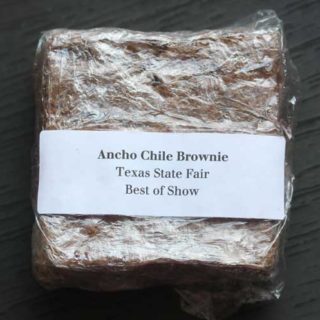 Print Recipe
Ancho Chile Brownies
Brownies that are neither too cakey nor too fudgy and have a little heat at the end from ancho chile. Make sure to use really good quality unsweetened chocolate and don't try to substitute bittersweet. I haven't tried making these with the cocoa powder substitute (which in this case would be 6 tablespoons of cocoa and 2 tablespoons of oil), but I'm sure it would change the texture.
Ingredients
1

stick

114 grams unsalted butter

2

ounces

56 grams best quality unsweetened chocolate, chopped***

2

large eggs

1

cup

200 grams granulated sugar

1/2

teaspoon

vanilla extract

1/2

cup

70 grams all-purpose flour**

3/8

teaspoon

salt

omit if using salted butter

1/4

teaspoon

double-acting baking powder

1 1/8

teaspoon

ancho chile powder

1

cup

dark or semisweet chocolate chips
Instructions
Preheat the oven to 350F. Line an 8 inch square metal pan with nonstick foil.

Melt the butter and chocolate together in the top of a double boiler, stirring often until melted and smooth. Remove from heat and let cool slightly.

Beat eggs on high speed of an electric mixer. Gradually add sugar and vanilla, beating 3 minutes or until thick and pale.

With a heavy duty scraper, fold in the chocolate mixture until blended.

Thoroughly whisk the flour, salt, baking powder and ancho powder together in a separate bowl, then stir the flour mixture into the chocolate mixture. Make sure the batter is not so warm that it will melt the chocolate chips, then stir in chips.

Pour into the pan and bake on center rack at at 350° for 25 to 30 minutes. They're done when a meat thermometer inserted in the center registers 210. Let cool in a pan set on a wire rack for about an hour, then transfer to refrigerator and chill for another hour or two or until very cold.

Lift foil with brownies out of pan. Cut brownies into 4 Texas size squares. You can then wrap the four squares or cut each square into smaller servings.
Notes
The original recipe called for 3/4 cup sifted flour, but I've updated the amount to 1/2 cup (70 grams) unsifted to avoid potential dryness. Too much flour increases the chances the brownies will be dry, so it's better to err on the side of too little flour than too much.
Use unsweetened chocolate -- not 85%, 70% or semisweet. Using anything other than unsweetened chocolate will change the brownie.
Ancho chili powder can usually be found in the spice section or in the Mexican food aisle. Make sure what you're getting is pure ancho powder without any additional salt or seasonings. Alternatively, you can make your own ancho powder by removing the stem and seeds of an ancho pepper (dried poblano), toasting in a skillet, then grinding in an old coffee or spice grinder. If you want a little more heat in the brownie, add 1/8 to 1/4 teaspoon of ground cayenne in place of the same amount of ancho powder.