Date paste is one of my new favorite ingredients. It adds flavor, sweetness and a little fiber, plus it gives pale baked goods some color. I've been putting it in various cookie recipes including these Vegan Date Paste Double Chocolate Cookies, which are soft, fat, chocolate cookies with no dairy or eggs.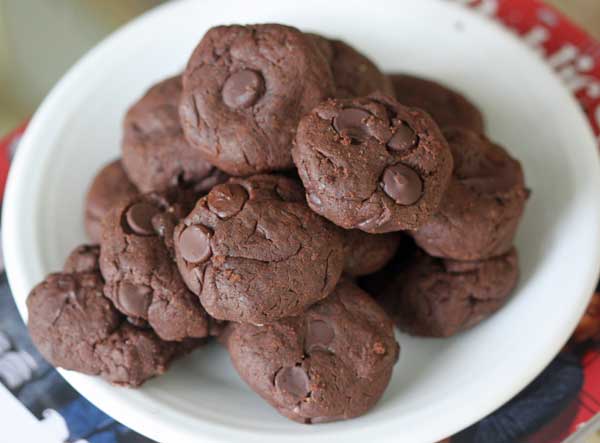 Dates and a bit of cornstarch help bind the cookies, and the fat is coconut oil. For extra flavor I added espresso powder, but you can leave it out and the cookies are still great. Also, if you don't want a hint of coconut flavor in your cookies, use regular vegetable oil or look for unrefined coconut oil.
I've made these at least 4 times and love the results with both whole wheat pastry flour and all-purpose, so use whatever you have, but make sure you weigh the flour since different flours have different weights per cup. I have not tested Date Paste Double Chocolate Cookies with a gluten-free 1:1 blend yet, but I think it would work.
How to Make Date Paste
Making date paste is pretty simple if you have a decent blender. There are tons of websites with directions on how to do it, but basically it's this: Put about a half pound of pitted dates in a bowl (Medjool, but other dates work). Boil 1 ½ cups of water and pour 1 cup of it over the dates. If you need more, use more, but 1 cup should do it. Let the dates sit until they are soft. Drain the dates, reserving about ¼ cup of water. To finish the date paste, puree it in a blender, adding as much of the reserved water as needed.
Recipe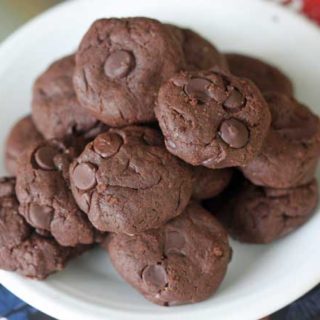 Date Paste Double Chocolate Cookies
This recipe for Vegan Date Paste Double Chocolate Chip Cookies should give you somewhere around 12 to 14 cookies depending on how bit you make them and how many chips you add. I usually get 14 and my cookies are done in 8 minutes. The dough is soft and should be scooped, but once scooped you should be able to form the dough into neat, flattened balls.
Ingredients 
¾

cup

(3.4 oz weight) all-purpose flour (weigh, or stir well and aerate) or whole wheat pastry flour

95 grams

¼

cup

unsweetened Dutch process cocoa powder

1

teaspoon

espresso powder

1

teaspoon

cornstarch

¼

teaspoon

baking soda

⅛

teaspoon

salt

2

tablespoons

date paste

40 grams

2

tablespoons

almond milk

or another non-dairy milk

¼

cup

granulated sugar

2

tablespoons

light brown sugar

¼

cup

coconut oil or your whatever oil you have

½

teaspoon

vanilla extract

⅓ to ½

cup

dark or bittersweet chocolate chips
Instructions 
Preheat oven to 350 degrees F. Line a large baking sheet with parchment paper.

Whisk the flour, cocoa powder, espresso powder, cornstarch, baking soda and salt together in a bowl and set aside.

In a mixing bowl. stir together date paste, almond milk and both sugars until blended. Add the oil and vanilla and stir until smooth.

Add the flour mixture to the oil mixture and stir to form a soft dough. Stir in the chocolate chips.

Drop the dough by tablespoons onto a baking sheet. Gently shape the dough into little balls and press down slightly -- dough should be soft, but not at all runny.

Bake for 8 to 10 minutes. Let cool on baking sheet for 3 minutes, then transfer to a wire rack to cool completely.
Let me know what you think of Vegan Date Paste Double Chocolate Cookies!