Vegan Date Paste Chocolate Chip Cookies are the result of my two week stint on an (almost) dairy-free diet. The diet didn't do anything, but I did discover some good dairy-free baking ingredients such as Melt spread, Earth Balance and Nutiva shortening.  UPDATE:  Also, Country Crock Plant Butter with Almond Oil!  This is my new favorite vegan fat.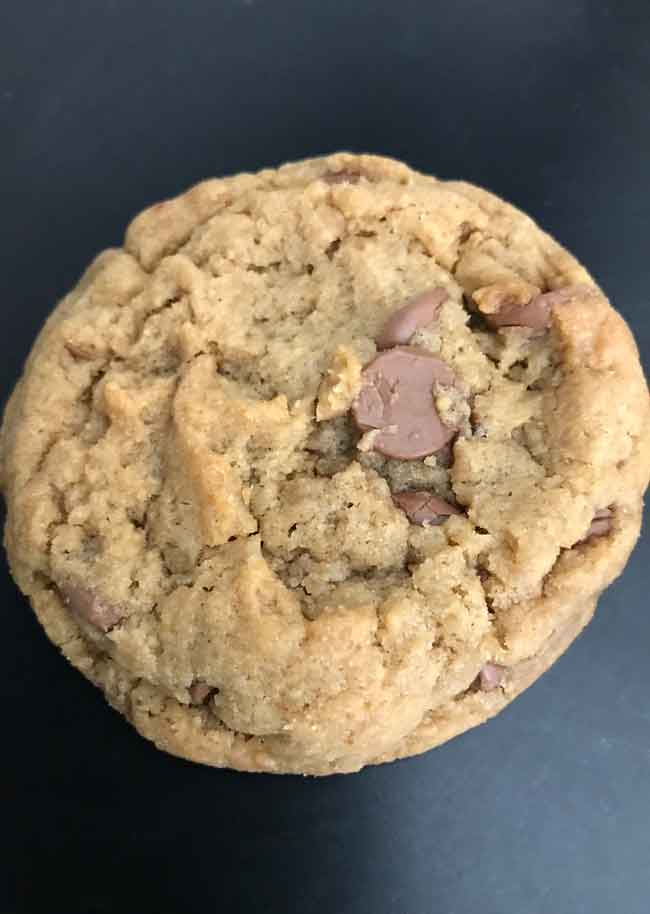 How to Make Date Paste
But dairy issues aside, it's the date paste that makes Vegan Date Paste Chocolate Chip Cookies special.  It not only adds flavor and sweetness, but provides a little bulk, gives the cookies a nice shape and helps keep them soft.  Making the date paste is an extra step, but it's worth it. The date paste recipe I use is from The Healthy Baker, and I use my food processor since still don't have a fancy blender.
Vegan Date Paste Chocolate Chip Cookies
As for the cookie recipe, it has evolved over time as you can see by the pictures.  The recipe posted should look like the first picture, but below are some photos of cookies made with tiny changes to the same recipe.  For instance, in the darker cookies I used a different proportion of date paste.  The cookies below that were also made with more date paste and brown sugar, while the cookies at the bottom were sandier and made with Nutiva shortening instead of vegan butter.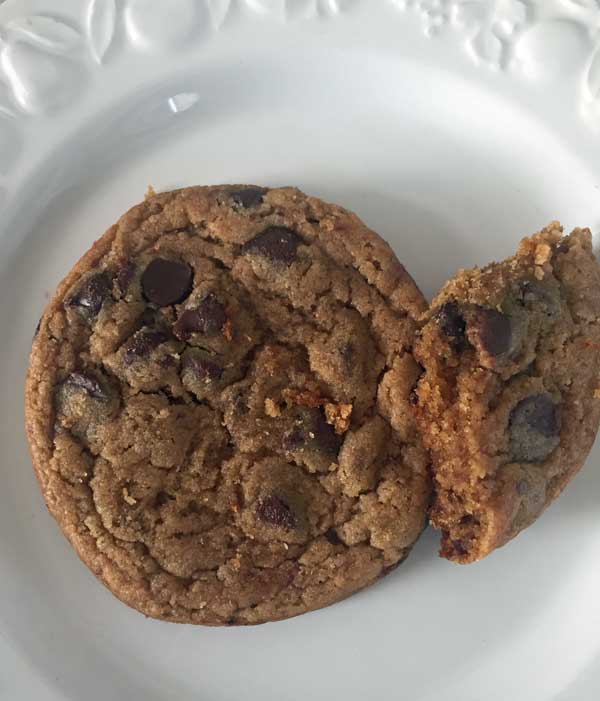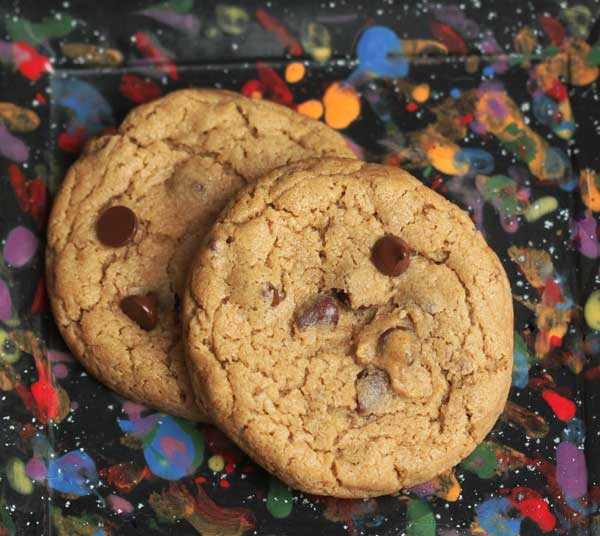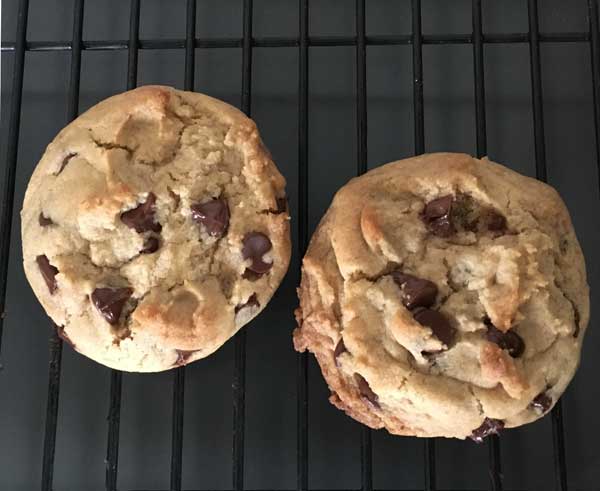 I think this latest version with 20 grams of date paste and 20 grams full fat coconut milk is the best.
For the flour, I tested the cookies with a few different types.  For a while I liked whole wheat pastry flour best, but I recently became a fan of Bob's Red Mill pastry flour (regular, not whole wheat) and use that.  Gold Medal all-purpose also works well. Actually, any brand of flour works but the lower protein flours make a softer cookie.
The texture of this cookie should be soft, yet not too chewy and not cakey. This means getting the amount of sugar just right. I like using 100 grams of dark brown sugar. With the brand I use, 1/2 cup is usually around 100 grams. It's best to weigh since brown sugar varies in moisture.
This recipe is fun to play with, so I hope you try it as written and then go on to make your own changes. If you do, let me know! And I hope you try the date paste, too.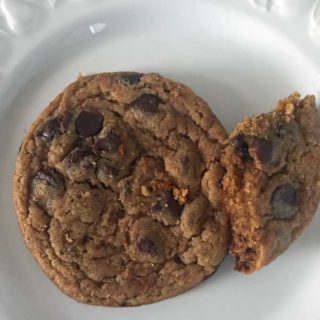 Vegan Chocolate Chip Cookies with Date Paste
Vegan Date Paste Chocolate Chip Cookies are soft, dark, chocolate chip cookies with a light date flavor.
Ingredients 
160

grams

all-purpose flour or pastry flour

1 cup plus 2 tablespoons or 160 grams Bob's Red Mill pastry flour

1/2

teaspoon

baking powder

1/4

teaspoon

baking soda

1/4

teaspoon

salt

1/2

cup

organic light or dark brown sugar

(100 grams)

7 1/2

tablespoons

vegan plant butter, cool room temperature

1

teaspoon

vanilla

20

grams

date paste

20

grams

well-stirred full fat coconut milk

1

tablespoon

finely shredded or ground unsweetened coconut flakes**

1/2

cup

dark chocolate chips
Instructions 
Whisk together the flour, baking soda, baking powder, salt and sugar. Set aside.

In a mixing bowl using an electric mixer, beat the butter until creamy. Beat in the vanilla, date paste and coconut milk until smooth.

Combine the date mixture and flour mixture and stir until blended, then stir in chocolate chips.

Using a large cookie scoop, scoop up 8 rounds of dough (they should weigh around 2 oz each). Arrange on a parchment lined baking sheet.

Bake at 325 for about 15 minutes. Let cool slightly on baking sheet, then transfer to a wire rack to cool completely. These cookies are better when completely cool.

For thicker cookies, chill the dough balls overnight before baking.
Notes
Coconut is optional but good and helps cut sweetness and soaks up some of the moisture from the date paste improving texture.
For the flour you can use 160 grams of all-purpose or whole wheat pastry flour or a mix of both.
Also, cookies can be made as 1 oz cookies so that you get 16.
Milk chocolate chips are really good in these, but they're not vegan.