Vegan Date Paste Chocolate Chip Cookies are the result of my two week stint on an (almost) dairy-free diet. The diet didn't do anything, but I did discover some good dairy-free baking ingredients such as Melt spread, Earth Balance and Nutiva shortening.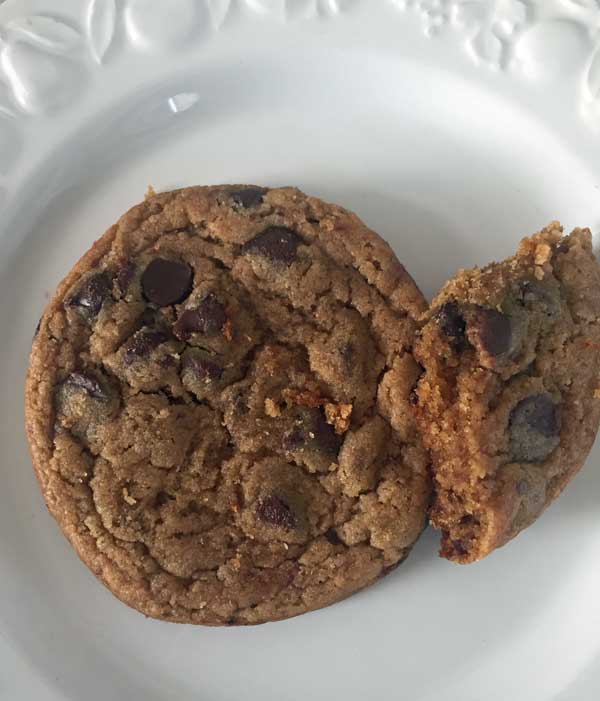 But dairy issues aside, it's the date paste that makes these cookies special.  It not only adds flavor and sweetness, but provides a little bulk, gives the cookies a nice shape and helps keep them soft.  Making it requires an extra step, but it's worth it. The recipe I use is from The Healthy Baker, and I use my food processor since still don't have a fancy blender.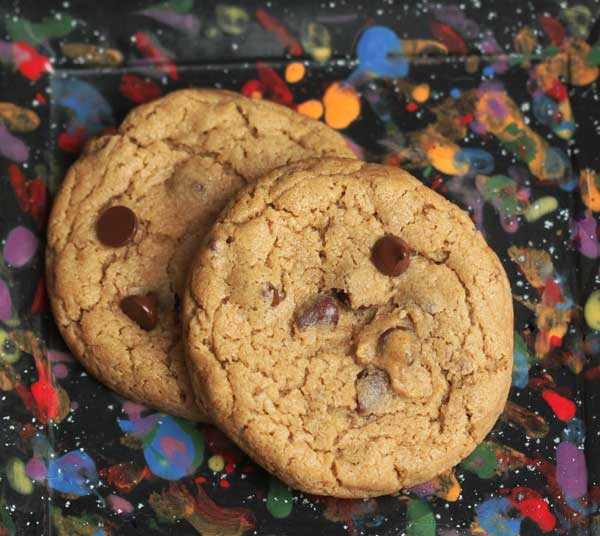 For the flour, I tested the cookies with a few different types and liked the whole wheat pastry flour version best. All-purpose is okay, but the cookies don't spread as much and have kind of a pasty texture.
For the brown sugar, either weigh it or use a VERY firmly packed 1/2 cup. I have been using light brown sugar, but dark is okay, too.
This recipe is fun to play with, so I hope you try it as written and then go on to make your own changes. If you do, let me know! And I hope you try the date paste, too.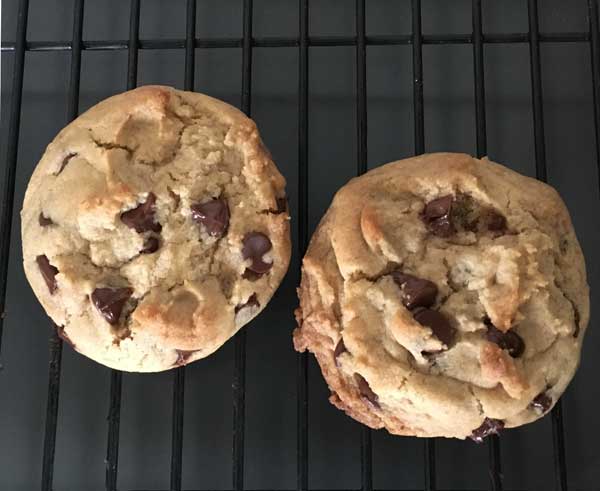 Update: I've changed this recipe a bit since posting. For the vegan butter, any brand that has 100 calories per tablespoon should work (Earth Balance Vegan Buttery Sticks, for example), but you can also substitute 5 tablespoons of the spread type (80 calories per tablespoons) and 3 tablespoons of coconut oil. The extra fat in the coconut makes up for the lost fat/extra water in the spread. For the date puree, I sometimes use the dates pureed with water, but I also like using a puree made with a 1:1 ratio of dates and coconut milk. Pastry flour or whole wheat pastry flour also works well, but I tend to run out of those flours so I just make these with all-purpose. If you use pastry, make sure to measure it by weight.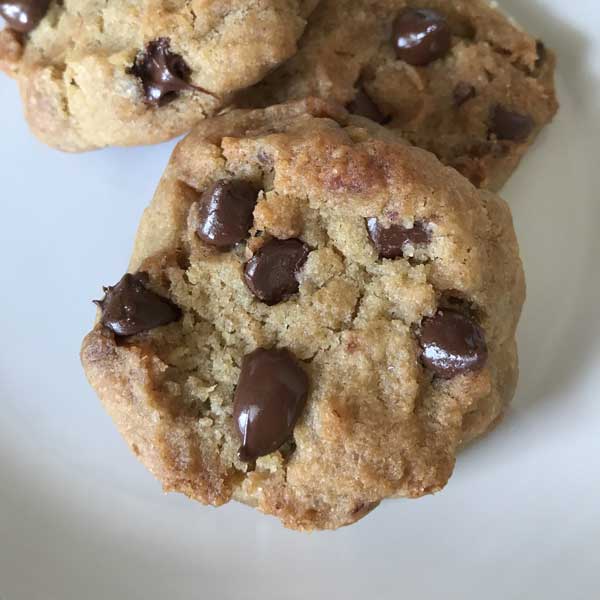 Update 2: If you don't want to make date paste, you can used baking dates or baking dates labeled date paste. I've tested with Ziyad.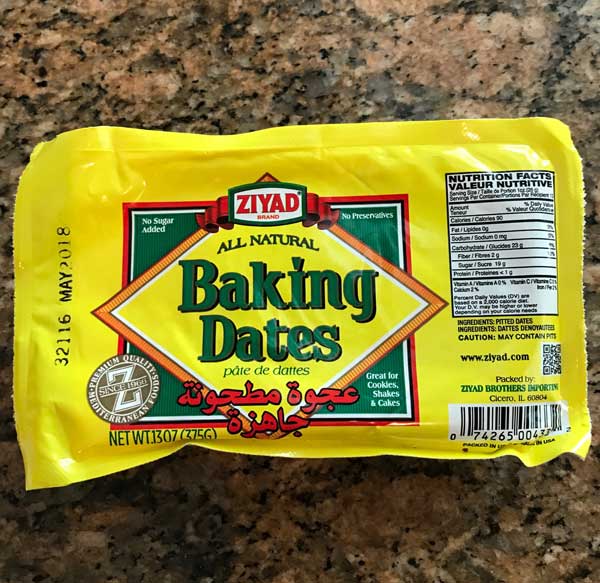 Vegan Chocolate Chip Cookies with Date Paste
Vegan Date Paste Chocolate Chip Cookies are soft, dark, chocolate chip cookies with a light date flavor.
Ingredients
160 grams all-purpose flour (1 cup plus 2 tablespoons) or use half pastry flour and half AP**
1/2 teaspoon baking powder
1/4 teaspoon baking soda
1/4 teaspoon salt
1/2 cup (100 grams) organic light brown sugar
8 tablespoons (120 grams) vegan butter or other fat blend (see notes)
1 teaspoon vanilla
2 tablespoons (40 grams) date paste
2/3 cup dark chocolate chips
Instructions
Whisk together the flour, baking soda, baking powder and salt. Set aside.
In a mixing bowl, stir together the melted vegan spread, brown sugar, vanilla, and date paste.
Add the flour mixture to the sugar mixture and stir to form a soft dough. Stir in chocolate chips.
Shape dough into 6 or 8 smooth balls, then break each ball in half to make 12-16 pieces. Arrange so that the rough (where broken) part is on top. If the dough seems very soft, you might want to chill the dough pieces for a few hours before ba
Bake at 350 for 10-12 minutes or until the tops appear set and slightly cracked. Let the cookies cool for about 5 minutes on the baking sheet, then carefully transfer to a wire rack and cool completely. I like to cool them, chill them just until the chocolate is set, then bring them back to room temperature.
Notes
For the butter you can use Earth Balance Soy Free Buttery Sticks. Since the sticks have salt in them, the recipe only needs 1/4 teaspoon of salt. If you substitute for something that doesn't have salt (such as unsalted butter, shortening or a mix of oil and spread), then you might want to add an extra pinch of salt.

Another good vegan fat substitute is combination of 5 tablespoons dairy free Smart Balance (the kind with 80 calories per tablespoons ) and 3 tablespoons of vegetable oil. The extra fat in the oil makes up for the missing fat in the Smart Balance, hence the combo. And finally, 1/2 cup (about 100 grams of shortening also works, though the cookies will spread less. You can use Nutiva or Crisco. If you use shortening and the batter seems to dry, add a few teaspoons of vegan milk (almond, coconut, etc.).

For the flour you can use 160 grams of all-purpose or whole wheat pastry flour or a mix of both.