White Chocolate Challah Bread Pudding, originally from The Figs Table, is a recipe you should try if you love bread pudding, or if you don't! If you don't care for bread pudding, a challah version might just change your mind. It surely changed mine.
Soggy French Toast, Not!
In college I worked as a waitress at a place that served a lot of bread pudding. It was wildly popular, but to me it just tasted like soggy French Toast or something that would be better suited for breakfast. In hindsight, I think people liked it because it was served with a rich custard sauce that the chef did well. That is, he was so good at making custard sauce nobody cared that it was served over a rubbery, squishy pile of old bread. Either way, that turned me off to bread pudding. I think the only reason I tried this recipe was I was desperate to use some leftover challah and I've always trusted the recipes from Todd English.
White Chocolate Challah Bread Pudding Texture
White Chocolate Challah Bread Pudding is lighter textured than other recipes. It's more like a very soft and moist white chocolate cake than a heavy bread pudding, and it slices neatly -- or should. I'm having a hard time describing the final result which means I should probably make a batch soon and update. For now, here are some notes I've learned from making it a few times.
Some Notes
Use high quality vanilla extract This is one of those recipes where it really makes a difference.
For the white chocolate, Baker's brand works just fine. You don't need to spend a ton of money on the white chocolate.
It might seem like there's too much liquid, but you should be able to use most all of it. Carefully press down the bread and pour on the cream gradually. It should come up to the top of the dish.
Don't skip the raspberry sauce. It cuts the richness a bit and is the perfect contrast.
This is pretty rich, but you can cut the pieces small.
Wondering where you'll find some challah? It seems like more grocery store bakeries sell it these days, and sometimes you can find it in the frozen foods section. Of course my recommendation would be to make it using this easy Challah recipe.
Recipe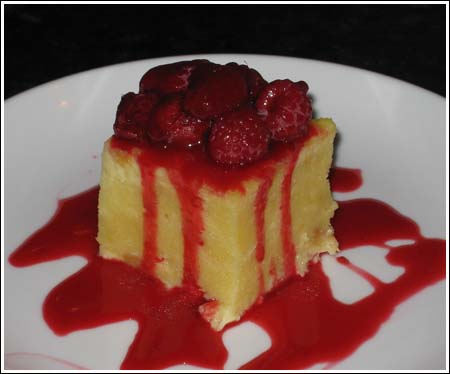 White Chocolate Challah Bread Pudding
Adapted from The Figs Table, White Chocolate Challah Pudding is my favorite bread pudding recipe of all time.
Ingredients 
7

large egg yolks

2

whole eggs

3

cups

heavy cream

1

cup

whole milk

½

cup

sugar

10

ounces

white chocolate

about 2 cups chopped

2

teaspoons

vanilla extract or paste

4

cups

challah cubes

about 1 loaf crusts removed, if desired
Raspberry Sauce
1

10 oz bag frozen raspberries

¼

cup

sugar

¼

water

2

teaspoons

cornstarch

2

teaspoons

fresh lemon juice
Optional: 2 tablespoon raspberry liqueur
Instructions 
Preheat the oven to 350 degrees F. Grease an 8 inch square pan, and have ready a larger pan (such as a roasting pan) as you will be baking the smaller pan in the larger.

Whisk the egg yolks and eggs together in a small bowl and set aside.

In a large saucepan, combine the cream, milk and sugar and cook over medium heat until bubbles begin to form around the edge, but not quite boiling. Stir in the white chocolate, then gradually add the egg mixture in a slow and steady stream, whisking constantly.

Remove from heat and stir in the vanilla extract (or paste).

Put the bread in the greased baking pan and gradually pour the egg mixture over the bread, pressing it down and making sure it all falls through the cracks. Let rest for 15 minutes.

Cover with aluminum foil and place in a larger pan (such as a roasting pan) filled halfway with very hot water. Transfer to the oven and bake until firm and, when touched in the middle, the custard does not show up on your finger, about 1 hour and 15 minutes.

As the custard bakes, keep checking the water level, adding enough so that it's always at the half way point.

Serve warm with fresh berries or raspberry sauce.

Sauce: Place thawed raspberries and sugar in a saucepan.

In a separate bowl, stir together water and cornstarch. Pour over raspberries and set over medium heat. Stir mixture until it beings to boil, thicken and clear. Remove from heat.

Place a sieve over a bowl and pour berry sauce through sieve, pressing so that the sauce goes into the bowl and the seeds stay behind. Stir lemon juice intro strained raspberry sauce. If you have some raspberry liqueur, add it - this is a great addition, but not necessary.